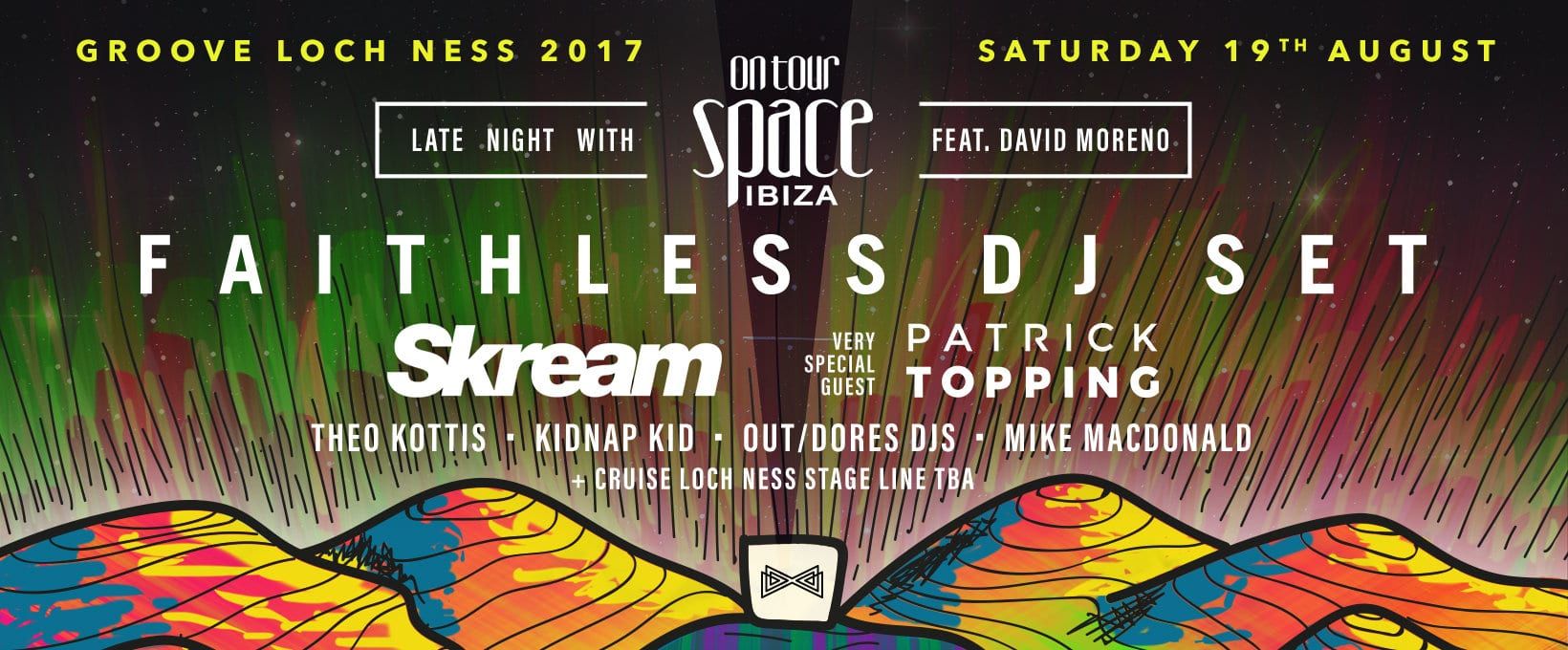 A Touch Of Ibiza Heading For Loch Ness This Summer
Scotland's Nightclub Under The Stars, GROOVE LOCH NESS has added a huge name in the electronic world with the addition of a very special guest set from PATRICK TOPPING. The festival is also set to bring a touch of Ibiza to the Scottish Highlands this August with the addition of a late night set from the iconic party island nightclub SPACE.
In a short space of time, PATRICK TOPPING has become one of the most illustrious names in dance music. With the new wave of electronic music producers coming from the north of England, he is a pioneering force for a generation of upcoming artists, reflected in recently being voted 11th in Resident Advisors Top100 DJ's of 2016 and picked as 15th by Mixmag.
The SPACE ON TOUR set will feature resident DAVID MORENO, his Ibiza Dance show on Global Radio has been one of the most veteran shows in Ibiza and this year is managing his own radio station 'PURE IBIZA' https://www.pureibizaradio.com/. He has also been a resident DJ at Space Ibiza and its World Tour, taking the name of the club around the world. As a DJ he has performed in big events such a Dance Valley festival in Amsterdam and he's a regular artist at Carl Cox nights.
Other acts performing on the 19th August include a DJ set from one of the forerunners of Dance music with a string of hits including 'Salva Mea, 'Reverence', the timeless classic 'Insomnia', 'God is a DJ' and 'We Come 1',FAITLESS (DJ SET), a dj/producer who is at the top of his game, the one and only SKREAM, also appearing is THEO KOTTIS who has established himself as one of the UK's most exciting emerging talents, London based music producer and label head KIDNAP KID, local contingent OUT/DORES DJ's and Dundee's MIKE MACDONALD.
Tickets are on sale now and available from www.groovelochness.co.uk and via www.skiddle.com. Physical tickets are available from Ironworks Venue & Cafferey's (Inverness), Ticket Scotland (Edinburgh/Glasgow)
Tickets have been kept at 2016 prices of £55 for a day ticket and £20 for a camping pass.