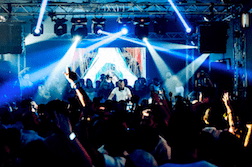 A WEEK TO GO: #DXBExperiments returns with Underground
A WEEK TO GO: #DXBExperiments returns with Underground
#DXBExperiments returns with free entry music event in Dubai's only licensed carpark on 31st January 2020
Dubai, United Arab Emirates – January 2020: #DXBExperiments will be returning with its latest innovative pop-up concept, Underground, on Friday, 31st January at Media One Hotel's licensed carpark. Guests are encouraged to register for guaranteed free entry and exclusive updates at http://bit.ly/DXBunderground.
Guests can look forward to innovative pop-up bars and food stalls within the P7 arena. A selection of mixed beverages will be on offer for AED 40 each, featuring bespoke malt-based cocktails created by the expert Glenfiddich team and inspired by the Scottish valleys.
Alongside the celebrated British DJ duo Headliners, Stanton Warriors will be Scotland's leading Rock Ceilidh band Bahookie, a four-piece band like no other, mixing fiddles with urban dance and rock grooves providing a unique blend of rock, dance and traditional Celtic music. Renowned for their impressive live performances, the band are praised internationally with a strong fan base.
Founder of The Superheroes party and renowned house and techno artist DJ RUTHERFØRĐ will also be taking to the decks on the night. Expect RUTHERFØRĐ to take you on an interactive adventure through the realms of House and Techno with some serious dance-floor shenanigans thrown in for good measure.
Adding to the multifarious creative line up are Echo Vessel, a Dubai-based drum loop duo who create live electronic music completely from scratch. The electrifying event is hosted by Media One Hotel, who are celebrating their tenth anniversary this year.
Talented local graffiti artist Bonz will be showcasing his clothing collection and offering personalized t-shirts at the themed venue, all available for purchase on the night.
FACT BOX:
FREE ENTRY, register here: http://bit.ly/DXBunderground
Friday 31st January 2020 from 8pm till late.
(Level) P7 Arena, Media One Hotel, Al Falak Street, Media City, Dubai, UAE, mediaonehotel.com (04 427 1000).
-END-
For press enquiries about DXBExperiments please contact:
Grace Rogers
Email: [email protected]
Tel: +971 (0)58 801 2949
QComms, JLT Swiss Tower, Office 2403, Dubai, UAE.
About DXBExperiments
#DXBExperiments are proving a pioneer in the region by promising unique experiences within the popular market. Started in 2018, they promise to host at least 4 major events per year with each taking a new theme to the previous. facebook.com/DXBExperiments
About Media One 
Located in the bustling area of Dubai Media City, Media One is a mixed use development comprising a hotel and offices. The hotel, tailored to the savvy business traveler, occupies the first 23 floors of the 43 story tower and offers a collection of cafes, bars and restaurants, a gym, outdoor pool and terrace.
It also houses state-of-the-art conference facilities, a fully equipped business center and a selection of retail outlets, with a spacious lobby and ample parking.
The upper 20 floors of the property is dedicated office space, accessible through a separate entrance and lobby area with easy entry to the hotel facilities.
For more information about Media One please contact:
Anu van der Sande
Head of Marketing & Communications
Media One
Dubai Media City
Tel:        04 427 1000
Email:    [email protected]