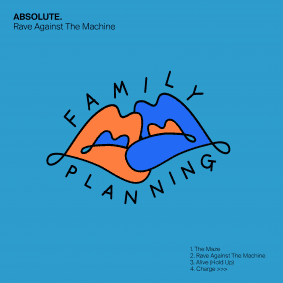 ABSOLUTE. Rave Against the Machine
ABSOLUTE. unleashes new EP, "Rave Against the Machine' this June on his brand new label, Family Planning.
Anthony McGinley AKA ABSOLUTE. has been relentlessly working away in the studio for the last twelve months with results to match; two Beatport number 1's, killer remixes for the likes of Maya Jane Coles, Tiga & Steve Lawler and plenty of love from Mixmag, DJ Mag and beyond. Harnessing this momentum, and with another long hot summer just around the corner, it's perfect timing to reveal four new weapons via his freshly minted Family Planning project.
Inspired by time spent exploring the Extinction Rebellion protest in April, Anthony felt compelled to weave some of the feelings he experienced into his next music output. The EP's title track features a vocal soundbite from an outspoken climate change figurehead, incorporated into a timeless breakbeat groove that peaks with urgent rave stabs, edgy vocals and laconic strings, a climax that Anthony felt encapsulated the energy and urgency of the climate crisis.
"While the protests had an incredible carnival energy the subject matter is something that has been in my conscious for a while. Seeing Extinction Rebellion, Greta Thunberg and David Attenborough bringing this into the forefront feels like we have hope of creating some kind of change. I hope that people hear these words and they want to find out more about the movement. We are at crisis point, 60% of the world's animal population has been wiped out since the 1970s, there's more carbon dioxide in the atmosphere than there has been for millennia, sea levels and global temperatures are rising to almost unstoppable amounts, and we all need to engage in the conversation – for me music has always been the tool to do that."
The dramatic message of title track 'Rave Against The Machine', is echoed by the huge sounds throughout the rest of the EP. 'The Maze' and 'Charge>>>' will find champions amongst festival headliners as both burst with character and energy. Whilst 'Alive (Hold Up)' takes on a life of its own as the stripped down raw 808 beats build into a wall of synths to create 'that' moment in fields and dance floors throughout the summer season. Purposely pitched down, 'Alive (Hold Up)' has a brooding drama that's fresh and hints at a wider desire to surprise us with more ABSOLUTE. music from outside of the dance…
ABSOLUTE. will be playing for Greenpeace at Glastonbury Festival at the end of June and making his Wilderness debut later on in the summer. He's launching the Family Planning project with a fabulous party at FOLD sister venue The Glove That Fits in Hackney on Saturday 15th June.
Press contact – [email protected]
Tracklist:
1. The Maze
2. Rave Against the Machine
3. Alive (Hold Up)
4. Charge >>>