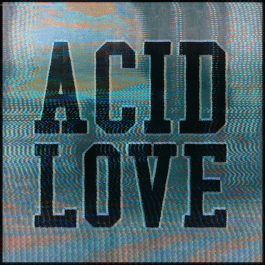 Various Artists - Acid Love Vol. 1
Get Physical label boss and artist Roland Leesker has put together the esteemed outlet's latest essential compilation. It features 13 acid driven tracks including two exclusives that all add up to one fantastic musical journey. Artists along the way include plenty of Get Physical associates old and new such as M.A.N.D.Y., DJ Pierre, Jazzuelle and Cardopusher.
Things kick off with Roland's own deep and moody remix of M.A.N.D.Y's 'Rhythm & Soul.' It's a languid, dark tune for basement sessions that opens things with real purpose. From there, Steve Lawler cooks up a rigid house groove with blurts of acid dripping from above and stalwart Luke Solomon gets freaky with molten acid modulations underlining some big trumpet riffs.
No acid compilation would be complete without Spanky and here there is a special tribute track, Phuture – We Are Phuture (Spanky's Spirit Survives Mix), from DJ Pierre made in memory of Spanky after he passed away last year. It is a stark and strobe-lit anthem with tough drums and spooky vocal sounds that real stands out.
The likes of Zombie Nation and ANNA then take acid into colourful tech house territory and deep down a rabbit hole respectively, while Kotelett & Zadak's 'Your Secret' is a perfectly mind melting affair that zones you out as it journeys to the edge of the cosmos.
The first of the exclusives is Andre Salata's 'Random Flavour', a grinding, driving track that burrows deep with menacing drums as a wonky acid line works away up top. The other is Leon Revol's 'Acid Is Rolling', a more playful house track with squelchy 303 sounds bringing the funk to some loose drums and jazzy chords.
This is a compelling collection of fresh acid tracks that round out another fantastic year for the ever excellent Get Physical label.
01 M.A.N.D.Y. feat. Red Eye – Rhythm & Soul (Roland Leesker Rhythm My Soul Remix)
02 Steve Lawler – Problem Child
03 German Brigante – Memories (Luke Solomon's Main Version)
04 Zoo Brazil – Walk Right Back
05 Phuture – We Are Phuture (Spanky's Spirit Survives Mix)
06 Roland Leesker – Thunderstorm (Cardopusher Remix)
07 DJ Pierre – Stobe Light Laser ACID (Zombie Nation Remix)
08 DJ Pierre feat. Chic Loren – I Feel Love (1979 Disco Club Mix)
09 Andre Salata – Random Flavour
10 Reboot – Pollo al Sillao (ANNA Remix)
11 Kotelett & Zadak – Your Secret
12 DJ Pierre – What Is House Muzik (Jazzuelle's Deeper Acid Mix)
13 Leon Revol – Acid Is Rolling
14 Roland Leesker – Acid Love Vol. 1 (Continuous Mix)