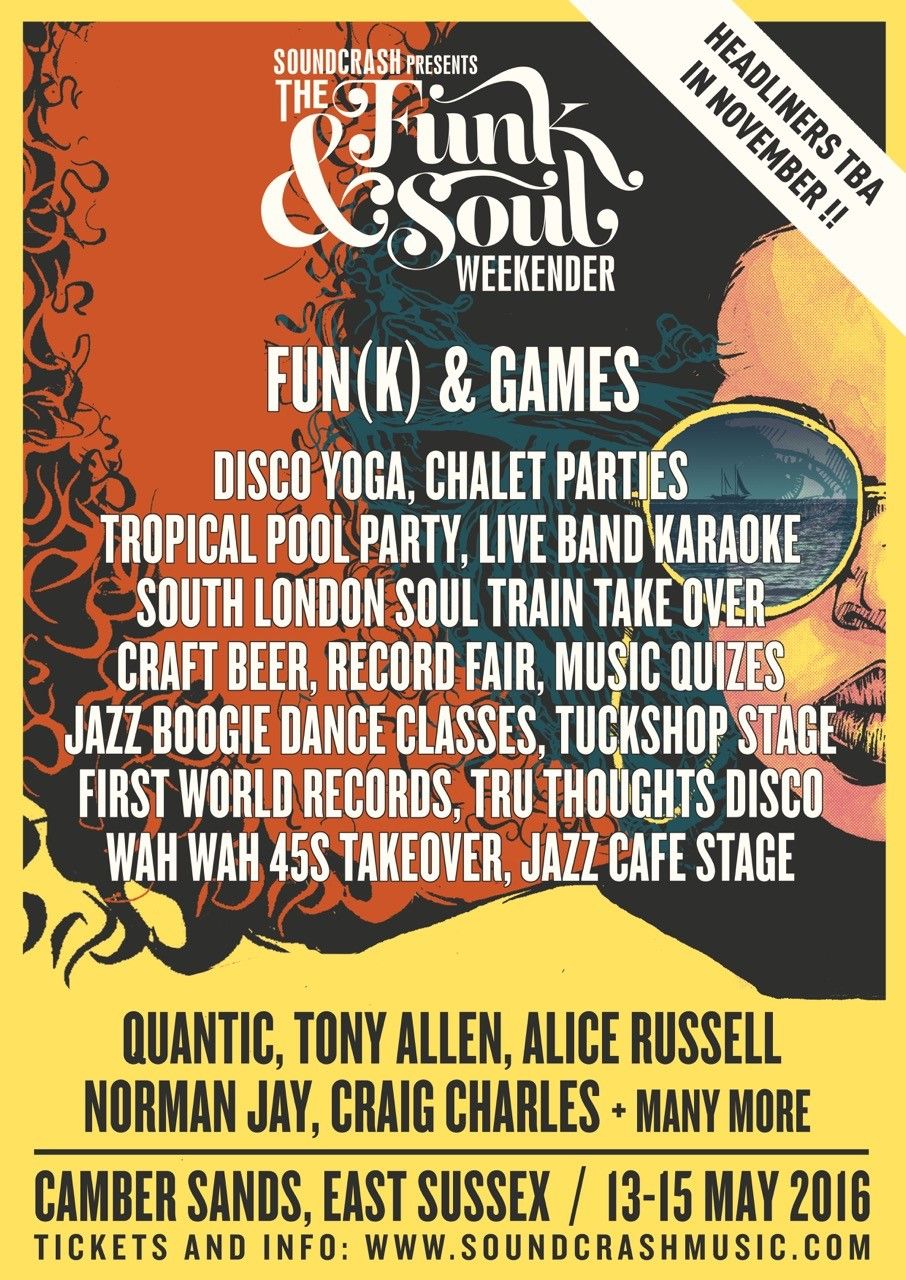 Activities & Extras programme announced for The Funk & Soul Weekender 2016
The Funk & Soul Weekender announce their action packed Fun(k) & Games programme today (Friday 9 October).
The programme includes Take Over parties from South London's Soul Train, and UK record label Wah Wah 45's, and Pool Parties from London club night Tuckshop and Norfolk soul party Hot Damn!
For those who want to try something a little different, Disco Yoga and Jazz Co Tech dance classes will be available, alongside Live Band Karaoke and a record fair.
A full list of activities includes:

Disco Yoga
Craft Beer
Tuckshop Pool Party
Live Band Karaoke
Hot Damn Pool Party
South London Soul Train Take Over
Music Quizzes
Wah Wah 45s Take Over
Tru Thoughts Disco
Record Fair
Chalet Parties
Jazz Co Tech Dance Classes
First Word Records
From Funk to Soul, to Latin and Afrobeat to Northern Soul, Ska and Swing a touch of the right Hip Hop & House and everything in between, this new event on the festival calendar is an intimate affair, with a capacity of 3000, created for an audience that truly loves its music.
The impressive line up includes respected and celebrated names including; Fun Lovin' Criminals frontman Huey Morgan; British soul singer Alice Russell; and carnival legend Norman Jay.
Soundcrash's Rob Waller explains the event is in response to a renewed public interest in the genres, with record numbers of fans attending shows for established legends such as George Clinton, Quantic, Tony Allen and Tinariwen. There's also strong and growing interest in a very vibrant new soul scene with artists such as Taylor McFerrin, Andrew Ashong, Haitus Kaiyote and Andreya Triana at the helm.
"Soul, funk, jazz, afrobeat and latin has all been at the heart of my booking for almost 2 decades; and although Soundcrash Productions – itself in it's 10th year, is equally well known for it's innovative electronic, bass music and hip hop output (which crosses very well into these genres), I thought is was time to make a special event specifically within the world of funk and soul for 2016." – Rob Waller, Programmer and Founding Director, Soundcrash
Warming up for the festival, associated club nights and DJ's from the country's finest Soul nights, including Move On Up and Soul 45, will be promoting parties in the lead up to the big event.
This is set in the picturesque Camber Sands holiday camp in East Sussex, a mere hour's train journey from London. Chalet accommodation (catering for 4-6 people) is included in the price of festival tickets and early birds are now on offer at £99pp.
Get your dancing shoes packed and we hope to see you in Camber!