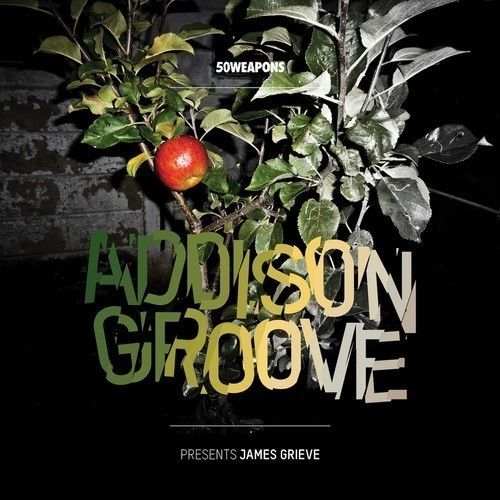 Addison Groove presents James Grieve
Addison Groove presents 'James Grieve', his sophomore album including collaborations with DJ Die, Sam Binga, MC DRS and Josefina. "Bass music arguably wouldn't be what it is right now without Addison Groove." Resident Advisor / March 2012
With 'James Grieve' the influences and music genres have slightly changed. There's a strong jungle influence present from beginning to end. 'James Grieve' is also less raw and jackin' than it's predecessor and seamlessly combines spacious, laid back and more rollin' tracks with a bunch of straight forward club bangers. While 'Transistor Rhythm' was definitely Chicago inspired, 'James Grieve' is pure Bristol through-and-through.
Addison Groove's musical quest across the galaxy of genres has led him to here…has it come to this? I'm afraid so. To tell it from the start would take, well, a long time, but if we back track to about a year ago, Mr. Williams was already finding himself spending hours upon hours with other likeminded weirdos in his studio. The outcome is an album of equally solo and collaborative efforts. First in line we have DJ Die who claims the album 'Has The Flavor'.
The second artist to really make a change to Addison's musical output was Sam Binga. Addison says 'this crazy fool came to my house to make some music and I said, 'shall I put it at 130?' Sam, beyond belief, suggested the tempo was put to 160. After many battles, a war and a pack of Hobnobs, it was decided 167bpm was a better place. So the 2 came up with an EP without really telling anyone, especially them Modesleektor guys…but some of the tracks lost control and ended up being played in clubs by a few DJs such as D Bridge and Friction. Somehow a crossover to drum'n'bass indirectly happened and so the 167bpm vibe stuck within Addison's sequencer, thanks to Mr. Binga. This tempo switch led to a collaborative effort with DJ Die also. These tracks later became an EP on 50 Weapons which paved the way for the album. Now aware that the tempo could be changed, Addison went mental and made a load of stuff at this newly found bpm, even though he's been playing the stuff for years…mostly thanks to DJ Rashad and Spinn. So away he went, bpm set, but still there was something missing…
A change was needed. As much as sampling is a core part of the Addison Groove vibe, the search for a vocalist was on…and thanks to a plane flight and a chat with Appleblim, it was suggested he should get in touch with Josefina. "She'd been our mate for years and yet no one really knew she could sing." And so the music was made, vocals were sang and the results are the tunes on this album. Many tracks never made it, but like a raging bull determined to get through, a few did.
Towards the end of the album process a recording session with Die was going sweetly when MC DRS showed up and got involved. A vocal on 'Rzor' was never meant to be but it made absolute sense to just ask if this fine vocalist if he would consider doing a little lyric… 24 hours later it was done and dusted, the icing on an otherwise very tasty cake. And so there is the story of how James Grieve came about.
CD Tracklisting:
01 Intro
02 Just You feat. Josefina
03 Warped
04 11th feat. Sam Binga
05 Space Apples
06 Malus
07 One Fall
08 The Spirit Level
09 Bad Seed
10 Abandon
11 167 Blast feat. DJ Die
12 Cultivate
13 Rzor feat. Sam Binga and MC DRS
14 Ain't It Love
Websites: www.50weapons.com / www.facebook.com/50WEAPONS