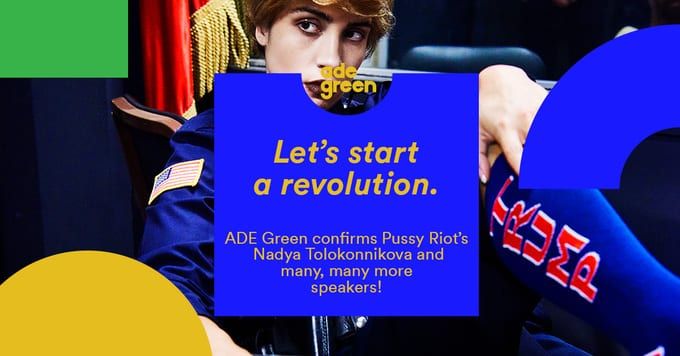 ADE Green Secures First Part of Program and Announces Pussy Roit's Nadya Tolokonnikova
How do we make an event fully circular? How does nightlife contribute to the LGBTQ+ community and vice versa? And which innovations will define the forthcoming festival season? These questions and more will be answered on 18 October, during ADE Green 2017. Held at DeLaMar Theater, this one-day conference plays a leading role in finding meaningful solutions for the future in the music and events industry. Today, the organisation announces the first part of its internationally-oriented programme, which includes Pussy Riot's Nadya Tolokonnikova as the headliner.
For the fifth consecutive year, ADE Green – brought to you by ADE & Absolut – brings the most important thinkers and visionaries in the fields of innovation, sustainability and social change, together with the electronic music community. The aim of the event is to exchange ideas, inspire each other and create opportunities for collaborations in order to rejuvenate the sector.
"During ADE, Amsterdam is the hub of the international electronic music scene, bringing together more than 9,000 influential players and 375,000 festival visitors. The industry has a global reach and impact like no other, and ADE Green wants to tap into that influence so as to drive the social and sustainability transition on a large scale. What's more, festivals and events are excellent testing grounds for innovation when it comes to logistics, waste, energy, mobility and water management," says Richard Zijlma, director of ADE.
Art for Social Change
The rich programme includes panels, workshops and in-depth discussions. In addition to sustainability and innovation, social change is also an important theme this year. In that context, ADE Green is pleased to confirm that conceptual artist, political activist and member of the infamous Russian punk rock collective Pussy Riot, Nadya Tolokonnikova will headline. As a result of their provocative performances about feminism, LGBTQ+ rights, and opposition to President Putin, Pussy Riot's three band members ended up in a penal colony in 2012, after which Tolokonnikova wrote the autobiographical book, How to Start a Revolution. In an intimate interview, she describes the spirit of resistance and shares her views on the role that artists should play in the start of a revolution.
In-depth programme
In addition to this, Unlocking Engagement: How Experience Fuels Responsibility is a panel
in which Teresa Moore – director of A Greener Festival, and researcher in the field of public attitudes and conduct – discusses two significant cases: '10,000 HOURS', the volunteer organisation with a mission, and 'The Eco Coin', an alternative currency for ecological value. The panel Designing Out Waste: How To Become a Circular Festival reviews the design and use of products in order to minimise waste and the impact on the environment. Speakers include sustainability specialists of Metabolic, DGTL, Lab Vlieland and Roskilde. Paul Schurink (Green Events Netherlands), also known as 'Mister Green Energy', will host a workshop on the development of a smart energy plan, and this will be followed by a lecture from climate communications expert George Marshall, in which he focuses on how we can get a wider audience in motion to do something about climate change, and break through the 'collective silence' he claims there is around this acute problem. Another hot topic is plastic. During The Plastic Panel, Teddy Vrijmoet (Vierdaagsefeesten), Chris Johnson (Shambala), Tijl Couzij (ITGWO) and Melinda Watson (RAW Foundation) and will discuss the global scope of this issue, resulting in hands-on solutions for combating plastic use.
Elevatorpitch
The social and sustainability challenges of festivals require inventive solutions. During the PechaKucha-style panel, Festivals Leading The Way To A Sustainable Future, ADE Green will offer a platform to the most interesting, remarkable and promising new initiatives in this field. There is still availability for one more wildcard: Ideas submitted via [email protected] have the chance of securing a place to pitch on the stage. Previous game changers who took part and became a success after ADE Green include KarTent (sustainable festival tents made from cardboard), Gerrard Street (circular headphones) and ICEK (extremely economical cooling systems). Additional programme elements are still to be announced.
"The transition to a new economy requires new thinking. It is crucial to highlight and adapt existing processes in our sector via the collective use of each other's knowledge and technologies. Sustainability, innovation and social change must form an integral part of today's festival and events policies. The fact that this can be done – without concessions to the visitor experience, or any finger- pointing – has now been proven," says ADE Green organiser, Carlijn Lindemuller.
Ticket sales and info
ADE Green will take place on Wednesday 18 October, 2017 from 10:00 to 17:30 at the DeLaMar Theater in Amsterdam. Entrance tickets cost €35 and are available via amsterdam-dance.event.nl. ADE Green is also accessible to ADE Pass and ADE Conference Pass holders.
ADE Green
The pioneering conference on sustainability, Innovation and social change in the music industry
Date: Wednesday 18 October, 2017 Times: 10:00 – 17:30 Location: DeLaMar Theater Marnixstraat 402 Amsterdam

The Amsterdam Dance Event takes place from the 18th to 22nd of October, 2017.
About ADE
Since its inception in 1996, the Amsterdam Dance Event (ADE) has evolved into the leading business conference and festival of the global electronic music scene. It is the place to be and spot the latest developments: from musical trends and upcoming talents to the most recent output of dance's pioneers and superstars.
For more information about ADE: www.a-d-e.nl