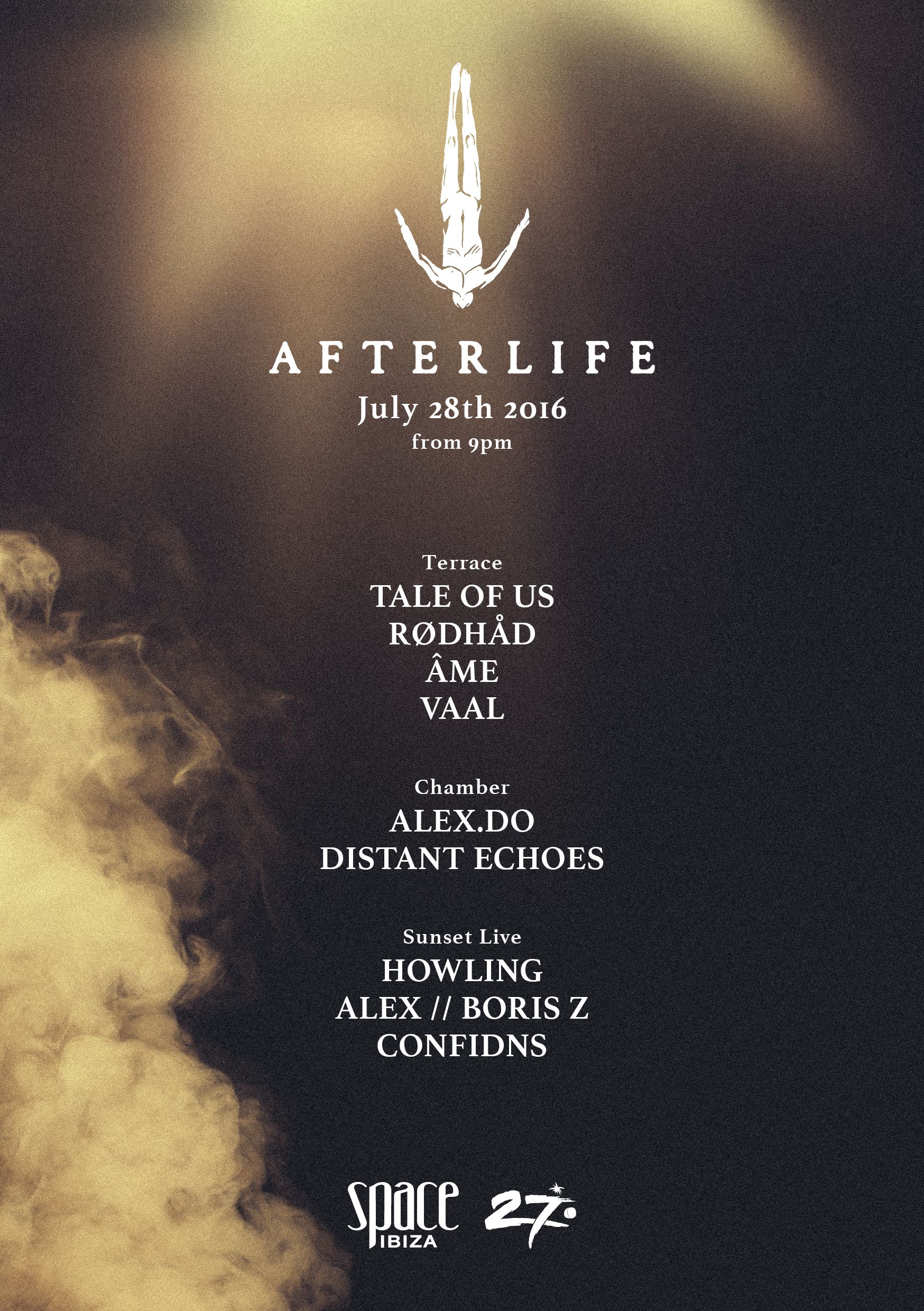 Afterlife at Space: Tale Of Us welcome Howling to their Sunset Live room this Thursday 28th July
The collaborative project between one half of Âme and Ry X will appear in Afterlife's Sunset live room which opens from 9pm every Thursday

Sunset Live:

BOB MOSES // CONFIDNS // HOWLING // MATHEW JONSON // RECONDITE // RIVAL CONSOLES // SAILOR & I // SERGIE REZZA // STEPHAN BODZIN // TALE OF US // THUGFUCKER // TODD TERJE // WHOMADEWHO SOUNDSYSTEM // WOO YORK


Tale Of Us continue to affirm the legacy of Space in its closing year with their conceptual Afterlife series that features a boundary pushing live room open from 9pm every Thursday.
Having already welcomed the calibre of Stephan Bodzin, Thugfucker and Woo York, Afterlife's celebrated Sunset Terrace is the only place for live club music of this kind. Starting from sun-down at 9pm, this week Afterlife welcomes Howling to cast their synthesized spell and bring an emotive live set to those looking for a truly unique clubbing experience. Offering a sound that is full of sentiment, melody and deeply moving soundscapes, Howling is composed of Innervisions core artist and one half of Âme, Frank Wiedemann, and RY X of The Acid – along with drummer and backup vocalist, Jens Kuross.
As Afterlife present a rare opportunity to see Howling play in such an intimate club environment, Rodhad, Âme and Vaal are also set to appear in the Terrace as well as Alex.Do and Distant Echoes occupying the Chamber.
Afterlife runs every Thursday at Space until 29th September.
Event info:

Date: Every Thursday until 29th September, 2016
Location: Space Ibiza
Ticketing info: http://shop.spaceibiza.com/space-ibiza-2016-en/afterlife-en.html

Line-up:

DJ: Dixon, Mano Le Tough, Nina Kraviz, Âme, Recondite, Rødhåd, Marcel Dettmann, Mind Against, Alex.Do, Ateq, Baikal, Barnt, Boddika, Distant Echoes, DJ Harvey, DJ Tennis, Etapp Kyle, Gerd Janson, Hunter/Game, Job Jobse, Jon Hester, Konstanin, Locked Groove, Mattheis, Monoloc, Pisestsky, Ryan James Ford, Sa Pa, Solar, Somne, The Drifter, Thugfucker, Tijana T, Vaal, Wrong Assessment

Live: Âme, Bob Moses, Cassegrain & Tin Man, David August, Howling, Kettenkarussell, Kiasmos, Mathew Jonson, Rival Consoles, Sailor & I, Sergie Rezza, Stephan Bodzin, Todd Terje, Voices From The Lake, Vril, WhoMadeWho, Woo York