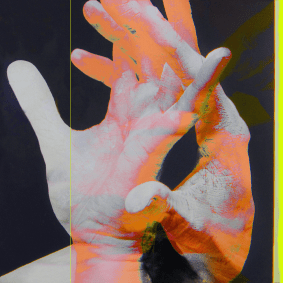 Toada - Airosa Melanina EP
Valdir Silva aka Toada returns to his own Plūma label for another innovative two track release.
Toada is a Berlin-based Portuguese producer who started under this alias—which is intended mainly to be a live act—in 2015. Emotional melodies, combined with forward thinking, playful rhythms define the project, it is a unique musical venture providing a place where Northern and Southern European influences meet to superb effect.
Big support from Lux Frágil resident Rui Vargas has followed previous releases, and the first track here came after the artist went though some defining personal experiences leading to him reflecting on the nature of melanin and its role in shaping "social hierarchies."
Opener 'Airosa' is the Portuguese word for elegant or delicate, but also proud, and is a suitably beautiful track with gentle hang drums tumbling over the softest of rhythms. Yawning chords drift around the groove and the whole thing is utterly soothing, thoughtful and mesmerising.
Then comes 'Melanina', with a drunken lead synth line taking the lead over further smooth sashaying drums. Warming pads add scale and lilting percussion helps move things along, but this is another cerebral and emotive track that really makes you think.
These are two superbly musical offerings that will bring genuine moments of emotion and reflection to any setting in which they are heard.
Tracklist:
1. Airosa
2. Melanina