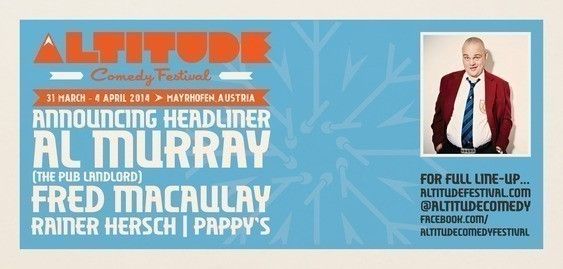 Al Murray announced as Altitude Comedy Festival Headliner
Possibly the best thing to happen to Austria since The Sound of Music, Altitude Comedy Festival is delighted to announce that the incredible Al Murray will be heading to Mayrhofen, to headline mainland Europe's biggest comedy festival! Taking place from March 31st to April 4th 2014 Altitude Comedy Festival brings together an action packed ski holiday in one of Europe's most beautiful resorts with a stellar line-up of comedy greats and the funniest new stand-ups, all up-close and personal in venues you couldn't possibly hope to see them at in the UK!
Famed for his mock-xenophobic Pub Landlord character, Al Murray's lightening repartee and self-deprecating irony have marked him out as one of the biggest comedians of the past decade and a master of his art. A Perrier Award winner who was voted the 16th greatest stand up of all time by Channel 4 in 2007, Al Murray is a must-see comedian who will be performing in the intimate surrounds of Mayrhofen, and that's definitely not something you want to miss out on!
Commenting on his headline performance Al Murray said: "I can't wait to taste this Austrian Lager I've heard so little about. Bring on Altitude 2014"
Also, joining a bill overflowing with comic talents like John Bishop, Tommy Tiernan, Nina Conti, Terry Alderton, Marcus Brigstocke, Altitude curator Andrew Maxwell, Daniel Sloss, Zoe Lyons, Abandoman, Rob Beckett, Luisa Omelian, Benny Boot, and the Impractical Jokers, Roisin Conaty, Paul McCaffrey and Joel Dommett, will be the inimitable Fred MacAulay. One of Scotland's most successful comedians, Fred has been regularly seen on QI, Mock The Week and Have I Got News For You, as well as competing in Comic Relief Does Fame Academy and presenting his own BBC Radio Scotland show for the past 17 years.
Three-man comedy act Pappy's, who are most famously the men from BBC Three's Badults will also be making their way to Mayrhofen to wow the crowds with their verbal and physical comedy prowess. Edinburgh Comedy Award nominees, Pappy's have consistently pulled in 5 star reviews for their most recent live shows and will no doubt bring the house down proving the perfect Après-ski.
Altitude is also delighted to announce that proto-Tim Minchin, Rainer Hersch will be adding his not inconsiderable skills to this year's event. A piano virtuoso with a uniquely comical take on classical music, Rainer's shows for BBC Radio 4 have earned him plaudits galore, so if you like your comedy with a side order of Mahler, then Rainer's your man.
Giving you the opportunity to experience arena-filling comedy giants in fantastically intimate surrounds Altitude Comedy Festival is held in Mayrhofen, one of Europe's most picturesque ski resorts. With an array of restaurants, luxurious hotels and enticing spas that are second to none, the picture postcard resort offers easy access to the entire Zillertal super-ski area, with 639km of piste and 167 lifts and gondolas, making it the ideal location to fuse a schnapps and schnitzel-fuelled ski holiday with one of the world's top international comedy festivals!
Catering for all tastes, whether you're a group of friends hitting the black runs by day and looking for fun all night or a heading to the slopes for a relaxing romantic break, Altitude has got all the entertainment you need at the ultimate ski holiday/comedy festival fusion in one of Europe's most reasonably priced resorts!
For more information on Altitude check Altitude's new facebook page and website.
TICKET INFORMATION:
http://www.ticketline.co.uk/altitude-festival#bio
Full Week Festival Wristband – £180 (plus booking fee)
Full Week Festival Wristband onsite – €199 (inc. booking fee)
Discount Tickets for groups of 10 or more! – Call 0844 888 9991
For every 10 full weekend wristbands sold you will get one free, more news on becoming a rep or other packages coming soon.
WEBSITE: www.altitudefestival.com