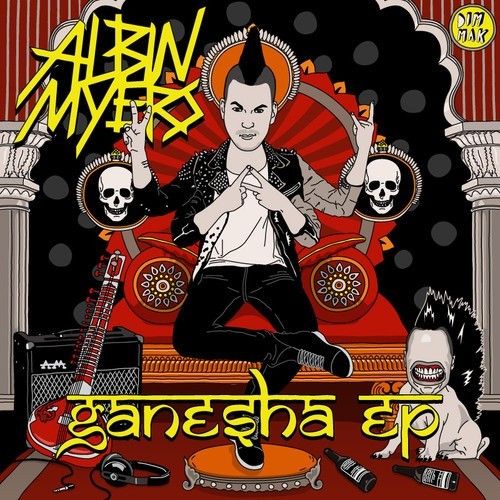 Albin Meyers 'Ganesha' EP
Albin Myers returns with the Ganesha EP, out now on Dim Mak Records, a follow-up to his Hells Bells EP.
The rising Swede draws inspiration from his excursions through India and all his touring through the vast subcontinent. Between two new tunes, title track "Ganesha" and "Tabla," staples of Hindustani classical music are highlighted from mystifying vocal lines, sexy sitars, and the swift rhythmic playing of Tablas.
He then combines it all via his electro expertise. The Ganesha EP features an additional house remix of the title track "Ganesha" from producer Tiger Stripes as well as a drum 'n' bass version.
About Albin Myers

Albin Myers is a prolific producer, show-stopping DJ, and national TV personality. Born and raised in the Swedish capital, Stockholm, he was fascinated by all aspects and facets of music from an incredibly young age. His career began in 2005 by remixing a number of Swedish pop stars under various aliases.
By 2008, he was invited to remix John Dahlbäck's "Hustle Up" on Nero Recordings. Additional remixes of The Foo Fighters and Tom Novy lead to a call from David Guetta to remix "When Love Takes Over," as well as an original release on Tiësto's Musical Freedom label. Albin eventually released his Hells Bells EP on Steve Aoki's Dim Mak Records and continues to perform globally at festivals such as Summerburst, Sunburn in India, and the Dim Mak Up All Night Stage at Tomorrowland.
As far as television goes, Albin landed himself a lead role in the Swedish reality TV series "Heartbeats" alongside Arian Lux. The TV6 documentary series followed the paths of the four rising DJs and became an instant hit throughout Sweden. Albin is also collaborating with F.O.O.L in a project called The Bastards Have Landed.
For more information on Albin Myers visit:
www.facebook.com/AlbinMyersOfficial
www.twitter.com/albinmyers
www.soundcloud.com/albinmyers
www.instagram.com/albinmyers

For more information on Dim Mak Records, visit:
www.dimmak.com
www.facebook.com/dimmakrecs
www.twitter.com/dimmakrecs
www.youtube.com/dimmmakrecs
www.soundcloud.com/dimmakrecs
www.instagram.com/dimmakrecs