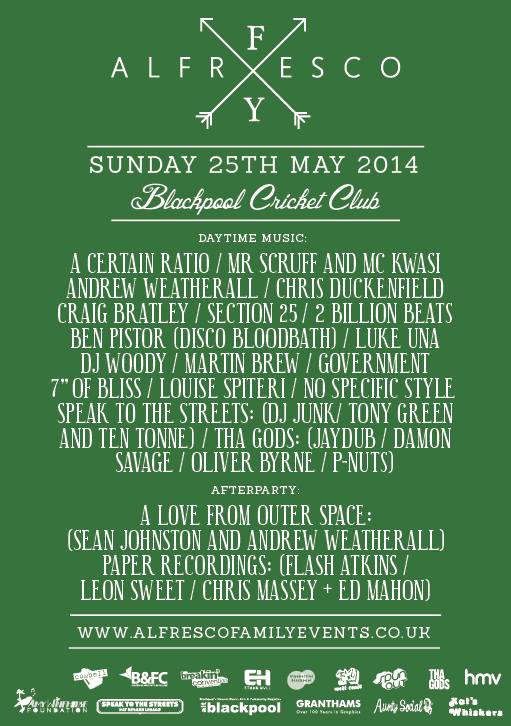 Alfresco Festival
It's Blackpool, but not as you know it …. Alfresco Family Productions host their fourth annual event on Sunday 25th May, but this time it's looking bigger and better than ever. AFP is a million miles from the cliche noisy and quick thrill promenade entertainment. The one day family event is fun, creative, enjoyable and more importantly affordable.
For those with families they host many activities throughout the event for children and it's all inclusive of one ticket price at £15. Offering arts and crafts, children's theatre, sports and games, graffiti and dance workshops, entertainers and activities all safe and supervised. The ethos is that all children are equal to the adults, and money should not put restraints on any individual, curiosity leads to taking part and getting involved.
For the parents and adults without children Alfresco have arguably the best line up of bands, DJs and artists Blackpool has ever seen on the same line up and in one day. Alfresco are delighted to announce Factory Records legends "A Certain Ratio" as this year's headliners, supported by Mr Scruff and MC Kwasi who also return to the main stage, while the mercurial Andrew Weatherall guests in the dance marquee. Also DJing will be Chris Duckenfield, Section 25, 2 Billion Beats, Luke Unabomber, Ben Pistor, Government and many more to be announced, the musical journey will be remarkable.
Did we mention there was an ALFOS (Sean Johnston/Andrew Weatherall) after party?
Breakin Convention host a live hip hop stage with guests and prizes hosted by Ten Tonn & T-Breaks: Speak To The Streets Showcase Battles with DJ Woody, DJ Junk and An Evening with Tha Gods… whilst infamous street artists: Noir (Addicted to Steel), Dank, NME, Ejecto, Kelzo, Infected By Design, Catch 22 take to spray painting exclusive murals…
Blackpool's famous Cricket Club in Stanley Park is the venue's setting on the Flyde Coast in Lancashire. It's the largest park with lots of green space, expect reasonably priced, good quality food and drink (much lower than the standard festival prices) an array of culture, dancing, street art, competitions, after parties with something for everyone.
Come and see what all the fuss is about, join Alfresco your hosts, who are looking to attract up to 4000 people including children on the day. Alfresco Family Events will guarantee you will be booking your early bird tickets for 2015, before you even leave the site…An up and coming event who are confident to be securing their space in the annual festival calendar for years to come.
Tickets for the one day festival, camping, family package, Alfos after party available from Skiddle: http://bit.ly/1kCbdj7.
Alfresco Family Event
One Day Festival
http://alfrescofamilyevents.co.uk/
11 am – 11.30 pm
Blackpool Cricket Club, Stanley Park, Blackpool, FY39EQ.
Festival Tickets:
Adult Ticket: £15 + BF
Weekend Camping : £5 + BF
Childrens Ticket: £12 + BF
Family of 4 tickets: £48 + BF
Family of 5 tickets: £57 + BF