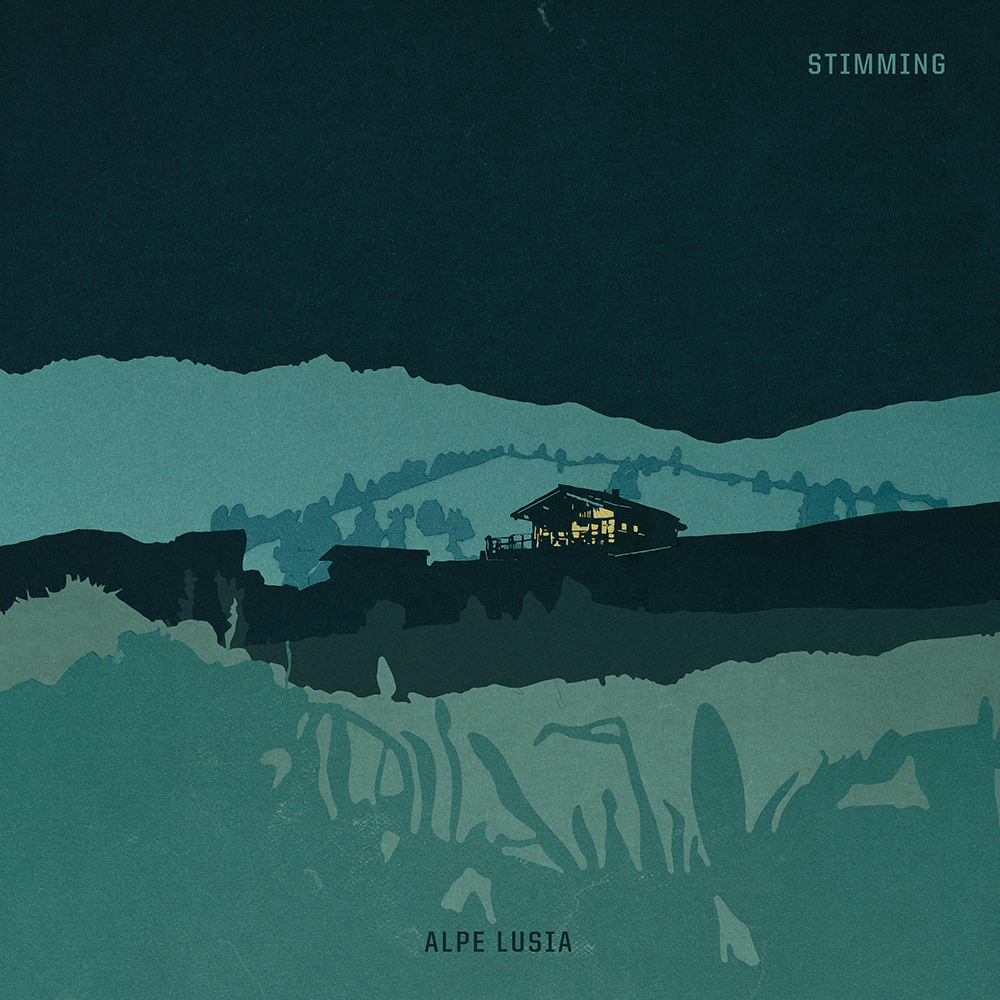 Stimming - Alpe Lusia LP
For his landmark fourth album on Diynamic, Stimming intended to create something completely new. In order to do this, he travelled to a remote hut in the Italian Alps, after which the album is named. "When I reduce the outer impulses, I create a sort of artificial understimulation, which in turn makes all my gear and equipment appear incredibly attractive again – in the way it actually deserves to be".
The result is certainly anything but generic. Stimming – whose technical production prowess is already widely respected – utilises the LP format expertly to explore a full range of tempos and emotions – "I'm neither afraid to show them nor to include them in my music."
He's well known for his love of sampling and live field recordings, none of which he ever uses twice – "you just can't get that type of material out of a synthesizer." The opening and closing tracks of the album clearly exhibit his use of the natural surroundings, with a trickling stream and buzzing bees opening 'Prepare', whilst cowbells blow in the breeze on 'Alpe Luisa'. Grittier, industrial sounds are also a pervasive theme: the live drums of 'Parking Lot' ring out in what sounds like a deserted warehouse, gradually morphing into watery drip-like sounds, while 'Pressing Plant' imitates machine-like clunking and whirring.
Perhaps one of Stimming's other most characteristic features is his classical training – he once reworked his track 'November Morning' into a classical arrangement, with the Brandenburgisches Staatsorchester performing and recording the result. He displays this skill to its full extent on this album: there's a full, beatless minute-long choral section in '22 Degrees Halo', whilst 'Saibot' cleverly uses plucked strings in the pace of synths.
At 8:55, 'Tanz Fuer Drei' is an exemplary workout of all the aforementioned characteristics combined. Underpinned by those juddering machine-like beats over a subtle sub-bass groove, the track includes two separate solitary piano sections, whilst layers of intricate percussion and samples flutter in and out of the picture.
For all its adventurousness, 'Alpe Lusia' never forgets the dancefloor. Warm, fuzzy house grooves form the backbone of the album, and 'Symphorine', whilst quirky, wouldn't sound out of place in a Solomun set – all bouncing kick drums and staccato synths, the deep sub-bass rumble that kicks in just over a minute through could be devastating on the right sound system.
That month in isolation in the Alps clearly paid off for Stimming – the innovative 'Alpe Lusia' looks set to cement his reputation as one of the most technically skilled and creative producers around. With a worldwide tour of his new live show on the horizon, Stimming is ready to introduce audiences to his way of doing things.

Tracklist
1. Prepare
2. Pressing Plant
3. Trains Of Hope
4. Parking Lot
5. 22 Degree Halo
6. For My Better Half
7. Symphorine
8. Tanz Fuer Drei
9. Saibot
10. Alpe Lusia

'Alpe Lusia' Tour Dates
04.05. – Charles Bronson, Halle (DE)
05.05. – The Block, Tel Aviv (IL)
06.05. – Zukunft, Zürich (CH)
07.05. – Cafe Singer, Basel (CH)
13.05. – Culture Box, Kopenhagen (DK)
14.05. – Gewölbe, Köln (DE)
15.05. – Ich & Du Open Air, Puschkin Strandgarten, Dresden (DE)
20.05. – Ampere, Antwerpen (BE)
21.05. – Jimbolia Electronic Music Festival, Jimbolia (RO)
25.05. – Springfestival, Postgarage, Graz (AU)
27.05. – Diynamic Festival, Land van Bosse, Amsterdam (NL)
28.05. – Harry Klein, München (DE)
29.05. – Fabric, London (GB)
03.06. – Grünspan, Hamburg (DE)
09.06. – Stereo, Montreal (CA)
10.06. – Trade, Miami (US)
11.06. – Spybar, Chicago (US)
18.06. – Diynamic Outdoor (Off Week Edition), Barcelona (ES)
22.06. – Rex Club, Paris (FR)
24.06. – 4D Sound System, Budapest (HU)
25.06. – Paradise City Festival, Perk (BE)
01.07. – Watergate, Berlin (DE)
02.07. – Sugarfactory, Amsterdam (NL)
06.07. – Paradise, DC-10, Ibiza (ES)
09.07. – Diynamic Showcase, Nabilah, Napoli (IT)
15.07. – Kowalski, Stuttgart (DE)
16.07. – Melt!, Ferropolis, Graefenhainichen (DE)
19.07. – 18.08. – Summer Holidays
20.08. – MS Dockville, Reiherstieg, Hamburg (DE)
26.08. – 4D Sound System, Budapest (HU)
27.08. – Tivoli Vredenburg, Utrecht (NL)
03.09. – 10 Years Diynamic, Zurich (CH)
04.09. – Roots of Minimal Open Air, Ghent (BE)
17.09. – The Grand Factory, Beirut (LB)
23.09. – 10 Years Diynamic, Amsterdam (NL)
01.10. – Goethebunker, Essen (DE)
15.10. – Sea Of Green Festival, Manahime Lake Park
28.10. – 4D Sound System, Budapest (HU)
Further tour dates in Australia, Asia, Africa and Americas will be announced soon.
About Stimming
Stimming is revered amongst those in the know for his production skills and knowledge of tech. He got to grips with the violin, piano and drums at just 10 years old, moving on to producing on his computer at the age of 16. He met Solomun and Adriano when he first moved to Hamburg, and started to release on Diynamic when it began in 2006. He went on to release his first LP, 'Reflections' on the imprint in 2009, followed by 2011's 'Liquorice' and the self-titled 'Stimming' in 2013. He's a skilled live performer, having played on a 4D soundsystem and at both large-scale festivals and intimate club settings in every inhabited continent. Such is his devotion to his craft that he recently went on a trip across the wintery North sea in a cargo ship – all to develop his live show for the upcoming Alpe Lusia tour this April.
For more information on Stimming please visit:
https://www.facebook.com/stimming/
https://twitter.com/MStimming
https://soundcloud.com/stimming