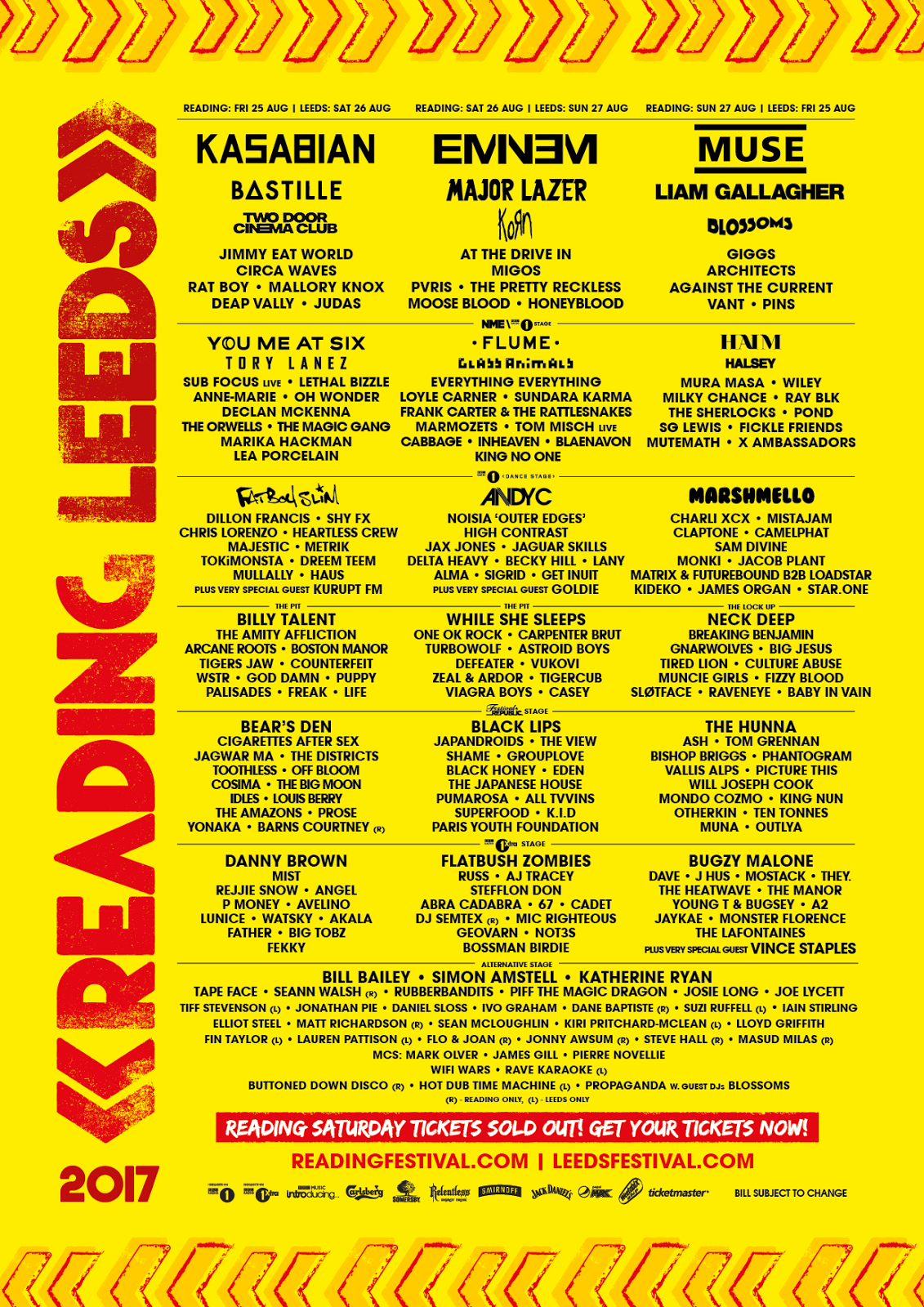 Alternative Stage Plus Even More Music Name Announced For Reading & Leeds 2017
Reading & Leeds Festival 2017 has today announced more names across the music stages, with the arena-sized comedians, global stars and popular club nights joining the Alternative Stage for a Bank Holiday weekend not to be missed.

Reading & Leeds audiences will have the chance to see one of the most talked-about comedians of the moment, Simon Amstell, just before he embarks on his What Is This? tour this September. Having found fame as the host of Popworld and Never Mind The Buzzcocks, Simon Amstell has continued his storied career writing and starring in the critically acclaimed television series, Grandma's House, and writing and directing his gripping feature film Carnage, which premiered on BBC iPlayer in March. Unparalleled and undeniable, his set at Reading & Leeds will be as thought provoking as it will be hilarious, and sits as a true weekend highlight.

Following his festival stealing performance last year, multi-award winning stand-up Bill Bailey will be returning to The Alternative Stage. With musical virtuosity, surreal tangents, and trademark intelligence, Bill tackles politics, philosophy and the pursuit of happiness. At Reading & Leeds this August, hear Irish reels, hardcore metal, Tom Waits' style re-workings of nursery rhymes and Beethoven's' Für Elise as you've never heard it before, plus a timely reworking of the Stars and Stripes in a more apocalyptic style.

Katherine Ryan will set out to entertain Reading & Leeds audiences with her razor-sharp pop culture critique. Originally from Canada and star of BBC's Live at the Apollo, QI, ITV's The Jonathan Ross Show and Channel 4's 8 Out of 10 Cats, Katherine is a writer/performer and stand-up who is taking the UK television and live comedy scenes by storm. Katherine recently released Katherine Ryan: In Trouble on Netflix, seeing her become the second British-based comedian to have a Netflix Original Comedy Special released globally.

Joining them over the bank holiday weekend are Comedy Central favourite Seann Walsh (Reading Only), Tape Face with his unique prop-lead performance, viral political sensation Jonathan Pie, Iain Stirling, who will join us fresh from a third series narrating TV ratings hit Love Island, and the spectacular sight of the one and only Piff The Magic Dragon.

Tape Face – "I am beyond excited to be playing not one but two of the greatest festivals in the UK. I am lost for words."

Further Alternative Stage appearances will come from long-standing panel show favourite Josie Long and Irish hip-hop jokers The Rubberbandits – along with performances from the likes of Joe Lycett, Tiff Stevenson (Leeds Only), Daniel Sloss, Ivo Graham, Dane Baptiste (Reading Only), Suzi Ruffell (Leeds Only), Matt Richardson (Reading only), Elliot Steel, Sean Mcloughlin, Kiri Pritchard-Mclean (Leeds Only), Lloyd Griffith, Fin Taylor (Leeds Only), Lauren Pattison (Leeds Only), Jonny Awsum (Reading Only), Steve Hall (Reading Only), Flo & Joan (Reading Only), Masud Milas (Reading Only). Your MCs for the weekend are Pierre Novellie, Mark Olver and James Gill. With all this, and more still to be revealed, we're bringing the brightest lights in comedy to Reading & Leeds this August.

Joe Lycett – "I'm VERY excited to be playing Reading & Leeds, festivals that all the cool kids at school used to go to while I sat in my bedroom being a right little weirdo. Finally I'm one of the cool kids, 10 years too late."

Dane Baptiste – "Love the Reading and Leeds festivals, great bands, sounds, comics and an amazing vibe so good that I'M prepared to use Portaloos. Which is unheard of. "

Renowned indie club night Propaganda will provide a late night euphoric disco soundtrack with special guest appearances lined up from breakthrough Main Stage blazers Blossoms, who'll be delving into their record collection for a DJ set not to be missed. The unique WiFi Wars will be heading to Reading & Leeds this summer, bringing the interactive comedy show to the forefront of festival-goers for a night of comedy, quizzes and challenges like no other. With Buttoned Down Disco on hand to bring the multi-genred hits in Reading, the time-travelling thrills of the Hot Dub Time Machine lining up the heavy-hitters in Leeds and Rave Karaoke providing the perfect Leeds moment to sing-along to all your late-night dance favourites – the Alternative Stage is once again set to confirm Reading & Leeds as the ultimate festival party of the summer.

Breakthrough UK pop-punks Neck Deep will celebrate the release of their eagerly anticipated third album and continue their ascent as they take to the Lock Up Stage for a landmark headline performance. The ever-growing popstar Sigrid delivers a remarkable insight into the beats and hooks thousands have already fallen for. Expect the 'Don't Kill My Vibe' star to truly seize the moment at Reading & Leeds this August. Beloved Scottish indie kings The View will touch down at the festival, with an unmistakable trip down memory lane with their catalogue of singalong favourites, while El Clasico grime stormer Fekky will return to the fields with a full-throttle set of crowd-pleasing hits. The stage is also set for the likes of dirty pop weavers Get Inuit, the unrivalled South London drill rhymes of 67, and Mancunion risers PINS who've all been added to the bill today.

Further appearances will come from the likes of London via Berlin duo Lea Porcelain, alt-indie blenders Fizzy Blood, live juggernauts Otherkin, rap-rock morphers The LaFontaines, Irish favourites All Tvvin, Danish riff-rippers Baby In Vain, Toronto force K.I.D and Atlanta hip-hop swayer Father – Reading & Leeds is once again brimming with the hottest names in modern music.

With headline sets lined up from the likes of Eminem, Muse and Kasabian, Reading & Leeds is primed to be the defining festival weekend of the summer including an unmissable selection of musical delights across genres and styles over the Bank Holiday Weekend.
http://www.readingandleedsfestival.com

Announced Today

Simon Amstell
Bill Bailey
Katherine Ryan
Seann Walsh (Reading Only)
Tape Face
Jonathan Pie
Piff The Magic Dragon
Josie Long
Matt Richardson (Reading Only)

Neck Deep
Sigrid
The View
Fekky
67
Get Inuit
PINS
Lea Porcelain
Fizzy Blood
Baby In Vain
Otherkin
The LaFontaines
All Tvvin
K.I.D
Father

The Rubberbandits
Joe Lycett
Tiff Stevenson (Leeds Only)
Daniel Sloss
Ivo Graham
Dane Baptiste (Reading Only)
Suzi Ruffell (Leeds Only)
Iain Stirling
Elliot Steel
Sean Mcloughlin
Mark Oliver
Kiri Pritchard-Mclean (Leeds Only)
Lloyd Griffith
Pierre Novellie
Fin Taylor (Leeds Only)
Lauren Pattison (Leeds Only)
Jonny Awsum (Reading Only)
James Gill
Steve Hall (Reading Only)
Flo & Joan
Masud Milas
Wifi Wars
Hot Dub Time Machine
Propaganda w/Blossoms
Buttoned Down Disco
Rave Karaoke