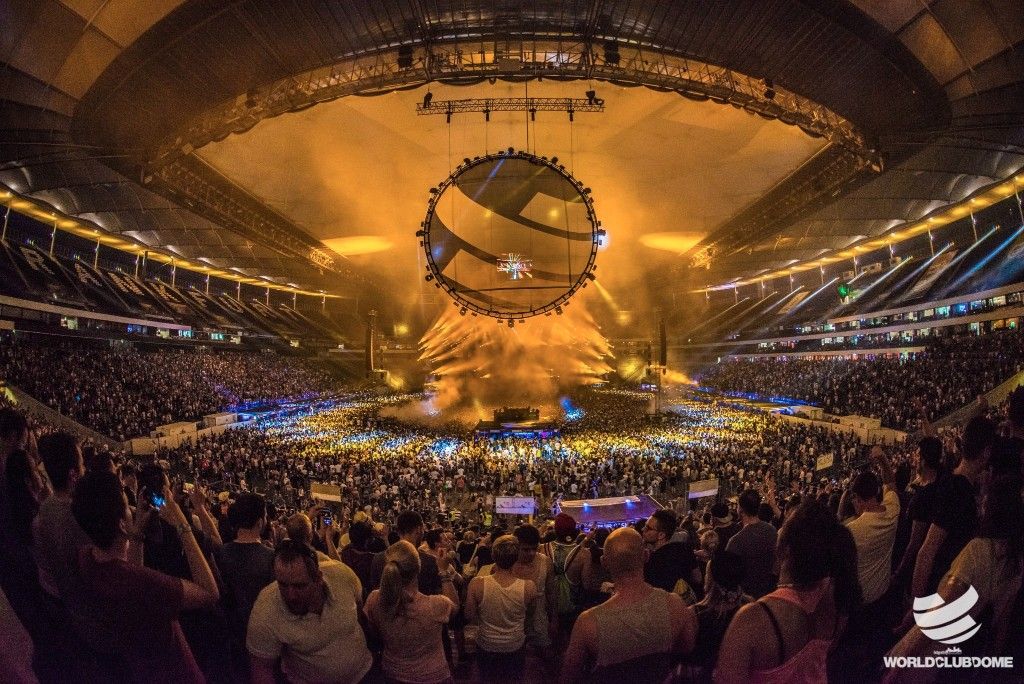 BigCityBeats WORLD CLUB DOME 2017 sell out stadium for fifth anniversary
"Five years ago when we opened our first BigCityBeats WORLD CLUB DOME in the Commerzbank Arena, we would never have dreamt it: more than 140,000 club music fans from 60 countries in a 700,000 m2 open-air space, selling out an entire stadium. We would like to say thank you to our BigCityBeats family and the WORLD CLUB DOME fans. We would like to say thank you to the city of Frankfurt, to which we feel more attached than ever." This is how Bernd Breiter, managing director of BigCityBeats sums up the WORLD CLUB DOME 2017, which took place for the fifth time this weekend in the Commerzbank Arena.

As early as last week it was obvious that the "biggest club in the world" was sold out, with over 140,000 visitors arriving in town in time for the three show days – with 50,000 guests a day at its height – as the event set a new visitor record.
A highlight of this anniversary year was the impressive Q-dance stage, on which at times over 7,000 fans from their special community celebrated hardstyle.

In addition, the pool session in the adjoining Frankfurt Stadium Bath made for a genuine holiday feeling, akin to clubs on Ibiza. Amid summer temperatures, visitors cooled off in the pools or enjoyed the sunbathing areas, while at the same time big DJ names such as Solomun and Sven Väth spun the music.

And, this year anyone who on the way to the pool session took a detour through the wood was able for the first time to admire the forest stage: a darkened, air-conditioned tent, pumping out tech-house in a unique, fairy-tale forest landscape.

"We are developing further this year, looking for new ideas and pursuing just one goal in the process: to offer our BigCityBeats family an unforgettable weekend feeling and to unite all genres of club music under the roof of the BigCityBeats WORLD CLUB DOME", says Bernd Breiter, pointing to the over 200 DJs who travelled there from 25 countries.

In a line-up planned to fulfil this, those present were:

AFROJACK, ALLE FARBEN, CHASE & STATUS, DEADMAU5, DEICHKIND, DIMITRI VEGAS & LIKE MIKE, GESTÖRT ABER GEIL, GRANDTHEFT, HARDWELL, JAUZ, KREWELLA, KUNGS, LAIDBACK LUKE, LE SHUUK, LUCIANO, MARTIN GARRIX, MARSHMELLO, NICKY ROMERO, ROBIN SCHULZ, SOLOMUN, SVEN VÄTH, STEVE AOKI, UMMET OZCAN, VALENTINO KHAN, W&W, YELLOW CLAW, ZEDD, and many more.
It is almost as much a truism as a tradition, that the biggest club in the world should have its own club jet and its own club train…

100 guests were picked up from London and Munich by the luxury BigCityBeats A340 Club Jet, helped into the mood for WORLD CLUB DOME at an altitude of 10,000 metres. On board were Afrojack and Robin Schulz, as elsewhere 400 World Clubbers came on the BigCityBeats ICE Club Train from Paris, with Alle Farben and others at the turntables, to the BigCityBeats WORLD CLUB DOME station directly adjacent to the stadium.

Another integral part of the BigCityBeats WORLD CLUB DOME was Dorian Gray 2.0. On Friday, several gates at Frankfurt Airport were switched up to become a club space, with a view of the BigCityBeats Club Jet behind, itself serving as a third floor. On Sunday, the WORLD CLUB DOME 2017 ended with a gigantic closing show, at which Le Shuuk performed the BigCityBeats WORLD CLUB DOME 2017 hymn.

Even now you can look forward to the next WORLD CLUB DOME 2018. Advance ticket sales have been open for a week since 11.00 p.m. on Sunday. But BigCityBeats fans don't have to wait that long. The next event is already due on 23 July 2017, featuring "UNITE with Tomorrowland" at the Veltins Arena in Gelsenkirchen.
2 / 3 / 4 June 2017
Commerzbank Arena, Frankfurt
http://www.worldclubdome.com