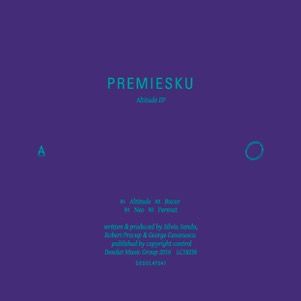 Premiesku - Altitude EP
Loco Dice's Desolat kicks off 2016 with a brilliant new EP from Romanian trio Premiesku aka long term friends Livio, Roby and George G. They have close associations with the label and have done for years, and after their great debut album Indirect in 2012, are now a very real force in the dance world.
The trio is also famed for its live show, which is performed using specially made consoles and has seen them headline all over Europe from Timewarp to Watergate to Rex in Paris. With releases on labels like 2020Vision and Vakant, and fans as acclaimed as Seth Troxler and Ritchie Hawtin, this really is a fantastic outfit that once again comes up trumps here.
Say the threesome of their approach to this new EP. "We really felt it was time to let the machines sing for us, so we connected our live modules and equipment in a way totally different from our live rig. We tried also a generative approach, and then started experimenting with things, like sending the sequences from our drum machines to the base module and to a sampler and then forcing the notes to have different feelings than before. In tracks like 'Permut' we let the machines take over until we then came up with the main riff of the track."
Opener 'Altitude' is seven minutes or irresistible electronic funk. Jostling drums and odd synth sounds dance next to each other and you will too. Machines get loose and spit out soulful sounds and odd hooks and the whole thing keeps you locked for the duration. 'Bucur' is a more peak time techno cut with forceful kicks driving it along, occult little alien sounds and snatched vocal parts that are fluid and free flowing and will really get under the skin of any dancefloor in expert fashion.
'Neo' then finds the Romanians going for a more minimal aesthetic with slick rubbery drums making a punchy pattern down below as heavenly female vocals up top add a key human element. Some spiritual melodies also explode above the groove and ensure that minds will be well and truly blown when this one is dropped. Lastly, the excellent 'Permut' is a dubby roller with a fat and heavy bottom end that is impossible to ignore. It has some classic techno synths lighting it up and is the sort of hypnotic affair that will really stand out in the coming months.
With this essential new EP Premiesku continue to go from strength to strength.
Tracklist:
1. Altitude
2. Bucur
3. Neo
4. Permut