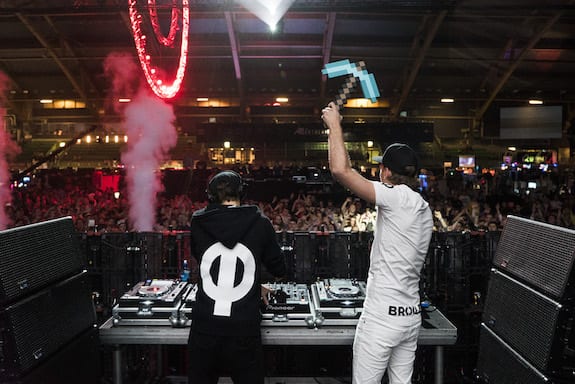 Alunageorge , Broiler And Lemaitre Perform At First Minecraft Virtual Concert
In a completely unique and groundbreaking live event, AlunaGeorge, Broiler and Lemaitre have perfomed at Norway's annual tech show, 'The Gathering', from 23rd-27th March. All three acts peformed at the Vikingskipet Olympic Arena, with the entire show recreated live within the popular interactive video game, Minecraft.
'The Gathering', Norway's biggest 'hackathon' and the second biggest in the world, played host to 5550 eager participants over four days – competing in gaming, programming, cosplay, music production and more. The highlight of the event came with shows from AlunaGeorge, Broiler and Lemaitre who took to the stage both in person, as well as within the world of Minecraft in real-time. During their shows a team of volunteer gamers controlled avatars, modelled after the performers, mimicking their on-stage movements within the game, and recreating the entire concert in virtual reality. Before the show, users went as far as to post billboards and fliers in the game, advertising the concert to others.
"There have been plenty of other music experiences in the Minecraft universe, but not like this." Eric Heisholt, found of Heisholt Inc and organiser of 'The Gathering'
"This collaboration is very special…music and gaming going hand in hand. This event enables truly gifted artists to perform in an exceptional setting. The fact that this event has been broadcast both as a live concert and as a stream within Minecraft is an enormous feat." Gjermund Moastuen – Universal Norway

Still riding the wave of success following their first original release of the year, 'Money', Broiler have certainly pushed the boundaries of what is usually expected from an electronic artist. Not only have they made history through this special event, they are the first to be included in what might be the next frontier in electronic performance.
www.facebook/djbroiler
www.twitter/djbroiler
www.soundcloud/djbroiler