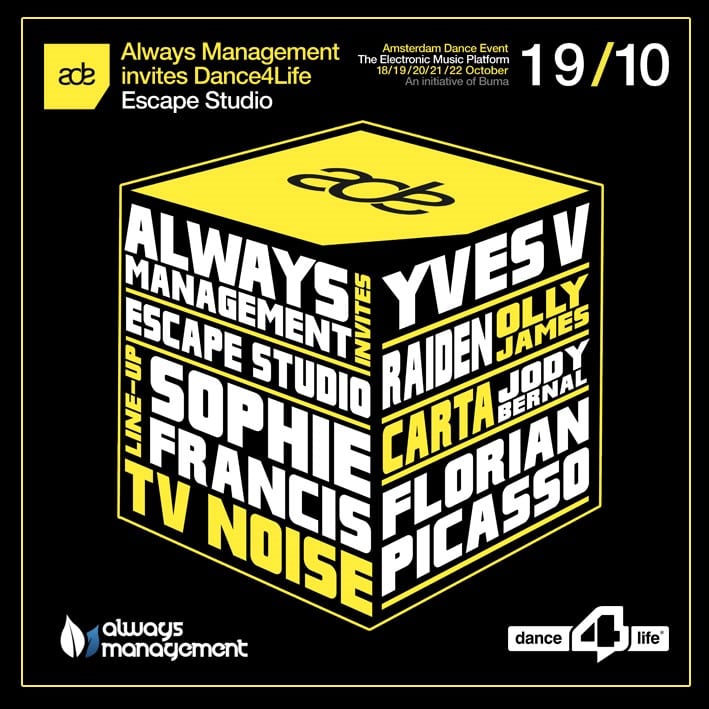 Always Management Announce ADE Program
Always Management announces a series of ADE specific programming with their artistsSophie Francis and TV Noise including two events benefiting the dance4lifeorganization.
Sophie Francis and TV Noise take the stage at the dance4life HQ on Tuesday October 17 in support of the organization that creates social change and empowers young people to take action to push back HIV and AIDS. dance4life is about the belief that HIV and AIDS can and will be stopped the moment young people have the power to stand up and say no to unsafe sex. The artists will participate in a DJ workshop for local students aged 12-18 years old to help spread the message in a meaningful way.
The event takes place from 5PM to 7:30PM at dance4life's HQ Keizersgracht 177 and media are welcome!
Next up is Always Management's benefit for dance4life at the Escape Studio in Amsterdam. Happening on Thursday October 18, the event features Always Management artists Sophie Francis and TV Noise along with guests Florian Picasso, Yves V, Carta, Raiden, Olly James and Jody Bernal. This event begins at 10PM and runs until 4AM.

Sophie Francis and TV Noise are both available for interviews during ADE.