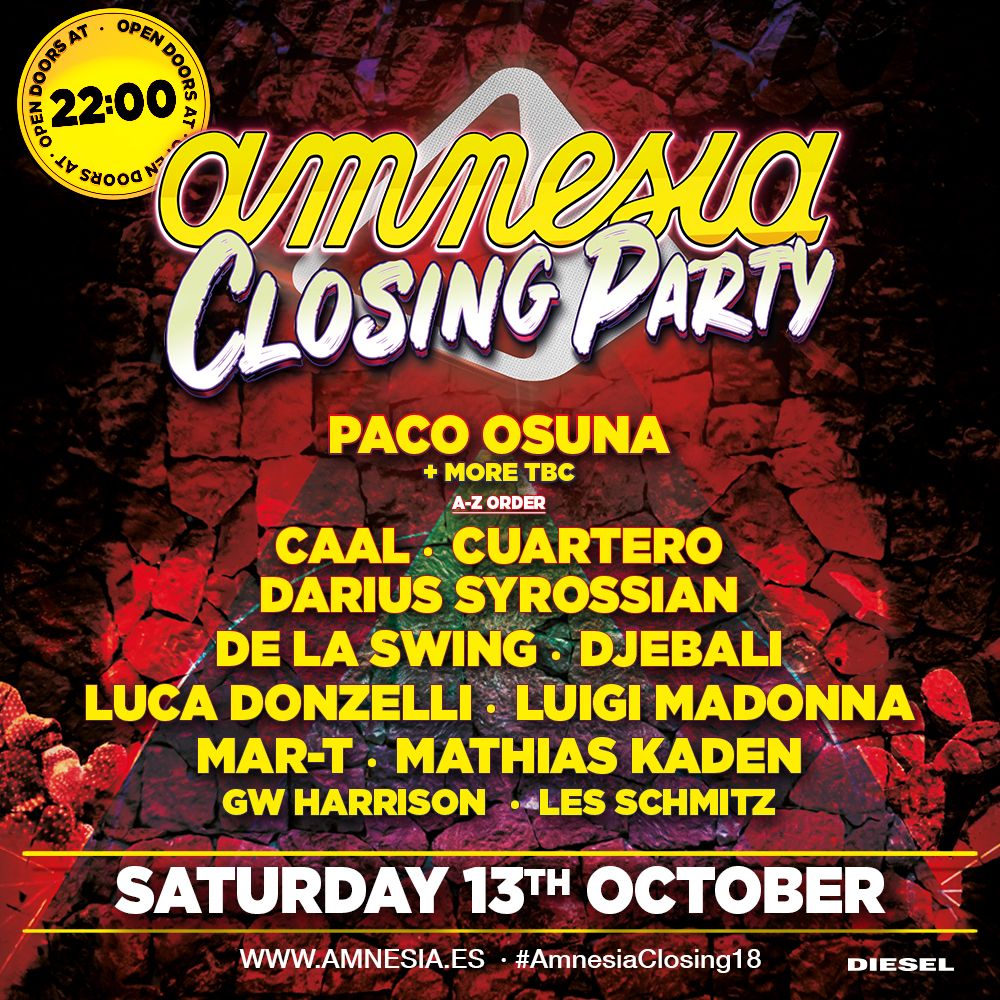 Amnesia Ibiza Closing 2018 line up
After the longest season to date, Amnesia Ibiza will be closing its doors on October 13th. It's been a year of changes at the club in San Antonio, with new additions to the weekly programme such as Pyramidon a Monday, Vibra! on a Wednesday and Abode and Do Not Sleepon a Thursday. On top of the incorporation of these huge promoters, all time favourites Together, Music On and elrow also returned, with line ups bigger than ever before.
To celebrate Amnesia's 44th and successful season, this year's closing party line up includes some of the island's favourite artists, who over the season have played some unforgettable sets at different parties at Amnesia.
Headlining the event is the one and only Paco Osuna. Paco has been playing at Amnesia for years now and from a very young age, so he's the perfect artist to end an incredible season with. Joining Paco is Do Not Sleep resident Darius Syrossian, elrow favourite De La Swing and the french artist Djebali, who is one of Paris' most accomplished house producers. The DJ and producer from Málaga Cuartero also joins the line up, alongside Wow! Recordings boss Mar-T and the talented DJ and Producer Mathias Kaden, who have all been familiar faces at Amnesia's new party on a Monday this season, Pyramid. And top of all of these names, the last party of the season in Ibiza also includes Luca Donzelli, who is no stranger to Amnesia's booth and Caal, who this year has played a huge amount of times at Amnesia, including Pyramid, Together and elrow. Closing the line up are Amnesia resident Les Schmitz and Abode resident GW Harrison.
October 13th, Amnesia Ibiza Closing Party, the last dance of the season!
More info and tickets at www.amnesia.es
AMNESIA IBIZA CLOSING PARTY 2018
Saturday October 13th
Full line up:
Paco Osuna
Caal
Cuartero
Darius Syrossian
De La Swing
Djebali
Luca Donzelli
Luigi Madonna
Mar-T
Mathias Kaden
Les Schmitz
GW Harrison