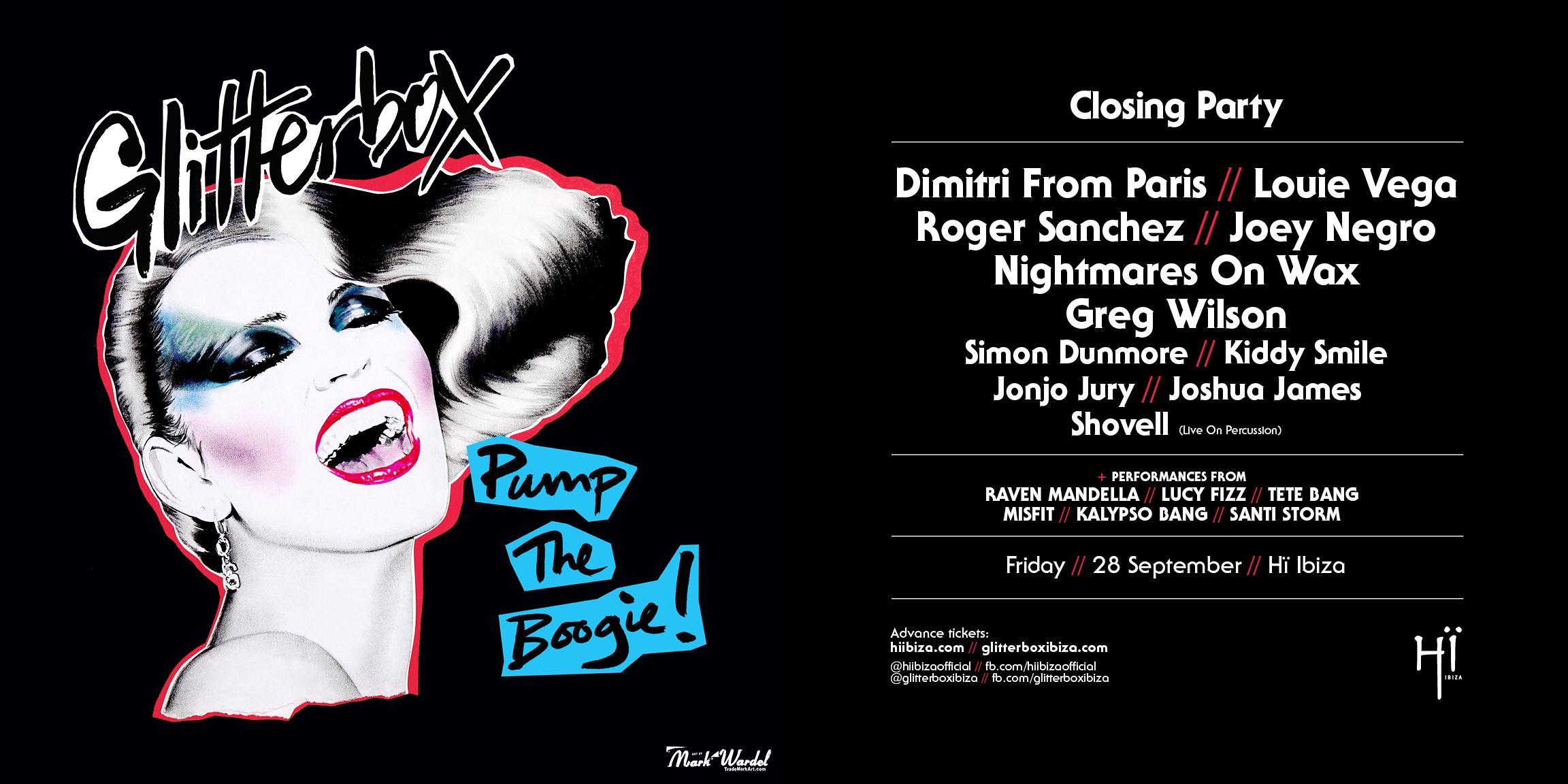 Glitterbox Ibiza Closing Party Announced…
This year the Glitterbox phenomenon has reached stratospheric levels. While the tour has touched down in New York, Zürich, Amsterdam, Belgium, Croatia, Manchester, Leeds and many more, the jewel in the Glitterbox crown has been the 18-date season at Hï Ibiza. The 21st century disco's fifth consecutive residency on the island has welcomed record numbers through the doors every week, meaning that by the end of December, over 145,000 people will have been on a Glitterbox dancefloor somewhere in the world this year.
There are two Fridays left to go at Hï, the next date 21st September featuring Dimitri From Paris, Todd Terry, DJ Harvey, Horse Meat Disco, live PA from Barbara Tucker, Purple Disco Machine, Luke Solomon, Heidi Lawden and an Ibiza debut from Krywald & Ferrer.
The closing party on Friday, 28th September will see the cream of the Glitterbox crop come together to celebrate what has been a truly incredible summer. Resident Dimitri From Paris will headline one last time, having migrated from playing the Club room to Hï's main room, the aptly-named Theatre, due to popular demand. Joining him will be house maestro Louie Vega, Glitterbox favourite Roger Sanchez, disco edits legend Joey Negro, man of the moment Nightmares On Wax and lifelong disco ambassador Greg Wilson. Meanwhile Hï's disco hideaway, the WC or Wild Corner, will host Paris' current hottest voguing export, Kiddy Smile, alongside Savage residents Jonjo Jury and Joshua James accompanied by Shovell on percussion.
Bringing the extravaganza to life will be Glitterbox's personalities, the drag performers and dancers. The inexhaustible energies of Raven Mandella, Lucy Fizz, Asttina Mandella, Kalypso Bang and Santi Storm are an essential part of the night's identity, creating immersive, euphoric moments throughout the night. A force to be reckoned with in nightlife culture, Glitterbox generates an inclusive, uplifting party atmosphere designed to unite all on the dancefloor. Glitterbox events are immersive and full of unforgettable moments, using the most spectacular production, dancers and soundtrack for a night that showcases dance music at its purest and most joyful.
For all tickets and further info see www.glitterboxibiza.com.
GLITTERBOX IBIZA – WEEK 17
FRIDAY, 21ST SEPTEMBER
DIMITRI FROM PARIS / TODD TERRY
DJ HARVEY / HORSE MEAT DISCO
BARBARA TUCKERLIVE PA / PURPLE DISCO MACHINE
LUKE SOLOMON / HEIDI LAWDEN
KRYWALD & FERRER
GLITTERBOX IBIZA CLOSING PARTY
FRIDAY, 28TH SEPTEMBER
DIMITRI FROM PARIS / LOUIE VEGA
ROGER SANCHEZ / JOEY NEGRO
NIGHTMARES ON WAX / GREG WILSON
KIDDY SMILE / JONJO JURY
JOSHUA JAMES / SHOVELLON PERCUSSION
PERFORMANCES FROM:
RAVEN MANDELLA / LUCY FIZZ / ASTTINA MANDELLA / KALYPSO BANG / SANTI STORM
TICKETS AVAILABLE NOW: http://www.glitterboxibiza.com