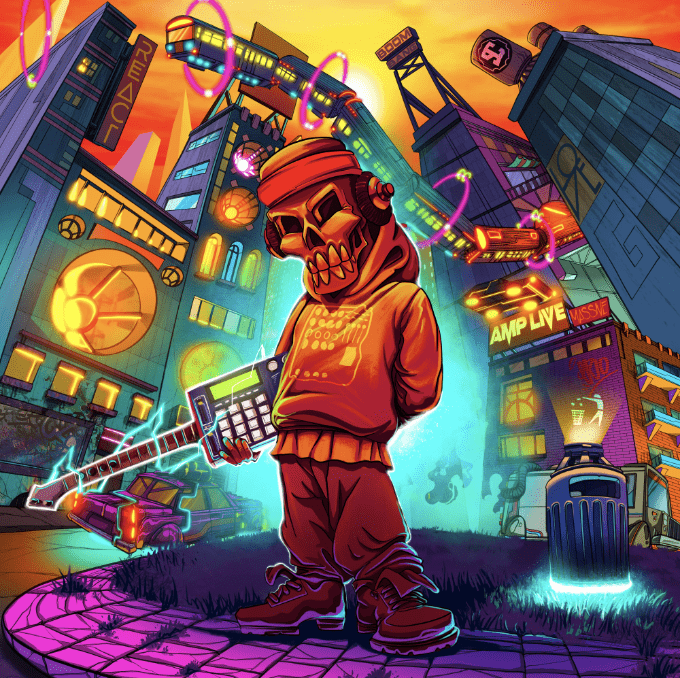 Amp Live Lands on Subcarbon Records with Mesmerizing 6-Track EP, 'Let's Start the Show'
California based multi-platinum producer and DJ Amp Live lands on Subcarbon Records with his eagerly awaited 6-track EP, 'Let's Start The Show'. Crafting a mesmerizing rhythmic tapestry, Amp Live seamlessly melds the distinctive sounds of reggae and hip-hop with the profound depths of bass music.  The collection showcases several features including Chali2na from the iconic hip-hop act Jurassic 5, LOUSTAR, as well as a standout joint venture with revered bass maestro Dirt Monkey. With his latest offering, Amp Live caters to a spectrum of musical tastes, oscillating between the intensity of adrenaline-fueled beats and the serenity of mellow, downtempo harmonies. 'Let's Start The Show' EP is out now and available to stream across all platforms via Subcarbon Records.
The EP kicks off with "Mic Test 212" featuring Johanna Phraze, a pulsating production with exuberant bass nuances that beckon listeners to move in rhythm with its magnetic beat. Setting an electrifying pace for what lies ahead, the track envelops the listener in its aural embrace and whisks them away to a sonorous realm of undulating sound. Up next is "Keep It Alive" with Jurassic 5's Chali2na, a dynamic offering characterized by its lively hi-hats and robust bassline, seamlessly stitched to produce an irresistibly groovy rhythm. Tapping Chali2na for lyrical duty, the track is infused with a hip-hop essence that promises to leave an indelible mark on the listener.
The third offering, "Protecta" featuring Dizzle Baby showcases a commanding vocal display set against a backdrop of leisurely beats and entrancing sonic warbles. Draped in languid rhythms that flow with an almost languorous grace, the track echoes with mesmerizing sonic waves, inviting listeners to lose themselves in its profound depths. Continuing the EP's aural opus, "Underground" emerges as a remarkable collaboration between Amp Live, Dirt Monkey, and YBGhosty. This track embodies the zenith of each artist's distinct production prowess, manifesting in a seamless fusion of wobbly bass, entrancing percussion, and discernible hip-hop nuances. Both artists exhibit their virtuosity, converging harmoniously to fashion an aural experience that's endlessly playable.
The EP's namesake track, "Start The Show" with LOUSTAR, pulsates with a spirited drum n bass rhythm, establishing itself as the heart of this collection. The signature production invites listeners into an evocative realm defined by its crisp snares and razor sharp synth-work. Rounding out the EP is "Tide" – a prodigious creation imbued with an enthralling energy and ethereal ambiance. Serving as the EP's grand finale, this track orchestrates a symphony of sonic elements, guiding listeners through a rhapsodic journey and leaving them ensnared in its captivating embrace.