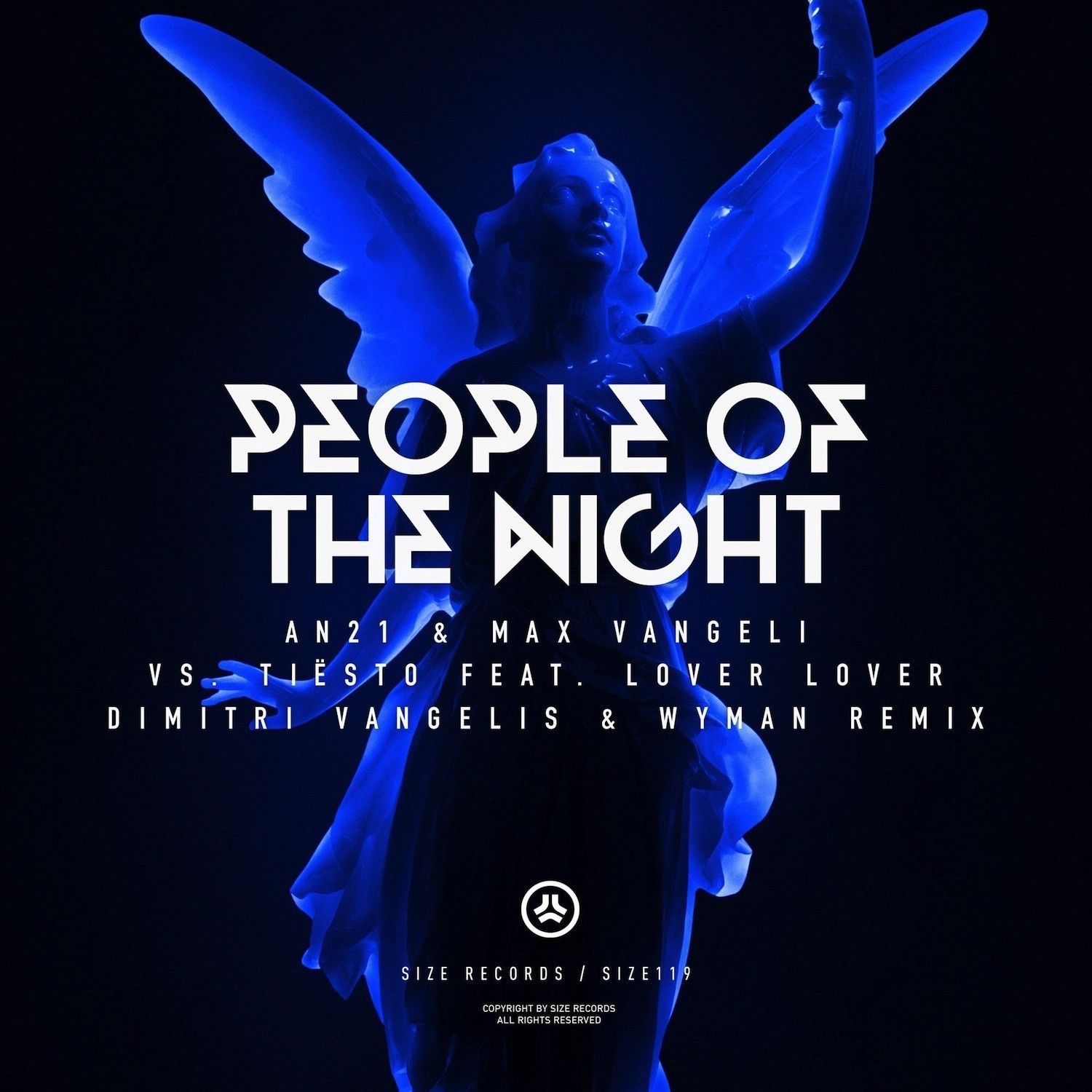 AN21 & Max Vangeli vs Tiësto feat. Lover Lover 'People Of The Night'
Following the success of last year's highly-anticipated debut album from AN21 and Max Vangeli comes a refreshing remix of title track 'People Of The Night' by Dimitri Vangelis and Wyman. Released via Size records, this remix is out now and builds on the original single that brought together Tiësto and vocalist Lover Lover to forge several minutes of unrelenting big room house euphoria.
Long time friends Vangelis and Wyman pull the limbs of "People Of The Night" even further away from the original on this remix. Boosted by Lover Lover's vocal allure, the pair create an amorous tug of war between rumbling basslines, soul-lifting hoover synths and unrelenting four-to-the-floor kick drums.
Widely considered as one of house music's most promising rising duos, Dimitri Vangelis & Wyman initially barged their way into scene in 2011 with an arsenal of remixes like their alterations of Dinka's 'Reach For Me' and Coldplay's 'The Scientist'. That lead to attention from EMI Music and by January of 2012 they inked a deal with EMI/Virgin. The deal led to their first original release, 'Roll the Dice', a fireball of fast paced, electronic energy that received playtime from a cohort of the world's best DJs. Focusing on the production aspect, the duo followed up 'Roll the Dice' with their next single on EMI/Virgin called 'Russia', a track that showed versatility, as well as, a darker and harder side to their progressive productions.
During this, they've received an onslaught of radio support, as well as plays during live sets from DJs including: Tiesto, Sebastian Ingrosso, Paul Oakenfold, Dada Life, AN21 & Max Vangeli, Arty, Andi Durrant, Eddie Halliwell, EDX, Swanky Tunes, Hard Rock Sofa, Matisse & Sadko, Thomas Gold and Chris Lake. Signing off 2012, they facelifted EDX & Nadia Ali's 'This is Your Life', and forged a whooping refix of 'Bavarian #1 (Say You Will)' by indie music big shot Miike Snow.
With excitement increasing at an unstoppable rate, the rest of 2013 belongs to this Swedish pair.
For more info on AN21:
https://soundcloud.com/an21
https://twitter.com/AN21
https://myspace.com/an21official

For more info on Max Vangeli:
https://www.facebook.com/maxvangeli
https://myspace.com/maxvangeli
https://soundcloud.com/maxvangeli

For more info on Tiësto:
http://www.tiesto.com
https://soundcloud.com/tiesto_official
https://twitter.com/tiesto

For more info on Size:
http://www.sizerecords.com/
https://www.facebook.com/sizerecords
https://soundcloud.com/sizerecords