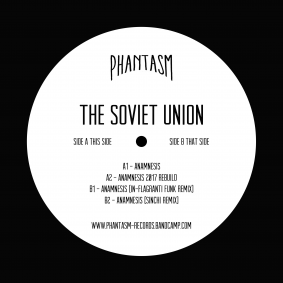 The Soviet Union - Anamnesis
Phantasm is a new vinyl label and collaboration between Amsterdam's Sinchi Collective and the much-admired Night Noise outlet, based in Geneva. It kicks off with a strong EP from The Soviet Union aka Richard Baldwin, including classy remixes from Sinchi themselves and In Flagranti.
Baldwin has a signature style that is cinematic and synth heavy and has been formed over the last decade plus. A fine DJ, experienced promoter and self-confessed addict of vintage analogue synthesizers and drum machines, Richard pulls his influences from early electronica, 80s film-scores, and shades of techno right up to the present day.
This track was first written on a cold evening in December 2010 using a Roland TR707 and JX8P Synth. After collaborating with his songwriting partner the track was given a haunting vocal and released as 'The Disappearance of Becky Sharp', while the original remained on Baldwin's Soundcloud and got ID requests from all over the world. 7 years later it comes back to life in the form of its original instrumental, with a 2017 rework, plus remixes by Sinchi and In Flagranti.
The superb original is a perfectly spaced out and a retro-future bit of synth heavy electronic music. Arpeggiated bass props up rueful chords and icy percussion brings that essential cosmic vibe. It's a timeless track that overflows with emotions and is sure to really make a mark in any DJ set thanks to its rich musicality. The 2017 Rebuild is even more lush and zoned out with sombre chords forcing you to reflect on the deeper meanings of life.
In Flagranti—the Codek Records duo based in Switzerland—then lace in some hip swinging claps and make this one a deep disco track that is riddled with little synths, chords and melodies that exude warmth and sci-fi soul. Last of all, Amsterdam's Sinchi cook up a storm with corrugated basslines, long tailed pads and turbulent solar winds that make it that bit darker and moodier.
This is a brilliant package of emotive music that is a real statement of intent.
Tracklist:
1. Anamnesis
2. Anamnesis 2017 Rebuild
3. Anamnesis (In Flagranti Funk Remix)
4. Anamnesis (Sinchi Remix)