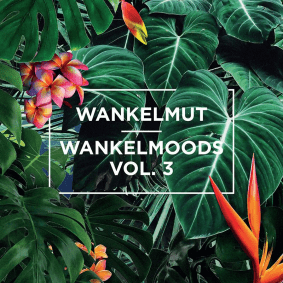 Various Artists - Wankelmoods Vol. 3
Three years after the much-loved second volume, Wankelmut is back with the third edition of his Wankelmoods compilation series. It is a fine window into his unique musical mind which packs lots of moods and grooves into its standout 24 tracks.
This self-proclaimed 'minimal electronica imp with a knack for rock remixes' hails from Berlin. Active since 2011, he has released always innovative EPs on labels like Get Physical and Ego as well as Columbia and of course Poesie. He first rose to fame when his unofficial remix of Asaf Avidan & the Mojos' 'Reckoning Song' went viral from his Soundcloud page. Since then he has played all over Europe, clocked up a few chart hits such as 'My Head Is A Jungle' and now this latest mix finds him in fine form. It includes two of his own recent hits released on Modernsoul/Fine, in the form 'I Keep Calling' (Club Mix) with Björn Dixgård—the lead singer of the Mando Diao band— and Wankelmut feat. Charlotte OC – 'Almost Mine' (Mat.Joe Remix), both of which are standouts in the compilation.
The mix kicks off with the emotive but driving deep house of Wayward's 'Orissa', which is awash with celestial synths and heavenly vocals. Then the drums pick up with cuts from Worthy, a remix from Defected's star man Franky Rizardo and one from Return of the Jaded which is all clipped drums and silvery percussion.
UK talent Huxley then appears remixing Sante feat Stereo MC's and brings big drums, warm bass and twisted vocals that settle you into a heads down groove. Esteemed artists like Gerd Janson & Shan, Tube & Berger and Wankelmut himself then offer twists and turns through pounding house, piano laced jams that will get hands in the air and big vocal anthems.
An infectious and loopy brand of tech house defines the absorbing mid-section, as Wankelmut continues to serve up smooth, coherent mixes that always bring something new with each new addition but never disrupt the overall flow of the mix. Touchstones of the scene like Nick Curly, Hot Since 82 and Kölsch are amongst those that keep you on your toes, before the final part of the mix takes thing back down to moody territory that is perfect for the late night hours thanks to key tracks from the likes of Sasha and Djuma Soundsystem & Westerby.
This is an ambitious mix that manages to maintain energy levels while proving perfectly unpredictable as it unfolds. It is another essential snapshot of both Wankelmut's DJ sets and the underground house scene at large.
Tracklist:
01 Wayward – Orissa
02 Worthy – Keep Me Up
03 Whitesquare & Nick Curly – Underground Abduction (Franky Rizardo Flow Edit)
04 Nils Hoffmann feat. Forrest – Bloom (Return of the Jaded Remix)
05 Santé feat. Stereo MC's – Need (Huxley Remix)
06 Gerd Janson & Shan – Surrender
07 Tube & Berger – We Are All Stars
08 Wankelmut & Björn Dixgard – I Keep Calling (Club Mix)
09 Illyus & Barrientos – Takin' Over
10 Emanuel Satie – Come As You Are (Nick Curly Remix)
11 George Vala – 11:41
12 Kato Change – Abiro (Riot Stereo & SURAJ Remix)
13 Floyd Lavine – Masala (Pablo Fierro Remix)
14 Zoo Brazil – Sand (Mendo Remix)
15 Animal Trainer – Endor
16 Joe Goddard – Music Is The Answer (Hot Since 82 Remix)
17 Solee – Infinidad (Martin Landsky Remix)
18 Wankelmut feat. Charlotte OC – Almost Mine (Mat.Joe Remix)
19 Reboot – Just Hang On (Kölsch Remix)
20 Andre Lodemann – Birth (Adriatique Remix)
21 Djuma Soundsystem & Westerby – Koma Kobache
22 BehrEllips feat. Crazy White Boy – The Forgotten People
23 Sasha feat. Poliça – Out Of Time
24 Hammer – Manaka