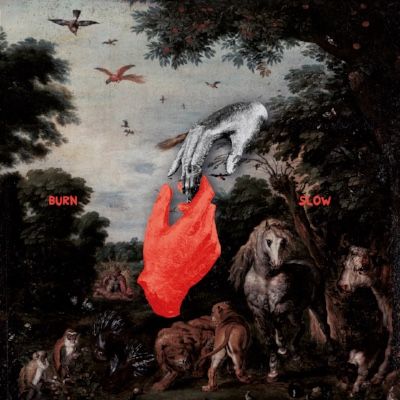 Chris Liebing ft. Polly Scattergood - And All Went Dark
Chris Liebing has shared a new track from his forthcoming brooding electronic album, Burn Slow, out on 7 September 2018, a 10-track album with vocal contributions from a diverse range of artists: Gary Numan, Miles Cooper Seaton (Akron / Family), Mute labelmate Polly Scattergood (onDeadWaves), Cold Cave and Aleen.
Listen to 'And All Went Dark', which sees Polly Scattergood take aim at a "dark shadow on my shoulder" – http://smarturl.it/CL-AAWD
She explains, "'And All Went Dark' is so stark and epic, when Chris played me the track it just captured my attention instantly and after a few listens, when he began sharing his inspirations and the idea behind the album, I was drawn even further into his world and very quickly ideas began flowing between us."
'And All Went Dark' featuring Polly Scattergood's spoken word vocal follows the release of the Gary Numan narrated track, Polished Chrome (The Friend Pt. 1) and 'Novembergrey' – all serve to illustrate Liebing's forthcoming minimalist electronic epic and start of a new chapter for one of techno's leading authorities.
While retaining the framework of the techno beats that Chris Liebing has dedicated his life to for the past 25 years, here he also seeks out new harmonic territories, taking aim at the heart rather than the feet, in order to tackle some deep themes. The key concept of presence – the idea that everything is happening inthis moment, and that everything in the past is mere memory – form the thematic backbone of the record. It's something Liebing got in touch with via the philosopher Alan Watts, not to mention decades of getting entire dancefloors lost in the present.
Liebing has teamed up with Ralf Hildenbeutel for Burn Slow (a key part of the long since defunct Eye Q family), and at Hildenbeutel's Frankfurt studio Liebing began drifting into new territory with his new musical 'enabler'.
The Burn Slow project began its evolution with two remixes, for Depeche Mode's Going Backwards and Goldfrapp's Everything Is Never Enough – both artists associated with his new label, which has been an inspiration for Chris Liebing since a young age: "Without realising, a lot of the music I was into came from just one label, Mute. I vividly remember dancing around at my neighbour's house in the early '80s to songs by Depeche Mode and Yazoo. Banging my head in dark basements to the likes of DAF, Laibach and Nitzer Ebb to name but a few."
NEW DATES ADDED INCLUDING AN ALL NIGHT LONG SET AT E1, LONDON ON 26 AUGUST
Chris Liebing's forthcoming DJ schedule is as relentless as ever, with performances scheduled worldwide throughout the summer including an all night long set at E1 in London, which has just been announced for the August bank holiday weekend. Closer will host an eight-hour set, his first London date since his sold out performance at Village Underground in the spring.
27 July – Grelle Forelle, Vienna, Austria
28 July – Love Family Park, Frankfurt, Germany
31 July – Tipic, Formentera, Spain
2 Aug – Afterlife @ Hï-Ibiza, Ibiza, Spain
4 Aug – Output, Brooklyn, NY, USA
5 Aug – Oshega, Montreal, Canada
10 Aug – Sonne Mond Sterne, Saalburg, Germany
11 Aug – Tini Soundgarden, Cecina, Italy
14 Aug – Guendalina, Santa Cesarea Terme, Italy
17 Aug – Cavo Paradiso, Mykonos, Greece
18 Aug – Voltage Festival, Zwevegem, Belgium
20 Aug – DC10, Ibiza, Spain
22 Aug – Sonus Festival, Croatia
24 Aug – B My Lake, Zamardi, Hungary
25 Aug – Brave Factory Festival, Kiev, Ukraine
26 Aug – Closer, E1, London UK
31 Aug – TV BAR Lounge, Detroit, USA
2 Sep – Electric Zoo NY, New York City, USA
14 Sep – Nordstern, Basel, Switzerland
15 Sep – Spazio 900, Rome, Italy
16 Sep – Brunch in the Park, Barcelona, Spain
21 Sep – District 8, Dublin, Ireland
22 Sep – Amnesia, Milan, Italy
23 Sep – BPM Festival, Portimão, Portugal
Chris Liebing's set at Europe's premiere techno festival Time Warp was captured by Arté, where it's streaming in full, watch the set HERE.
Listen to Novembergrey: http://po.st/CL-NG
Listen to Polished Chrome (The Friend Pt. 1) feat. Gary Numan: http://smarturl.it/CL-PC
Pre-order Chris Liebing's Burn Slow: http://smarturl.it/CL-BS
Burn Slow – tracklisting
So Then… feat. Cold Cave
Zero One
And All Went Dark feat. Polly Scattergood
Novembergrey
Out Of This World
Card House feat. Miles Cooper Seaton
Ghosts Of Tomorrow
Polished Chrome (The Friend Pt. 1) feat. Gary Numan
Trilogy
No Regrets (The Friend Pt. 2) feat. Aleen