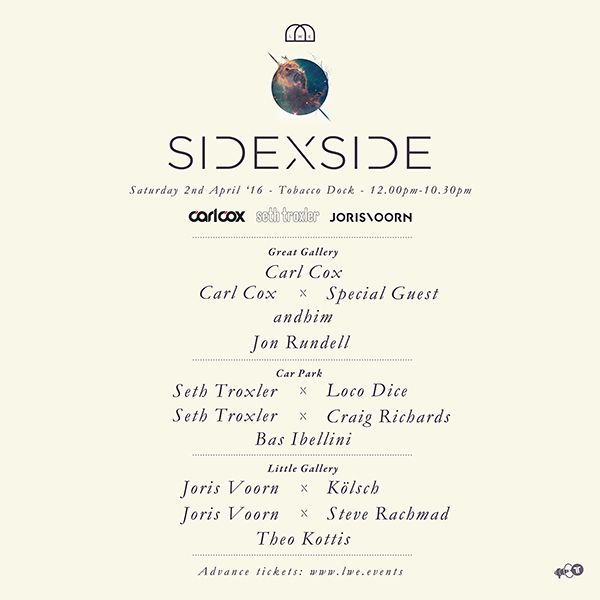 andhim announced as LWE residents and will appear at Tobacco Dock for SIDEXSIDE on April 2nd
London outfit LWE has named German duo andhim as residents. The pair will play six London events.
Buy Tickets to their first LWE appearance, SIDEXSIDE here: http://bit.ly/1olSxfF
"As promoters who hop from space to space, each of our events have a one-off quality to them," explains LWE booker Will Harold. "However when booking names like Anja Schneider on a semi-regular basis – we found these artists' ability to turn their style to different venues, or even different times in the same venue really inspired us. We felt that reflected our own ethos – being able to combine the spontaneity of blank canvas events, reading the crowd with the consistency that we demand."

On why LWE chose Cologne-based duo andhim as the start of the new series, Will stated "andhim were one of our previous bookings and it made immediate sense to us. Their tongue-in-cheek take on what they call 'Super House' is in reality an ability to play across the spectrum of house and techno. That, combined with the pair's sense of humour-" (The pair famously change their backstory interview to interview, having told DJMag they met on ChatRoulette and Pete Tong that they were former professional bodybuilders…) "-makes them ideal frontmen for our new series."

andhim's pedigree appears suited to London's sweep of music styles: the pair (real names Simon & Tobias) started out as separate scratch turntablists: Simon as part of a hybrid jazz outfit and Tobias as part of a DMC-winning scratch group called Noisy Stylus. Often meeting on the circuit, the pair began playing out together from around 2005. Following a period of experimentation and collaboration, the duo released their first track "which had a name so German there's not even an English version of it" as a b-side on a local label in 2010 and on the spot, the name andhim was born.

Since then the pair have gone on to tour internationally as far afield as Mexico, the US, Australia and of course London, where they came to the attention of LWE. The pair will now play at four of LWE's Tobacco Dock shows, as well as 2 further affiliated events, sometimes as headliners, other times as support, in a range of different rooms with style changes to suit.

andhim celebrated the news in typically leftfield fashion, stating "Hello London! It's your favourite German sausages from Cologne here, we're extremely excited to announce we're LWE's 2016 residents of choice!"

The pair's first residency appearance will be at Tobacco Dock for SIDEXSIDE on April 2nd.
For more info on LWE please visit:

www.lwe.events
www.andhim.de
https://www.instagram.com/andhim_music
https://soundcloud.com/andhim
https://www.facebook.com/andhimmusic
https://twitter.com/andhim_official