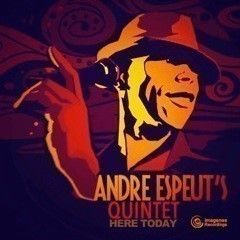 Andre Espeut Quintet – Here Today EP
London based Venezuelan producers Juan Laya & Jorge Montiel team up with Andre Espeut Quintet deliver their own burst of sunshine on the winning Brazilian and saxy Jazz styled groover 'Here Today'.
Hugely enjoyable 'Here Today' is what summer dance floors are made for with its vocal nod to Curtis Mayfield and guaranteed to make you smile as your heart skips a beat and you body starts to move. Also referencing Tony Rallo's classic 'Holdin' On' layered with playful melodies and a large helping of quality jazz.
Andre Espeut is a supremely versatile vocalist, who heads up Los Charly's Orchestra, and 'Here Today' is the Andre Espeut's Quintet follow up to their 2013 debut release 'Let It Go/Rising'.
Imagenes Recordings, home to the capital's A list latin band, Los Charly's Orchestra and Boogie Man, get set for their last instalment of their summer pop up residency, Ease Your Mind, with a Live latin funk special featuring the Andre Espeut Quintet Launch party for their 'Here Today' EP, which is already attracting the attention of A List DJs Danny Krivit (NYC), Graeme Park on Wednesday August 13th. Expect a rousing Live show plus Jazzcoteque DJs Boo & Colin Parnell dropping the best in jazz and latin grooves. Free before 9pm with the Live sessions starting around 8-8.30pm, this is a great addition to the summer scene on the South Bank.
Latin, funk, soul, boogaloo, nu jazz and boogie – bringing the South America Latin vibe to the South Bank – and enjoy summer at Topolski.
Listings Info
event: Ease Your Mind presents the Andre Espeut Quintet 'Here Today EP' Launch
at: Topolski Cafe & Bar, 150-152 Hungerford Arches, Concert Hall Approach, South Bank, SE1 8XU
date: Wednesday 13th August
Line Up: Andre Espeut Quintet Live (1st time ever) + DJ support Boo & Colin Parnell (Jazzcoteque)
FREE ENTRY before 9pm & £3 after 9pm
Times: 7pm – 11.30pm
web: http://www.bartopolski.co.uk/events
http://www.imagenes.co.uk
Jorge Montiel www.jorgemontiel.com/
For reservations and general enquiries contact: [email protected]
Telephone: 0207 620-0627
[email protected]
Don't take our word for it… but the current single 'Here Today' by the Andre Espeut Quintet "It's a Really good tune" says Danny Krivit **as does Graeme Park, Peter Borg (Simply Salacious/Mi-Soul), Fitzroy The Buzzboy, Mike Stukes (Mystic Vybes,WHCR 90.3 FM NY)