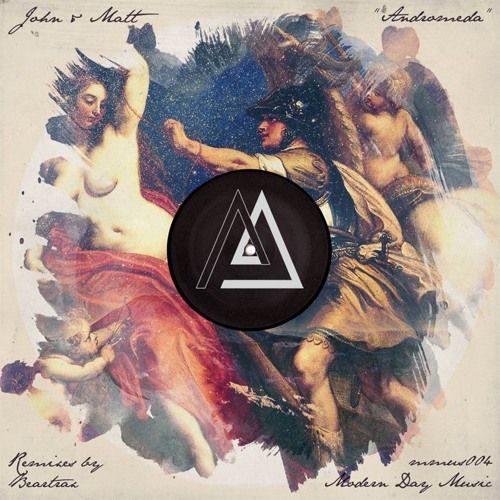 John & Matt - Andromeda EP
Set to be released this November via Modern Day Music, 'Andromeda EP' is perhaps John & Matt's finest creation so far. Talented back-to-back duo John Gagliano and Mathieu Fortin, better known as John & Matt, are quickly becoming a new worldwide Dance music sensation. The tandem embarked on a journey that is taking them straight to the top of the electronic music food-chain, driven by their stellar releases, including the likes of: 'Hold On EP', 'You, Here', 'Take My Hands', 'Girl You Know How', 'Alexis Night', 'Lose My Mind', 'Slow Down EP' and 'Burning In My Soul'. Characterised by unique Ambient, House and Tech House vibes, 'Andromeda EP' is a four-track package, including a banging lead single by the name of 'Andromeda' and a second effort – 'Tuvan', which is presented in three versions: John & Matt's original and two top-notch remixes by Beartrax.
'Andromeda' boasts Acid-like leads, roaring kicks and an epic background string section, which comes together for a pure and memorable House listen. The kick and bass duck out for the breakdown, which lets off a new batch of subtle synths, which swoop in and out of each other building into a crescendo, which re-introduces the infectious bass, lead arp. The filter pulls up and we're given a full-scale version of the bass before the drop kicks in, reintroducing that booming bass drum which takes over the lead of the subs.
'Tuvan' sticks of the theme of the EP – J&M pull out the ambient textures, this time with a Trance-like chord section which induces a euphoria with a range of organic elements and soothing vocal glides before flipping into a progressive kick and bass pattern. The production is tight and the rhythmic composition throws up some interesting kick patterns and fills which grab your attention briefly away from the mesmerizing wealth of melodic layers.
The 'Tuvan (Beartrax Dub)' is a tougher-edged alternative to J&M's version and the EP is wrapped up with a stunning Ambient Mix, again from Beartrax. This finale is a completely drum-less trip into the melodic sections of the track. Lush, hypnotic and alluring – it's the perfect way to wrap up a quality EP from John & Matt.