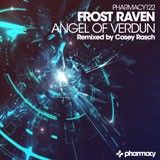 Frost Raven - Angel of Verdun
After two massive trance releases on Pharmacy Plus, Frost Raven returns to Pharmacy Music to unleash Angel of Verdun, a down and dirty progressive psy track including a deep tech remix by Casey Rasch. This is a Featured Release on Beatport's psy trance page with support in from Alex M.O.R.P.H, Airwave, M.I.K.E., Maarten de Jong and more.
Frost Raven is the psychedelic music project of DJ/producer Dustin Musser. Originating from San Francisco, and immersed in electronic music for more than a decade, Dustin started producing in 2003 and learned DJing on the spot at gigs.
Combining the rhythmic elements of techno with the sonic geometries of psy-trance, Frost Raven has created a hybrid sound. His goal is to fuse elements of underground trance with more accessible mainstream dance vibes in an effort to bridge the two worlds together into one might dance floor.
Frost Raven has perfected his unique sound on Angel of Verdun, a track which defies genres but which fits effortlessly into any set. A throbbing bass drives this powerful track while techno influenced percussion combine to create a beast of a track.
Casey Rasch takes the original deeper, darker and gives it an even more techno influenced vibe. The relentless discordant melody builds in intensity until it becomes absolute insanity in the brilliant breakdown. But the best part of his Angel of Verdun remix is the infectious groove that is irresistible.