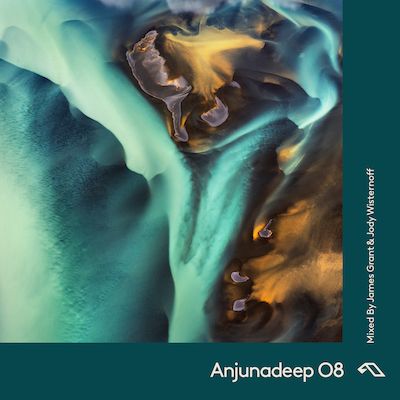 Various Artists - Anjunadeep 08 – Mixed by James Grant & Jody Wisternoff
Anjunadeep, the tastemaker label behind talent like Cubicolor, Lane 8, Dusky and Yotto, has released 'Anjunadeep 08' today, the latest installment of its flagship compilation series curated by James Grant and Jody Wisternoff.
Launched in London in 2005, Anjunadeep has evolved into one of the leading labels in dance music with almost 300 releases under its belt, and a global touring schedule that has taken in five continents over the past two years. Featured in publications like the New York Times and Wall Street Journal, as well as leading industry press such as Pitchfork and Resident Advisor, Anjunadeep continues to stamp its mark on the deep and soulful end of electronic music.

In 2016 the label has released acclaimed debut albums from Cubicolor and Croquet Club, plus a string of underground cuts supported by Dixon, Laurent Garnier, Sasha, Annie Mac, Eric Prydz, Tale Of Us, Kölsch, Deadmau5, Pete Tong, Francois K among others – further enhancing its reputation as a global A&R hotbed.

James and Jody have spent well over a year hunting, gathering and arranging this year's collection, creating 11 of their own exclusive remixes and edits in the process. The result is Anjunadeep's most widescreen compilation to date. From the gentle ambience of Croquet Club and Hiatus through to the classic dancefloor grooves of Yotto and Way Out West, James and Jody bridge the gap from melancholic to euphoric on a carefully crafted journey that is full of texture and emotion.
Alongside new music from label favourites Lane 8, Dusky and 16 Bit Lolitas, James and Jody also showcase a new wave of Anjunadeep talent, including appearances from Luttrell, Tontario, Icarus and We Need Cracks. Solomon Grey and Ólafur Arnalds also return to the compilation series with exclusive new remixes.
The first disc kicks off with a poignant introduction from Hiatus, before deftly weaving together a string of compilation exclusives from Vaults and Kyson, and a host of memorable new material from label mainstays 16 Bit Lolitas, Yotto, Universal Solution and Theo Kottis.

Disc two welcomes some familiar fan favourites in Croquet Club, Way Out West and Cubicolor, whilst introducing new talent to the label in Icarus, Tontario, Tinlicker and We Need Cracks. Solomon Grey and Ólafur Arnalds also return to the compilation series with exclusive new remixes.

Label co-founder and A&R James Grant has built a cult following in recent years, with his compilations, live sets and radio shows a constant highlight in the label's output. Bristol's Jody Wisternoff has a reputation not only as a formidable producer, but also as a crate-digging "DJ's DJ". After mixing four Anjunadeep compilations together, the collaborative chemistry between the pair is obvious and reaches new heights on Anjunadeep 08. Dive in and enjoy.

Anjunadeep 08 Tracklist:

Disc 1

01 Hiatus Delam feat. Dad
02 Vaults Hunger Of The Pine (Jody Wisternoff & James Grant Remix)
03 Aiiso Your Love Is An Echo
04 16 Bit Lolitas Give It Up
05 Koelle Another Land (Jody Wisternoff & James Grant Edit)
06 Yotto Edge Of Affection
07 Dave Pad & Anjei Cantec De Leagane
08 Kyson Flightless (Jody Wisternoff & James Grant Remix)
09 Above & Beyond Love Is Not Enough feat. Zoë Johnston (Jody Wisternoff & James Grant Remix)
10 16 Bit Lolitas Nobody Seems To Care (Anjunadeep 08 Mix)
11 Theo Kottis Future Eyes
12 Adana Twins & Human Life Perspective (Fort Romeau Remix)
13 Yotto Fire Walk
14 Universal Solution & Cubosity Won't Always Be
15 Lycoriscoris Drop (Jody Wisternoff & James Grant Edit)
16 Lane 8 Apes & Children
17 Dusky Spruce feat. Pedestrian (Jody Wisternoff & James Grant Edit)
18 Indian Wells Cascades (Outro Edit)

Disc 2

01 Croquet Club Slow Mo
02 Tontario Solitude feat. Lake Jons
03 Cubicolor Fictionalise (Anjunadeep 08 Mix)
04 Gacha Bakradze Restless
05 Ólafur Arnalds Öldurót (Tontario Remix)
06 SLO Shut Out Of Paradise (Hanami Remix – Jody Wisternoff & James Grant Edit)
07 Way Out West Oceans feat. Liu Bei
08 Indian Wells Antrakt (Interlude Edit)
09 16 Bit Lolitas Rainbow
10 Luttrell Like It Is
11 We Need Cracks Blue Danube (Jody Wisternoff & James Grant Edit)
12 Koelle Last Words
13 Amateur Dance Dreamhack
14 Solomon Grey Broken Light (J_Ashworth Diffraction Remix)
15 Tinlicker Soon You'll Be Gone feat. Thomas Oliver
16 Cinnamon Chasers Luv Deluxe (Jody Wisternoff & James Grant Remix)
17 Icarus Hiding
18 Sienna YNTOO (Tom Middleton Mix)
19 Icarus Home feat. Aurora (Lane 8 Remix)
www.Anjunadeep.com
www.Facebook.com/Anjunadeep
www.Twitter.com/Anjunadeep
www.Soundcloud.com/anjunadeep