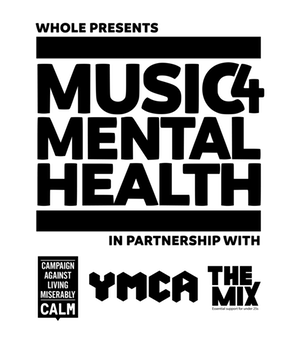 Anne-Marie and Olly Murs Revealed As First Names For Debut #WHOLE Presents Music 4 Mental Health Concert!
Award-winning mental health campaign #IAMWHOLE is delighted to unveil Music 4 Mental Health – 2018's groundbreaking new initiative set to bring incredible individuals, influential communities and the most prolific names in British music together for an unforgettable fundraising concert at London's renowned Roundhouse on 18th November 2018.
Set to appear at the debut Music 4 Mental Health showcase is none other than chart-topping pop sensation Anne-Marie – 2018's biggest-selling debut artist in the UK. Known for her playfully infectious pop spirit matched with her captivating and relatable lyricism, the unstoppable Anne-Marie has become one of the leading voices in British contemporary music. Her debut album 'Speak Your Mind' was released in April, which spawned an array of hit singles including 'Alarm', 'Ciao Adios', '2002' (a co-write with Ed Sheeran) and her global No.1, Clean Bandit collaboration 'Rockabye'. Earning 5 x BRIT Award nominations to date, Anne-Marie has racked up over 5 billion streams and 12 million global single sales, and #WHOLE presents is thrilled to welcome her to the inaugural Music 4 Mental Health show.
Anne-Marie says;
"It's so important that we all speak up on mental health. The conversation and support around it is, thankfully, growing and this fundraiser will help grow that even more. I'm proud to be performing at the Music 4 Mental Health concert in November."
Joining Anne-Marie for this ground-breaking, stigma-smashing event will be Britain's cheekiest chappy Olly Murs. After charming the nation during the sixth season of X-Factor, the charismatic singer-songwriter was launched to dazzling heights of pop stardom, enjoying a double platinum self-titled debut album. Since then, Olly's music career has gone from strength to strength, with his four subsequent albums all landing the coveted number 1 spot on the UK Official Album charts, as well as finding sparkling success as a presenter on Xtra Factor, before X Factor in 2015. He also recently joined The Voice UK panel as the 4th coach earlier this year. Renowned for sensational live show featuring his series of astounding hit singles, Olly Murs' appearance at #WHOLE presents #M4MH will be an phenomenal performance.
Olly Murs says;
"I'm delighted to be performing at the first Mental Health charity event this November alongside Anne Marie, raising money for three fantastic charities. It's important for the music industry to raise more awareness of mental health issues, and we hope this gig will help towards that."
As well as promising an extraordinary evening of exemplary musical talent, Music 4 Mental Health aims to use the power of music to help break down the stigma and normalise the conversations surrounding mental health, in addition to raising vital funds for mental health projects targeting young people across the UK and Ireland.
Rizzle Kicks' half and #IAMWHOLE founding ambassador Jordan Stephens will return to the cause to spearhead the debut Music 4 Mental Health fundraising concert as the evening's MC, following the incredible success of #IAMWHOLE – the innovative anti-stigma mental health campaign launched in 2016 and developed in partnership with the NHS and YMCA as a direct response to the mental health difficulties being experienced by children and young people.
Jordan Stephens says;
"Music is a language that everyone understands and has the power to unite people from all walks and thoughts of life. I can already feel the conversation opening up in regards to mental health so now it's time to take action and really help people. With these great charities and the support of the music industry, we have a chance at doing something amazing."
Matt Campion, Creative Director of Whole / #IAMWHOLE says;
"From the original concept of a music video and the symbolism of a circle on a hand to create a unifying fight against the stigma surrounding mental health, it is beyond imagination that such a simple concept would reach, touch and engage so many millions of people. To think that three years later we now have our very own concert with some of the world's biggest music artists to help us amplify our campaign further is simply unbelievable. I Am Whole."
A monumental collaboration project, Music 4 Mental Health is proud to partner with the UK and Ireland's leading youth and mental health charities; the Campaign Against Living Miserably (CALM), The Mix, and YMCA.
Simon Gunning, CEO of the Campaign Against Living Miserably (CALM) says;
"As an organisation that has always worked closely with the music community, we're delighted to be a part of Music 4 Mental Health this year. Suicide remains the biggest killer of men under 45 in the UK, but we know that music has a power to help us through life's low points and we're excited to be working with some incredible artists to raise awareness of the services that are available for young people who may be struggling."
Chris Martin, CEO, The Mix says;
"Music has a special power to inspire us to change our world for the better. The Mix is very excited to be working with amazing artists, inspiring charities and young people themselves on Music 4 Mental Health. Together we can harness this power to challenge stigma and raise awareness to ensure those who are struggling with their mental health get the support they need."
Denise Hatton, Chief Executive, YMCA England & Wales says;
"We're delighted to be part of the Music 4 Mental Health initiative. We have seen first-hand how music can be an incredible source of inspiration and support for young people, it offers an outlet to express their emotions, bring people together and open up conversations.
"Through collaborating with these incredible artists, some of whom have had personal experience with mental health difficulties, we will be able to reach even more young people with our message and get a step closer to breaking down the stigma which stops so many young people speaking out and seeking support."
In addition to dedicated charity partners, Broadwick Agency will be joining the campaign as a music partner, using their exemplary expertise in production, brand experiences and international events to bring the Music 4 Mental Health inaugural concert to life. As one of London's most incredible live performances spaces, Camden's beloved Roundhouse acts as a venue partner for the highly-anticipated event.
Furthering the campaign, Music 4 Mental Health will see UNILAD, MTV and BrightVibessupport the initiative as media partners, delivering the key messaging around the campaign straight to those who need to hear it most.