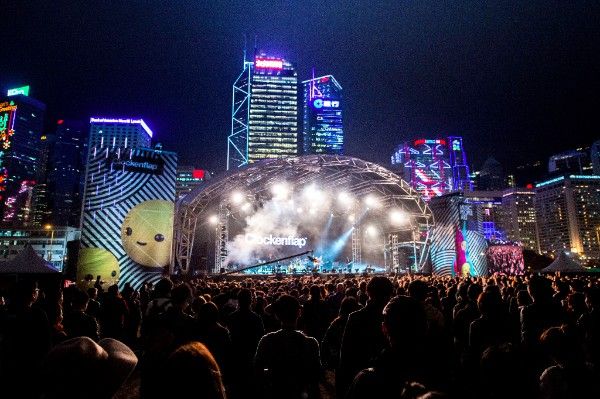 Clockenflap Hong Kong announces Interpol, Khalid, David Byrne, Caribou, Wolf Alice and many more
Hong Kong's biggest annual music and arts festival, Clockenflap is proud to announce today the first names of its massive 2018 line up, including New York indie legends INTERPOL, former Talking Heads frontman DAVID BYRNE, US R&B sensation KHALIDand Taiwanese singer-songwriter ANPU among the many highlights slated to appear at Central Harbourfront from Friday, November 9 to Sunday, November 11, 2018.

Set along the stunning backdrop of the famous Hong Kong skyline, Clockenflap continues for its tradition of honouring the unique 'East­-meets-West' history of the city. This year's meticulously curated lineup provides festival-goers with talents across international, regional and local artists, bringing the finest music acts from both the Eastern and Western scenes together for its equally international festival audience.
The first announcement features two Asian festival exclusive performances andthirteen Hong Kong debut appearances. Early bird tickets are on sale now until August 21st, from www.clockenflap.com
Making their long-awaited Hong Kong debut at Clockenflap, INTERPOL have continued to soar and will be performing off the back of their 6th album Marauder. Also joining them is DAVID BYRNE, who will playing in Hong Kong for the first time since 2009; five-time Grammy nominee R&B star, KHALID, who will also be making his Hong Kong debut; and Taiwanese singer-songwriter ANPU, who will be returning to Clockenflap following a mesmerizing festival performance in 2014.

Clockenflap will also welcome electronic innovator CARIBOU; drum n' bass pioneer RONI SIZE; Mercury Prize-nominated band WOLF ALICE for the first time; and UK indie rockers THE VACCINES, who will be back by popular demand after four years since their last appearance at the festival. They'll be joined by Brooklyn neo-psychedelic trioSUNFLOWER BEAN; London post-punk provocateurs SHAME; Toronto-based dream-pop darlings ALVVAYS; and New York art-punks BODEGA.

Once more, the festival will showcase some of the world's finest electronic acts including Australian electro-house duo PEKING DUK; UK industrial techno DJ BLAWAN; and heavyweight British house DJ and producer EATS EVERYTHING. Other acts announced include US DJ MIJA; French electronic artist RONE; and Argentinean DJ and producer CHANCHA VÍA CIRCUITO.

Reaffirming Clockenflap's commitment to showcase the best of Asian musical talent, the lineup also includes Taiwanese jazz/R&B chanteuse 9M88; local math rock heroes GDJYB; Korean electronic artist-producer CIFIKA; China's indie rapper BOHAN PHOENIX; maverick multi-instrumentalist­ CORNELIUS – described as "the Japanese Beck" – and electrifying Tokyo alt-dance trio D.A.N.

Among the other acts announced are Grammy-nominated Malian duo AMADOU & MARIAM, Canadian alternative R&B outfit RHYE, Danish electronic chanteuse LYDMOR, UK Grime DJ SWINDLE, Canadian electronic duo BLUE HAWAII, Manchester pop hero YOUNGR, and Hong Kong beatmaker COCOONICS.