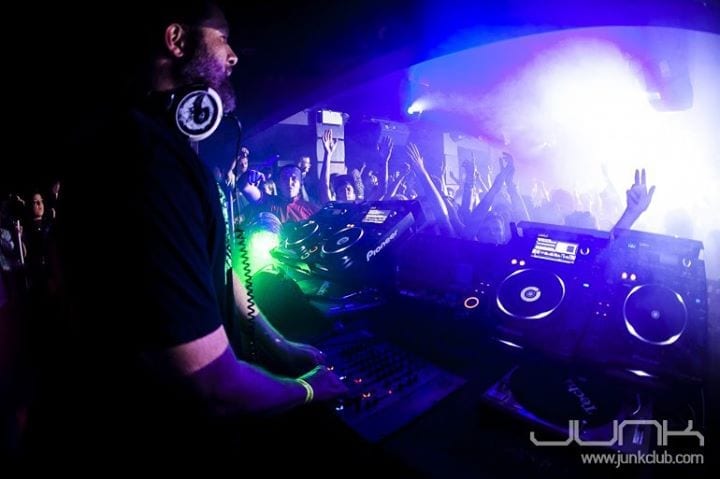 Annie Mac, Skream, Dyed Soundorom, Darius Syrossian, Laura Jones and Franck Roger headline Junk Club Winter series…
One of the most definitive clubs in the UK, and a leading light on the South Coast, Junk can now reveal its big plans for 2016. The likes of Franck Roger, Shanti Celeste, Darius Syrossian and Skream will all play between now and March.
Junk is a club that has won DJ Mag's Best Small Club and is one that offers a diverse array of quality underground events. In 2015 they launched the hugely successful Not Your Thing and continued to serve up sets from global stars and fast rising talents as well as pointing clubbers in the direction of names they need to know. A range of top promotions regularly play out there and so the club is known and loved for serving up serious music in a not so serious environment.
In 2016 the club will embark on a World Tour that will see them take their famous atmospheres, vibes and great bookings to some of the best clubs in the world. January 15th, meanwhile, will see Junk curate their own stage at Bugged Out Weekender between January 15th-17th with Bicep, Black Madonna, Jasper James, Artwork and residents Luca Pilato and Jordan McKinlay.
But Ahead of that, the New Year kicks off on January 9th with Not Your Thing facing off with Cutting Edge. Leftwing & Kody are the headliners, then a week later Not Your Thing has Franck Roger playing, and closes out the month on the 30th with Darius Syrossian and Bones. In between on the 23rd, Mixmag come to town for a massive Mixmag Live event with Annie Mac, Shanti Celeste, Denis Sulta and Luca Pilato.
Into February and WetYourself! take over on the 6th with key players from the fabric night—Archie Hamilton, Jacob Husley, Peter Pixel—all playing. The 13th sees Badaboum x Not Your Thing present Dyed Soundorom and Badaboum resident Neet, the 20th is a very special event that sees the one and only Skream play all night long, then Cocoon regular and DC10 hero DJ W1ld plays on the 27th for Not Your Thing x Kenja Records. March then starts with Laura Jones on the 5th, and the 12th March is a massive party with the Berlin club and label Watergate in charge. They have key residents Matthias Meyer, La Fleuer and Metro all playing the launch of their next mix CD, with many more parties to be announced in the coming weeks.
Links:
Website – http://www.junkclub.com
Facebook – https://www.facebook.com/junkclubuk
Line ups:
Jan 16 – Not Your Thing w/ Franck Roger
Jan 23 – Mixmag Live: Annie Mac, Shanti Celeste, Denis Sulta, Luca Pilato
Jan 30 – Not Your Thing w/ Darius Syrossian, Bones
Feb 6 – WYS! – Archie Hamilton, Jacob Husley, Peter Pixel
Feb 13 – Badaboum x Not Your Thing present Dyed Soundorom, Neet (Badaboum resident)
Feb 20 – Junk presents One Night with… Skream
Feb 27 – Not Your Thing x Kenja records – DJ W!LD
5 March – Not Your Thing w/ Laura Jones
March 12 – Not Your Thing x Watergate – Matthias Meyer, Le Fleur, Uli
March 19 – Somerley Tea Party Festival pre party artist tb