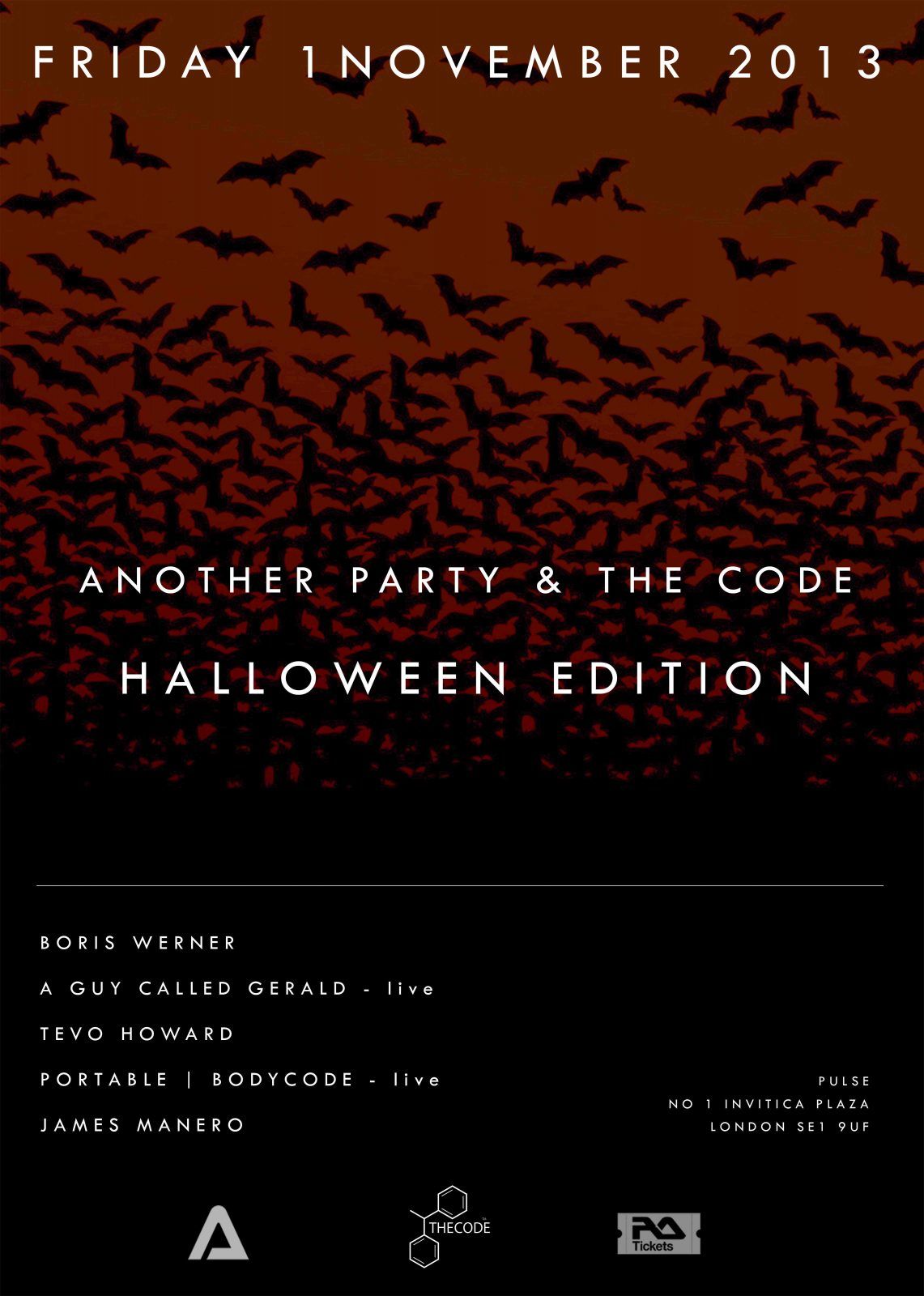 Another Party & The Code Halloween Edition
After the huge success of their last party with techno legend Sven Väth, Another Party in association with the Code is coming at you with a Halloween spectacular that is not to be missed.
Heading up the bill is one of the leading figures of the house music scene Boris Werner. As an accomplished DJ and producer he is famous for his high energy and enthusiasm behind the decks. With releases on some of the globes most respected house labels such as Get Physical, Moon Harbour and Rush Hour; he is a true ambassador of this sound. Wrapping up his residency in Ibiza for the fourth consecutive year at one of the island's most renowned parties, Circoloco at DC10, this party marks his last UK appearance of 2013.
Another Party are proud to announce that their special guest will be A Guy Called Gerald. Having made his mark by refusing to compromise or follow trends in the production of his music, he has evolved over the years to achieve great success. Rising to fame through the acid house scene at the end of the 80s, this house and techno innovator continues to push boundaries with his sound.
U.S. born Tevo Howard began his musical journey playing violin at 7 years old, and has been an obsessive record collector since age 14. Keeping in touch with his instrumental roots, he plays bass guitar, which was the subject of his first university degree in Chicago in the early 90's. Experimenting with qualifications turned out not to be as attractive as experimenting with music, which led to him founding Beautiful Granville Studios.
Cutting-edge house artist Portable/ Bodycode is one of the most exciting artists in underground dance music. Bringing varied influences from his childhood in South Africa to his upbringing in London, Berlin and Lisbon, he links these experiences together to produce his signature deep brand of electronic music. Continuing to experiment and develop his sound, expect a truly unique musical experience in his live set.
Resident DJ and co- founder of Another Party James Manero represents some serious home-grown talent. He has had a busy year so far, tearing up dancefloors at parties from Secretsundaze in Rome to the Cadenza Music 10 Year Anniversary in London this summer, alongside Luciano. Paying testament to his ability to bring vibes to the dancefloor at their last party with Sven Väth, he is back to provide a non-stop quality house and techno soundtrack to the evening.
With this stellar lineup it's shaping up to be one of the biggest Halloween parties in London this year. Don't forget your costumes and fancy dress as the whole night will be captured on photo and uploaded to the AP Facebook page.
"Thanks for the warm welcome at Another Party, which was a great introduction for my move to London" – Sven Vath
Check out the video from the party with Sven Vath here – http://vimeo.com/76075326