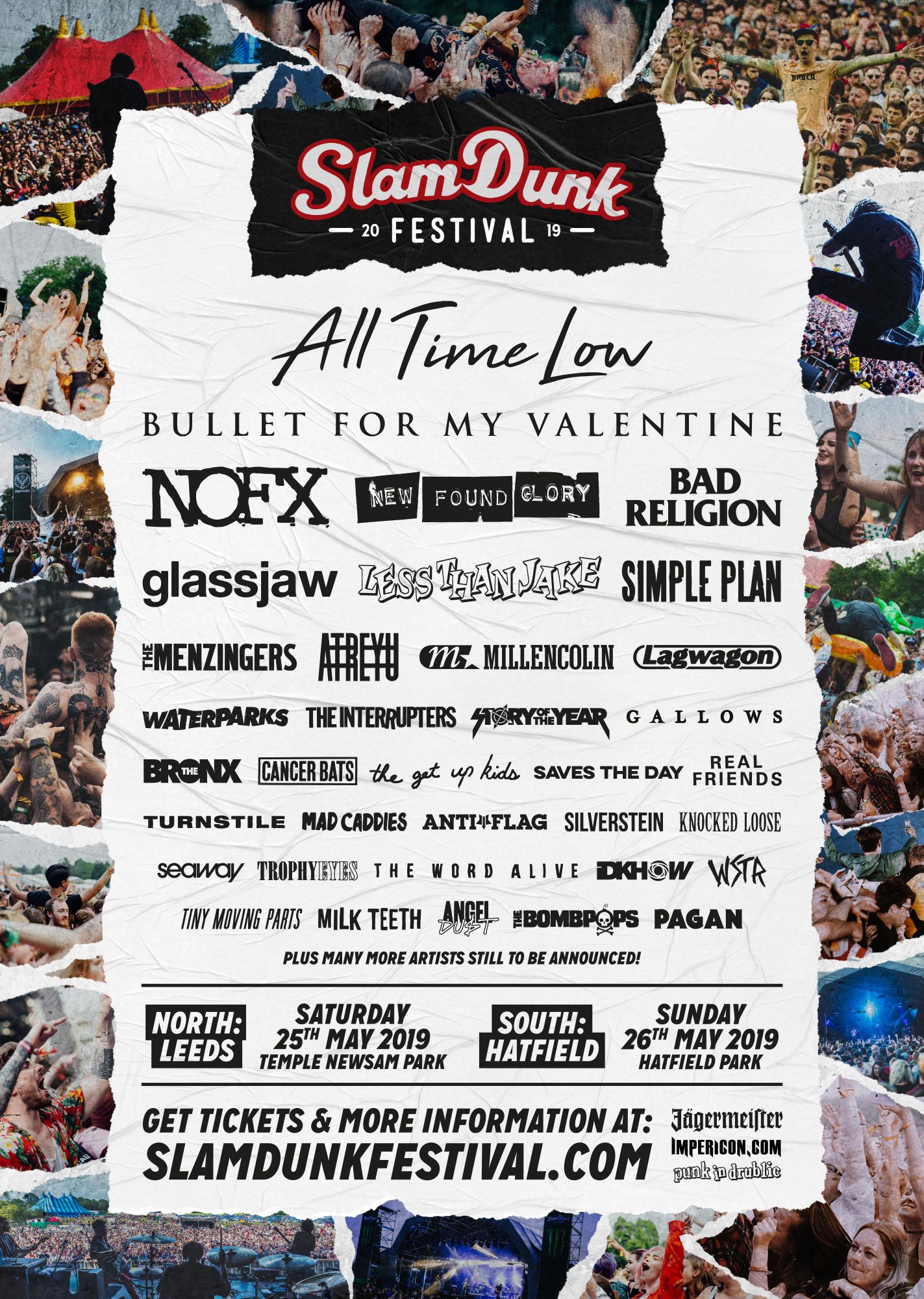 Another Wave Of Bands Announced For Slam Dunk Festival 2019!
Fans of the alternative just got 10 new reasons to get excited about Slam Dunk Festival! Building on the blistering line-up, the UK's favourite alternative all-dayer is thrilled to unveil even more names to the almighty May Bank Holiday weekend bill.
The Impericon stage at Slam Dunk has become a festival institution and 2019 is set to continue it's legacy. American powerhouses The Bronx, visceral outfit Cancer Bats and hardcore supergroup Angel Du$t have been announced to join Glassjaw, Gallows, Turnstile and Knocked Loose, completing the first of two heavy stages set to feature at this year's festival.
Cancer Bats say;
"LET ME TELL YOU THIS PLANET EARTH!!! I'M NOT GONNA EVEN PRETEND TO HIDE HOW FREAKIN PUMPED WE ARE TO BE PLAYING A STAGE PACKED WITH ALL OF OUR BEST HOMIES ALLLLLL DAY!!! THIS LINE-UP IS THE SICKEST SPACE JAM OF A SLAM DUNK LINE-UP SINCE MICHAEL JORDAN AND BUGS BUNNY TEAMED UP TO SAVE THE UNIVERSE !!!"
The Bronx say;
"we are super stoked to be back on the court for Slam Dunk '19! Make no mistake, we are going to fuck shit up."
Justice of Angel Du$t says;
"Slam Dunk is the phattest. Thanks for having us over to rock your stage and pet your dog"
Mixing British punk sensibilities, 90s grunge with contemporary indie melodies, Milk Teethare set to make their return to the festival after their guitar driven debut was marked as a festival highlight in 2017. Following the release of the punchy new single 'Stain', Becky Blomfield, Oli Holbrook and newest member Em Foster will no doubt stir up a punk rock storm when they step onto the Slam Dunk Festival stages this summer.
Atreyu are easily one of the most recognisable names in metalcore, and this year, metal mavericks make their debut at Slam Dunk Festival. True leaders of the alternative, the Californian quintet will deliver an education in metalcore with a set of undeniable classics interspersed with evolved singles from their recently released seventh studio album 'In Our Wake'.
Fan favourites WSTR, Seaway and Real Friends join the incredible May Bank Holiday billing for a highly-anticipated set of impassioned performances at Slam Dunk Festival. With WSTR and Real Friends armed with their latest records 'Identity Crisis' and 'The Home Inside My Head' respectively, and Seaway returning from shows with Blink-182, Sum-41, Four Year Strong, it makes for three unmissable sets across the weekend.
Australian newcomers Pagan are set to cement their status as the world's newest favourite blackened rock'n'roll band in a debut Slam Dunk Festival performance this summer. One of the most talked-about alternative bands of the moment, the Melbourne-based quartet will bring their debut album 'Black Wash' to the festival, a performance that promises to be a calling moment of a band on the rise.
Hot off the release of their latest album 'Violent Noise', American metalcore stalwarts The Word Alive will mark their undisputed legacy with an appearance at this year's festival, set to bring fierce tracks such as 'Why Am I Like This?' and 'Trapped' to life in a world-class performance.
Milk Teeth say;
"Back once again with the ill behaviour. Milk three take on Slam Dunk! We are super excited to be part of an amazing line-up. See you there"
Atreyu say;
"It's been far too long since Atreyu has touched down on UK soil. We can't think of a better way to break the silence than Slam Dunk Fest! Get your big kid pants on…it's gonna be a ripper!"
Sammy of WSTR says;
"Slam Dunk is a special one for us. They've backed us from the start and we've been going to it a long time before we started playing it. It's been cool watching it grow from a small venue in Leeds to huge locations around the country. Looking forward to playing it again this year!"
Nikki of Pagan says;
"We are stoked to come back to one of our favourite places in the world, to play our first ever European festival! Getting to play with bands such as Glassjaw, Saves The Day and The Get Up Kids is like a childhood dream. Cannot wait to party again in the UK!"
After the huge success of Slam Dunk's move to Hatfield House last year, the festival has also announced plans for a new site for Slam Dunk North, moving to Leeds' Temple Newsam Estate so even more pop-punk fanatics can make their way to the definitive date of the alternative diary. Reaching across two stunning greenfield sites in Leeds and Hatfield on Saturday 25th and Sunday 26th May 2019 – Slam Dunk 2019 is the next evolution for that go-to destination of rock.
ACTS ANNOUNCED TO DATE
All Time Low, Angels Du$t, Anti-Flag, Atreyu, Bad Religion, Bullet For My Valentine, Cancer Bats, Gallows, Glassjaw, I Don't Know How But They Found Me, Knocked Loose, Lagwagon, Less Than Jake, Mad Caddies, Millencolin, Milk Teeth, New Found Glory, NOFX, Pagan, Real Friends, Saves The Day, Seaway, Silverstein, Simple Plan, Story Of The Year, The Bombpops, The Bronx, The Get Up Kids, The Interrupters, The Menzingers, The Word Alive, Tiny Moving Parts, Trophy Eyes, Turnstile, Waterparks, WSTR.

TICKET INFORMATION
Tickets on sale now and are available from http://slamdunkfestival.com/
Ticket Price £59. All subject to booking fees.