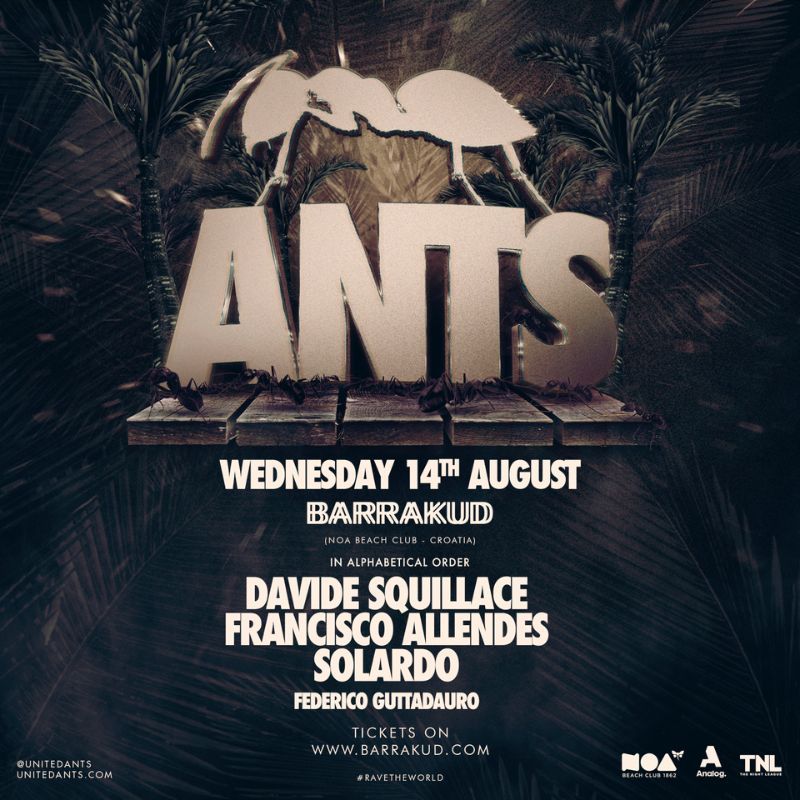 ANTS returns to Croatia for 2019 with Davide Squillace, Francisco Allendes, Solardo, Federico Guttadauro on the bill  🐜
The colony are set to return with their Croatian invasion on 14th August at Barrakud Festival
Barrakud Festival, Croatia
Wednesday 14th August 2019
Line-up:
Davide Squillace // Francisco Allendes // Solardo // Federico Guttadauro
www.unitedants.com
Since 2015 where they first embarked upon sunny Croatia, Ibiza mega-brand ANTS have announced they will be returning to Pag Island for the annual festival Barrakud on Wednesday 14th August with a true ANTS style line-up.
Ready to captivate the Croatian island are three of the colony's finest residents who will be sure to memorise the crowd with the freshest underground beats from Italian DJ Davide Squillace, Sola label bosses Solardo, alongside firm favourite Francisco Allendes and local Federico Guttadauro, who will once again promise to deliver jaw-dropping sets.
With the colony confirmed to invade various cities across the globe from the likes of Spain, Germany, Poland as well transforming the renowned Ushuaïa Ibiza Beach Hotel into an underground city with 'ANTS Metropolis' for their seventh season between 1st June and 28th September, ANTS have proved yet again their rise to success.
Web: www.unitedants.com
Facebook: www.facebook.com/UnitedANTS
Twitter: www.twitter.com/UnitedANTS
Soundcloud: https://soundcloud.com/united-ants
YouTube: youtube.com/unitedants
About The Night League:
Founded in 2001 by events entrepreneur Yann Pissenem, The Night League is 360 music and entertainment company, dedicated to every facet of event and venue management. For almost two decades, we have created and delivered world-class music experiences through our globally-renowned in-house brands Ushuaïa Ibiza, Hï Ibiza, ANTS and Children of the 80's, as well as collaborating with some of the world's most influential artists, festivals and events to create bespoke, pioneering concepts, such as GangStar and ​DYSTOPIA​. ​From our event producers, venue operators, booking managers, artist management, marketing and design teams, TNL consistently goes beyond expectations, fusing music and art to deliver profound experiences that invigorate audiences around the world.