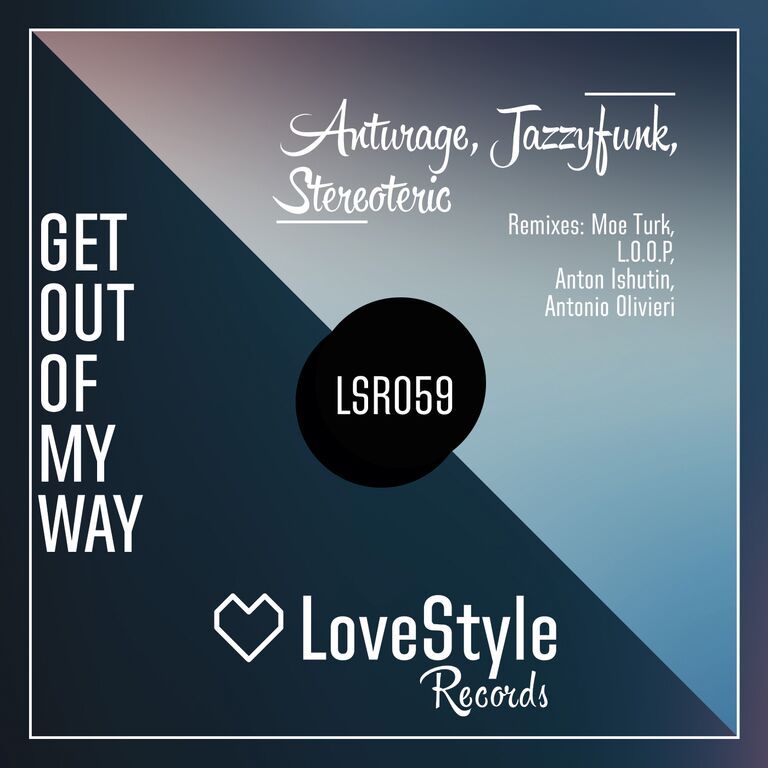 Anturage, JazzyFunk, Stereoteric - Anturage, JazzyFunk, Stereoteric – Get Out Of My Way
An international collaboration between three electronic music gems has taken place and has resulted in a wonderful five-track EP by the name of 'Get Out Of My Way'. Set to be released on the 6th of July, 2015, 'Get Out Of My Way' is a team-up between Anturage, JazzyFunk and Stereoteric, including amazing remixes from the likes of: Moe Turk, L.O.O.P, Anton Ishutin and Antonio Olivieri.
It is a rare occasion to have so much talent behind one project and all the three components forming the production team boast an impressive resume. St.Petersburg based duo Viktor Petrov and Anton Malinovsky, better known as Anturage have been one of Russia's foremost electronic music acts, signing with A-lists labels such as: Armada, Kumasi, Steyoyoke, Fukai Music, Blufin, Dear Deer, Circle Music, Dialtone Records and many more. Along the years they have also landed support from renowned DJs like: Armin van Buuren, Kolombo, Tom Budden, Bubba, Russ Yallop, M.A.N.D.Y, WIldkats, Alex Niggemann, Droog, Robert Owens and Paul Mad to name a few.
On the other hand, Italian musician-DJ tandem JazzyFunk have been the creators of their own unique blend of Indie Dance, Nu-Disco, Deep House, Funk and Soul flavours. JazzyFunk have toured the world presenting their live electronic act and collaborating with superstars such as: Sasse, Mark Lower, Saccao, Haze-M, Vintage Culture, Jamie Antonelli, Max Lyazgin, Heavy Pins, Alceen, Matvey Emerson, Chemical Surf and many more.
Hailing from Russia and Ukraine respectively, Paul Twins and Oleg Makovskiy are the faces behind the Stereoteric moniker and the minds behind their highly-original Nu-Disco, Deep House, Chill-out and Electronica vibes. Stereoteric have been on the radar of some renowned labels, including: Peppermint Jam Records, Pole Position, LoveStyle Records, UM Records, Beachside Records and Vintage Music Label. Moreover, their unique sound has also caught the attention of top DJs such as: Matt Darey, Solarstone, Moonbeam, Mousse T., Patrick Podage, Lessovsky, Cucumbers, Anturage and Tosel & Hale amongst others.
These three remarkable acts have joined forces to come up with an exhilarating, fresh release 'Get Out Of My Way'. The original mix is characterised by acoustic piano arrangements and saxophone fills, whilst spicing things up with clean synth melodies and subby bass-lines. An infectious groove takes the track to the next level whilst the catchy vocals provide the right amount of melodic lift.
A series of remixes is to follow, with Moe Turk being first up to take over with his harder grooves and darker atmosphere. Deep bass-lines take prominence, whilst the silky vocals remain intact to create a marvellous link to the original. On the other hand L.O.O.P provides a more House infused rendition, whilst Anton Ishutin offers a dreamy version which creates an interesting variety. Last but not least, Antonio Olivieri hits with his deep colours and highly processed vocals, whilst resorting to mesmerising grooves that drive the remix forward, providing an ending in style.
'Get Out Of My Way' is being proudly presented by LoveStyle Records. An eclectic imprint, LoveStyle Records has been on a consistent rise and is establishing itself as a trendsetter with refined music selection and top-notch quality. Anturage, JazzyFunk and Steroteric will now be joining their growing roster, comprising names such as: Kovary, Inner Rebels, Deepjack, Rene, Stage Rockers, Nathalie, Lightzoff, Alternative Kasual, Juloboy, Lou Van, Jeff Button, Boris Roodbwoy, Umut Akalin, Carlo Runia and Saccao to name just a few. High-profile projects such as 'Get Out Of My Way' are surely putting LoveStyle Records on track to achieve much more success in the months ahead.