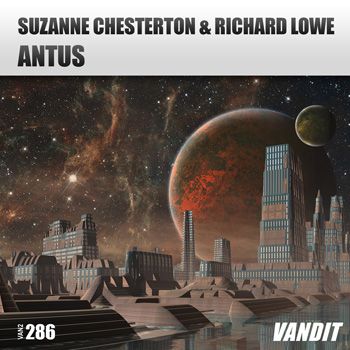 Suzanne Chesterton & Richard Lowe - Antus
In both solo and co-op form, Richard Lowe's been a production presence on VANDIT's skyline for some time now. Through outings like 'Levitate' and his 'Our Day' & 'March Skies' team-ups with David Forbes, floor-side he's been a rainmaker to some big, BIG club moments. Having written her own compositions from her single digit years, Suzanne Chesterton caught the musical bug even earlier. It took the meeting of these two likeminds for her first release to be fully realised though.
Evident by its epic scope and exacting production, the many-moons-in-the-making 'Antus' arrives today.
What though is an 'Antus'!? Well, if you ask Google, it'll tell you it's "a World of Warcraft player with exceptional skills and the strength of a beast!" We're not certain if this is the origin of Suzanne & Richard's incarnation, but (and you can probably see where we're going with this!) it does one heck of a job in describing it!
Trancefloor elevation to vertiginous levels is what the duo have conspired. Through 'Antus' powerplant drums, rimshot percussion drive, no-nonsense pace and tirelessly grafting synths, that's exactly where you're carried. Don't look down (less you dare!) – 'Antus' from Suzanne & Richard towers from today! Score your copy hereabouts: www.beatport.com/track/antus-club-mix/10418974 or you can also catch a listen via VANDIT's Soundcloud here: www.soundcloud.com/vanditrecords
Tracklist:
01: Suzanne Chesterton & Richard Lowe – Antus (Extended Mix)
02: Suzanne Chesterton & Richard Lowe – Antus (Club Mix)
www.facebook.com/suzanne.chesterton
www.twitter.com/SuzChesterton
www.facebook.com/djproducerrichardlowe
www.twitter.com/richardlowedj
www.vandit.com
www.facebook.com/VanditRecords
www.instagram.com/vanditrecords
www.twitter.com/vanditrecords
www.soundcloud.com/vanditrecords