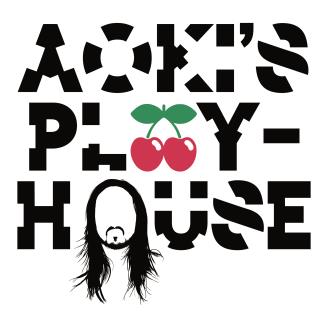 AOKI'S PLAYHOUSE AT PACHA IBIZA FULL LINE UP REVEALED
Pacha Ibiza have announced that globally renowned virtuoso DJ/producer Steve Aoki is to hold a remarkable 18-week residency this summer every wednesday, running from May 28th right the way through until September 24th.

Entitled 'Aoki's Playhouse', Aoki is to headline 16 of the 18 dates himself, very special guests scheduled to fill in for him on June 25th and August 13th shows respectively. "It's an amazing feeling to be part of the Pacha weekly crew", says Aoki, "…roll on the summer and get ready to get messy."

To be joined by a colossal array of headline artists each week, Aoki's enigmatic brand of dance music is sure to cause mayhem on the island's dance floors; revered for his exuberance and with a penchant for the unexpected, Pacha looks set for an unforgettable summer.
FULL LINE UP
MAY 28TH OPENING PARTY: STEVE AOKI, FATBOY SLIM, TONY JUNIOR, DANNY WADE
JUNE 4TH: STEVE AOKI, MARTIN GARRIX, JOACHIM GARRAUD, KAZ JAMES, DANNY WADE
JUNE 11TH: STEVE AOKI, NERVO, R3HAB, FLUX PAVILLION, DANNY WADE
JUNE 18TH: STEVE AOKI, SUPERSTAR TBC, CHOCOLATE PUMA, TONY JUNIOR, DANNY WADE
JUNE 25TH DIM MAK TAKEOVER: JUNIOR SANCHEZ, JOACHIM GARRAUD, TONI JUNIOR, REID STEFAN
JULY 2ND: STEVE AOKI, BENNY BENNASSI, R3HAB, JACPB PLANT, DANNY WADE
JULY 9TH: STEVE AOKI, LIL JON, DJ SNAKE, DEORRO, DANNY WADE
JULY 16TH: STEVE AOKI, AFROJACK, AUTOEROTIQUE, DESTRUCTO, DANNY WADE
JULY 23RD: STEVE AOKI, TOMMY TRASH, CEDRIC GERVAIS, ZEDS DEAD, DANNY WADE
JULY 30TH: STEVE AOKI, CHRIS LAKE B2B TUJAMO, CARNAGE B2B DEORRO, WAKA FLOCKA FAME, DANNY WADE
AUGUST 6TH: STEVE AOKI, DADA LIFE, BENNY BENASSI, VICETONE, DANNY WADE
AUGUST 13TH DIM MAK TAKEOVER: DEORRO B2B BORGORE B2B CARNAGE, JOACHIM GARRAUD B2B GARMANI B2B REID STEFAN, CHOCOLATE PUMA, YOLANDA BE COOL, DANNY WADE
AUGUST 20TH: STEVE AOKI, BINGO PLAYERS, R3HAB, VICETONE, DANNY WADE
AUGUST 27TH: STEVE AOKI, 3 ARE LEGEND, DEORRO, DANNY WADE
SEPTEMBER 3RD: STEVE AOKI, LAIDBACK LUKE, THE CHAINSMOKERS, BOTNEK, JUNIOR SANCHEZ, DANNY WADE
SEPTEMBER 10TH: STEVE AOKI, NERVO, AUTOEROTIQUE B2B FELIZ CARTAL, BOTNEK, DANNY WADE
SEPTEMBER 17TH: STEVE AOKI, SECRET GUEST TBC, 3LAU, DANNY WADE
SEPTEMBER 24TH CLOSING PARTY: STEVE AOKI, SBSC "BLOODY BEETROOTS DJ SET, BORGORE, CLOCKWORK, UBERJAK'D, DANNY WADE


For more information on Pacha Ibiza, please visit:
www.pacha.com
www.facebook.com/Pacha
www.twitter.com/pacha
www.soundcloud.com/pacha-recordings-radio

For more information on Steve Aoki, please visit:
www.steveaoki.com/
www.facebook.com/Steve.Aoki
www.twitter.com/steveaoki
www.soundcloud.com/steveaoki