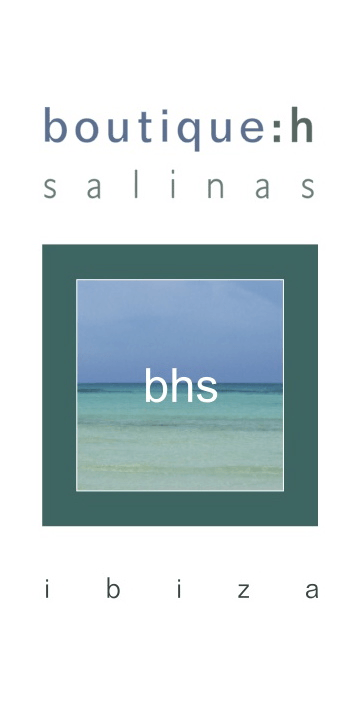 EAT, DANCE & BE MERRY @ BOUTIQUE HOSTAL SALINAS
If there's one thing those folks at the Boutique Hostal Salinas in Ibiza are known for, it's for being fantastic multi-taskers. Hot off the back of their winning a Certificate of Excellence from Trip Advisor, Summer 2014 looks to be no exception to the BHS crew's general rule with this week's announcements of the brand new Marisquería Salinas menu launch and restaurant logo, the confirmed Lo Cura Lounge dates at We Love…Space plus the new monthly residency of one of Italy's most recognised party organisations, Souldrops together with some of their most reputable DJs as well as a number of Ibiza's most revered original scene starters at the Boutique Hostal Salinas itself.
Since the hotel's opening last month, the place has been privy to a steady influx of new and returning guests for sunny sleepovers as well as a continuous trail of island residents and visitors for dinner, cocktails, market mooching and, not to mention, party shenanigans.
Here's what we've got for you this month!
EAT!
Seafood and shellfish fans: loosen the buttons of your breeches; the new BHS chef, Angel Lopez Ares is proud to present his summer menu in the hotel's new restaurant, Marisquería Salinas. Accompanying the new concept, the team have come up with a swanky new logo (attached) and have also divulged news of special dining days that any respectable foodie worth his Salinas salt should make a careful note of. As such, set Saturdays aside for a fine feed of Lobster & Chips at 30€ and Tuesdays for a grand Mariscada seafood selection, priced at 45€; two plates and two prices that compared with similar offers in other local establishments are just too good- not to mention tasty- to miss. Book your table now by calling Marisquería Salinas on
+971 308899. The restaurant is open daily from midday till the last diner downs his after-dinner-digestivo.
DANCE!
For the third consecutive summer, the BHS' spin off project the Lo Cura Lounge is taking over El Salon at the We Love parties at Space Ibiza this summer. Following on from last summer's stonkers, this season sees a total of eight dates to play with, each one promising a packed dance floor from 12.30-6am in the depths of one of Ibiza's best clubs. Co-ordinator of said Lo Cura Lounge soirees and co-owner of the Boutique Hostal Salinas, David Phillips, is currently hard at work coming up with another fandabby selection of local and not so local talent to take over El Salon and all who sail in her, with names currently being bandied about including Daisy Heartbreaker, Andy Baxter, Jon Woodall, Jamie Fatneck Low, Richard Norris and Amp&Deck, amongst others.
Dates confirmed are June 8th and 22nd, July 6th & 20th, August 17th & 31st and Sept 14th & 28th. Amongst plans in progress, the Lo Cura Crew will also be teaming up with one of Ibiza's rockiest venues, Veto (Avenida de Agosto, Ibiza) for a clash of the mighty titans with one of Germany's finest rockers, Stephan Weidner, ex leader of German group, Böhse Onkelz and these days better known as Der W, stepping up to the Space controls to get the room rockin'.

Confirmed Line Up so far…
08 JUN
David Phillips, Daisy Heartbreaker. Jon Woodall
22 JUN
David Phillips, Jaime Fiorito, Richard Norris
06 JULY
David Phillips, Jamie Fatneck Low, Andy Baxter
13 JULY
David Phillips, Amp & Deck
17 AUG
David Phillips, Brian Beezwax
31 AUG
David Phillips
14 SEP
David Phillips, Daisy Heartbreaker, Stephan Weidner
28 SEP
David Phillips, Daisy Heartbreaker, Amp & Deck

Here's a little taster to get you in the party mood: http://www.mixcloud.com/LoCuraLounge/david-phillips-lo-cura-lounge-podcast-for-ibiza-spotlight/
And you can follow Lo Cura Lounge on here: http://www.mixcloud.com/LoCuraLounge/

BE MERRY!
Aside from all the craziness that's set for the Lo Cura lounge, back in the Boutique Hostal Salinas base camp, various other party happenings are afoot and currently being confirmed for the summer months.
Thursday 29th May is the first date to flag up when the BHS' favourite Frenchies, DJ's Bruno from Ibiza and Angel Cielo bring their Sunshine People back to the Boutique, with their first two events of the season celebrating the aforementioned resident DJ's birthdays (first up, Angel's and on the 5th June, Bruno's) with both events promising to royally kick off another season of fun in the sun for those Sunshine boys.
Big fans of the Italian massive, the BHS recently launch the first of a new monthly get together, under the moniker of Souldrops and which brought two of Ibiza's original party scene starters, Leo Mas and DJ Alfredo together to spin a showcase of some of the best music that our ears have been privy to in quite some time. . Together with Souldrops, the Shardana crew stepped up to help provide the eats and renowned Italian chef Fabrizio Contu joined forces with the BHS boys to serve up a superb selection of Sardinian vs. Galician tapas, alongside the location's habitual menu. If you missed it, fret not; the second of such Italiano proceedings takes place on June 14th. Put simply, in the words of Phillips, "Top quality food, great company and a masterclass in playing amazing records, one after the other". What's not to like?!
And that's not all…in news just in, Fridays have been confirmed for weekly Lo Cura Lounge get-togethers with David Phillips & Friends easing us 'gently' into the weekend. And by gently, we actually mean quite the opposite, if the parties these people normally throw are anything to go by. Friday 6th June, and every Friday thereafter, is the date in the diary for this one.
AND NOT TO MENTION…
SHOP!
Sundays at the Boutique Hostal Salinas are all about the Once Upon a Time market, which takes place weekly from 3pm. Combining copious amounts of fashion, vintage style, crafts and hand made treasures, Once Upon a Time is the brainchild of Daniela Natale, Luana Biondi and Rouge LeDangerouge, three native Italians resident in Ibiza and more clued-up on what style means than most bods round here. We also strongly suggest that Sunday shoppers come early for a fish feast to get those energies up before sailing round the stalls. With resident DJ Daisy Heartbreaker and very special one off guests in charge of the shopping soundtrack expect all kinds of everything on the musical front, with a special nod to eras gone by, just the ticket to get your bargain-hunting juices flowing nicely. And talking of juices, do avail of a BHS Bloody Mary on your way round the stalls. For more info on the market and to book a stall, contact Daniela on +34 633 446 838.
SLEEP!
Boutique Hostal Salinas is an eleven-room hotel situated directly behind perhaps Ibiza's best -known beach of the same name. Since its establishment in 2009, the hotel has grown to become one of the most reputable on the island, known for its friendly staff and professional service, its events calendar and not to mention its location. The Boutique Hostal Salinas has featured in numerous magazines over its pretty short history, including the Sunday Times Top Ten Mediterranean Hotels (at #6) as well the same publication's Best Beaches and 100 Best Hotels Guide and not to mention Conde Nast Traveller.
For room reservations, call 971 308899 and speak to Anita.
Find us on Trip Advisor: http://www.tripadvisor.co.uk/Hotel_Review-g187460-d1544234-Reviews-Boutique_Hostal_Las_Salinas-Ibiza_Balearic_Islands.html

For more information on all things Boutique Hostal Salinas related including reservations and room rates as well as the full events calendar, go to:
http://www.hostalsalinas.com/
Tel: +34 971 30 88 99
Twitter: https://twitter.com/BHS_IBIZA
https://www.facebook.com/boutiquehostalsalinasibiza
https://www.facebook.com/locuralounge