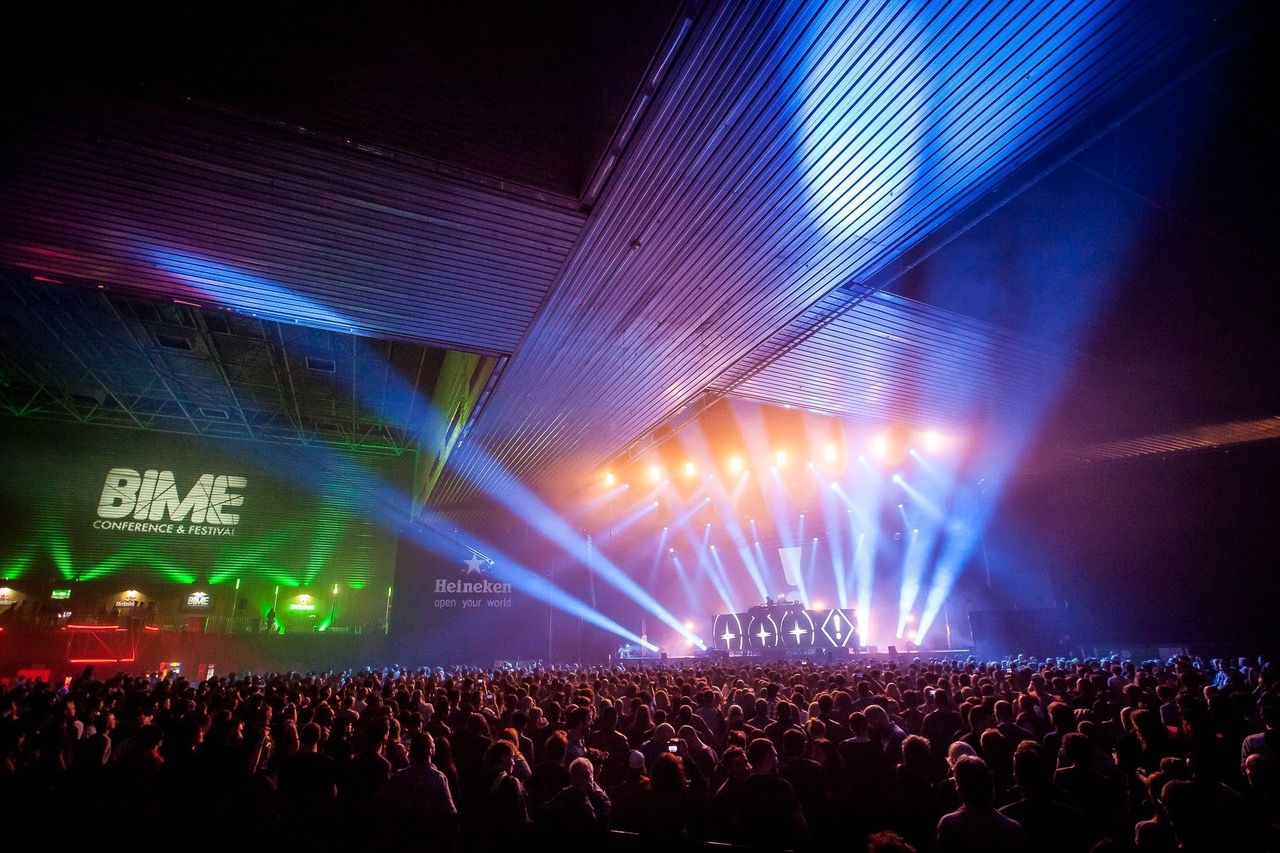 Aphex Twin, Mgmt, Nina Kraviz And Jon Hopkins (Live) Lead A Powerful Bime Live 2018
The autumn festival releases the first names for Gaua, the venue for electronic acts.

2018 sees quintessential autumn festival BIME Live return with a bang as it announces a line up including Aphex Twin, MGMT and Editors alongside an eclectic roster of electronic artists in its dedicated venue for electronic acts, Gaua, led by the Russian queen of electronics Nina Kraviz. BIME Live will take place on October 26 and 27 at the BEC in Bilbao. Tickets are already on sale with an offer price of € 60 valid until July 18 included.


Aphex Twin
In 2001, The Guardian described Aphex Twin as "the most innovative and influential figure in contemporary electronic music". Pitchfork referred to him as the author of "the most interesting music that has been created with a keyboard and a computer". During the 21st century Richard David James has not produced in the 13 years between his albums 'Drukqs' and 'Syro'. The latter, highly valued for its constant desire to reinvent, was awarded with the Grammy.

MGMT
A little more than a decade has passed since 'Oracular Spectacular', the great debut which has seen songs like 'Time to pretend', 'Electric feel' and 'Kids' permeate the indie scene. Continuing to innovate, the group don't stop leaving their comfort zone, signing unpredictable records like their recent 'Little dark age', one of the most celebrated psychedelic pop collections of the season.

Editors
The Birmingham group led by Tom Smith led the way in bringing back the sounds of post-punk classics like The Cure, Joy Division, Echo & The Bunnymen and The Chameleons. After debuting in 2005, they have just released their sixth album 'Violence' which has already been defined by critics as their new creative peak.

Jon Hopkins Live
His collaborations with Brian Eno, Coldplay and Massive Attack are a good example of his status in the global electronic scene. His classical training and experience with film soundtracks have given him have a unique and special style. His latest album 'Singularity', which he will present at BIME Live, proves it, with critical acclaim already pointing to him as one of the greatest talents of the electronic scene.

Slowdive
They separated two decades ago after a short but magical discography and are claimed as one of the pillars of the British shoegaze. Their return to the stage has come accompanied by new record 'Souvlaki'.

Stephen Malkmus & The Jicks
As Pavement frontman and member of The Silver Jews, Stephan Malkmus is considered an alternative rock -icon as. After leaving these groups, Malkmus embarked on an illustrious solo career with the support of The Jicks, with whom he has just released his seventh album 'Sparkle Hard' after a four-year hiatus.

Belako
One of the most outstanding bands on the national scene right now, receiving countless awards and and recently releasing their third album, 'Render Me Numb, Trivial Violence'. They are pure adrenaline and each concert is just as special.

Kurt Vile & The Violators
This respected and prolific author, founder of The War On Drugs, is part of the avant-garde of folk-rock and boasts an unmistakable style that ranges from indie-rock, psychedelic pop and acoustic intimacy. After ten fantastic years with several masterpieces, last year he released the album 'Lotta Sea Lice' with Courtney Barnett.

Unknown Mortal Orchestra
Probably the most important band to come out of New Zealand in the last decade, Unknown Mortal Orchestra could be considered the most original and bizarre in its history. Ruban Nielson manages the project at will, mixing passages of melodic goldsmithing with futuristic sounds, psychedelia and sharp guitars. Their fourth album 'Sex & Food' was released in April.
Damien Jurado
Finally we can see the live performance of one of the favorite alternative songs writers in the world. He began his career in the mid-90s on the label Sub Pop and 13 albums after he retains all its strength, freshness and a way of composing unorthodox and very exciting. He arrives at BIME Live with a clean and direct album, 'The Horizon Just Laughed', which he just released in May.

GAUA
Nina Kraviz
Nina Kraviz left her dentist office in Siberia when she was accepted by the Red Bull Music Academy in Seattle. With the debut record from this DJ, vocalist and producer came in 2012 and since then she has been touring the world with electro-introspective sessions that show her excellent compositional skills and musical taste.

Daniel Avery
Daniel Avery is a London DJ, influenced by classics like Andrew Weatherall. This year he has published an album that explores the space in which club sounds are crossed with the most ethereal and enveloping.

Mumdance
Mumdance is a British producer and DJ who has built his reputation by innovating with sounds based on grime, experimental techno, minimalism, hardcore and more.

C.P.I.
C.P.I. is the duo formed by Marc Piñol and Hugo Capablanca again in 2018 in a new EP in Hivern. His music has been defined as magnetic techno with psychedelic flashes, caveman voices, toxic textures and sonorous witchcraft.

Alain Elektronische
The veteran Gipuzkoa DJ is a regular at clubs and electronic music parties in Euskadi. His wide range and musical experience make him move between the underground techno and house of the 90s and the nudisco, electrofunk, Aor Disco and Balearic.

BIME LIVE
26 27 October
BEC!, Bilbao

APHEX TWIN
MGMT
EDITORS
JON HOPKINS LIVE
SLOWDIVE
STEPHEN MALKMUS & THE JICKS
BELAKO
KUT VILE & THE VIOLATORS
UNKNOWN MORTAL ORCHESTRA
DAMIEN JURADO
IONNALEE
ROLLING BLACKOUTS COASTAL FEVER
VULK
THE MAGIC GANG
ELENA SETIÉN

Gaua
NINA KRAVIZ
DANIEL AVERY
MUMDANCE
C.P.I.
ALAIN ELEKTRONISCHE
http://bime.net
https://www.facebook.com/BIMEnet/