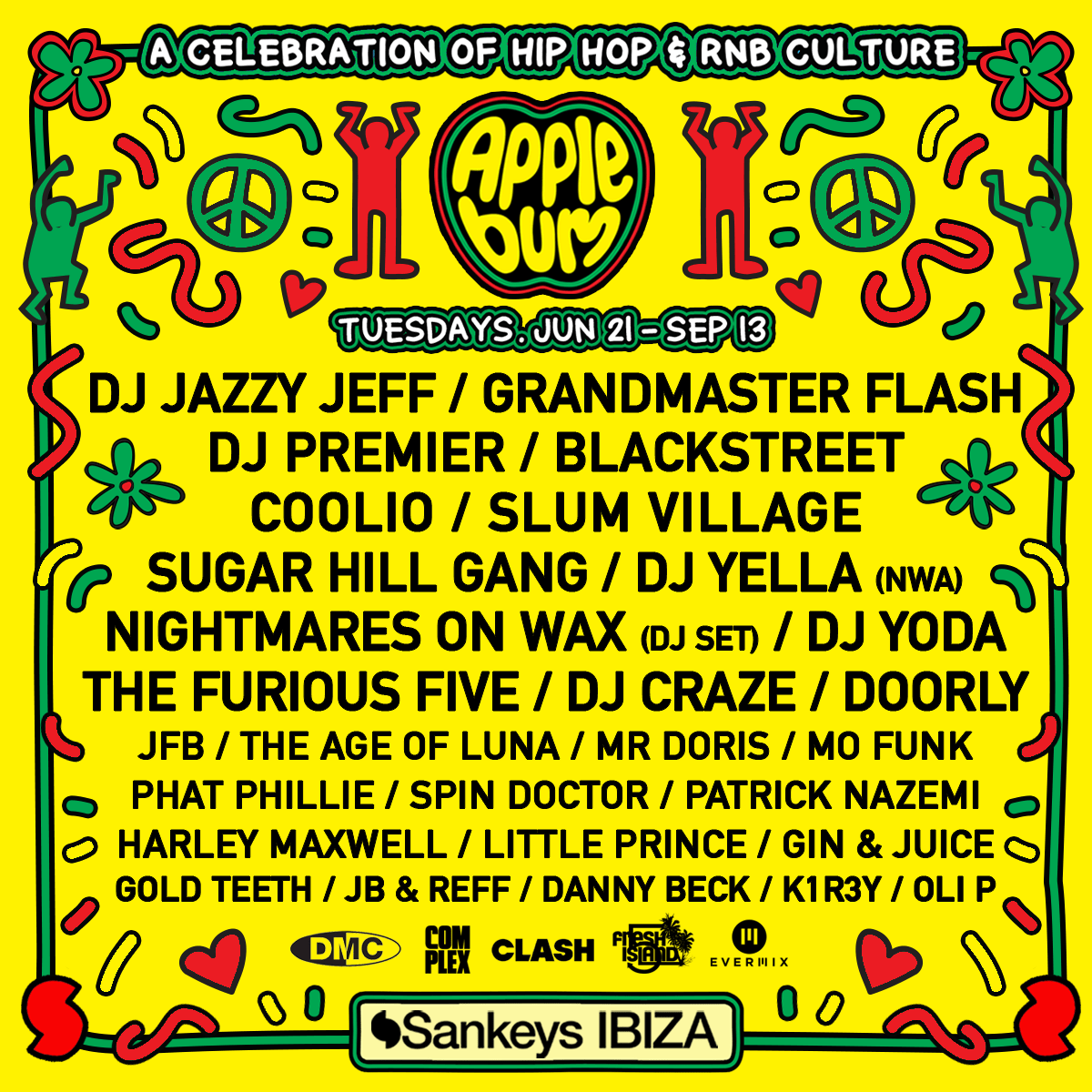 Applebum bring Hip Hop royalty to the White Isle…
There's only 9 weeks to go until the biggest and best celebration of Hip Hop and R&B culture touches down at Sankeys Ibiza for the first time thanks to UK Hip Hop party brand Applebum. The full details of their debut, groundbreaking 13-week residency have just been confirmed, and with an array of some of the biggest names in the industry alongside a host of acclaimed resident DJs bringing the ruckus each week, Applebum looks set to make Hip Hop history with the first series of events of its kind on the White Isle. Running every Tuesday night from June 21st until September 13th, Applebum will be bringing a taste of the old school and showing Ibiza what Hip Hop is all about.
Kicking things off on the grand opening night of the first ever Hip Hop dedicated club residency on the Island is one of London's most acclaimed turntablists, DJ Yoda. A winner of DMC's DJ of the Year award, DJ Yoda is renowned for his mindblowing audio-visual sets and unique cutting-edge mixing style. He's produced a catalogue of seminal mixtapes and records over the years, toured the globe with Goldie and the Scratch Perverts and collaborated with the likes of Biz Markie, Jungle Brothers, Ugly Duckling and People Under The Stairs. With Q Magazine declaring him one of the "Ten DJs to see Before You Die", his spectacle of a set is not something you want to miss.
In week two, Applebum are extremely excited to welcome the legendary hip hop producer DJ Premier as he makes his Ibiza debut. Premo's history of collaborations spanning over thirty years is like a Hip Hop hall of fame with the likes of Nas, Biggie, Mos Def, Rakim, Immortal Technique, Kanye West, KRS-One, Dr Dre, Jay Z and Busta Rhymes. He and his late Gang Starr counterpart Guru were one of the most influential East Coast duos of the Golden Age, spawning classic hits such as "Mass Appeal", "Full Clip" and "Step In The Arena" and pioneering the distinctive New York City hardcore hip hop sound.
Joining DJ Premier in week two is Nightmares on Wax, a.k.a. DJ EASE. With a lifelong love and dedication to Hip Hop and b-boy culture, Nightmares on Wax has continued to develop his experimental sound over the years with classic chill-out records like 1995's "Smoker's Delight" and "Carboot Soul" in 1999. No stranger to Ibiza with his successful weekly Wax Da Jam parties at Las Dalias back in 2014, the Leeds-born DJ is sure to make a scene at Sankeys with his genre-blurring take on Hip Hop, Soul, Trip Hop and Electronica.
Get ready to take a journey back to the roots of Hip Hop as Applebum present one of their biggest inspirations, Grandmaster Flash. Young Flash mastered his innovative and completely original DJing techniques of cutting, backspinning and phasing on a sound system he built out of scraps before he finally rose to prominence in the New York DJ scene of the 70s. His mixing skills have been said to have transformed the turntable into a true 'instrument', and his energy-filled sets that get the crowd moving like no other have become legendary. In 2007 he, along with the Furious Five, became the first Hip Hop act to be inducted into the Rock and Roll Hall of Fame. He pushed the envelope, broke the rules and became a revolutionary driving force behind the continuing development of hip hop music, a true godfather of Hip Hop culture. Grandmaster Flash will be bringing his iconic old-school South Bronx vibes to Sankeys Ibiza to headline week three.
One-half of a double Grammy-award winning duo with The Fresh Prince a.k.a. Will Smith, DJ Jazzy Jeff has been transforming the groove for decades with a multitude of platinum-selling albums and hit singles such as "Parent's Just Don't Understand", "Ring My Bell", "Boom! Shake the Room" and the timeless 1991 classic "Summertime". In his own right Jazzy Jeff has established himself as one of the most influential R&B, soul and neo-soul record producers around, helping to develop artists such as Eminem, The Roots, Talib Kweli and Rhymefest. He was recently credited for scratching over last year's box office smash Hip-Hop movie, Straight Outta Compton, and Applebum proudly welcome him as their fifth week headliner.
Grammy-award winning New Yorkers Blackstreet will be mixing it up with their soulful, slow jam vibes in the sixth week's headline slot. The R&B-funk quartet has an impressive history of collaborations with some of Hip Hop's biggest names, including Ol' Dirty Bastard, Dr. Dre, Mya, Janet Jackson, Eve and Ja Rule. Known for their classic hit and certified club night staple "No Diggity", they're sure to get Applebum's crowd bumpin' & grindin'.
DJ Yella, the man formerly behind the beats in legendary gangsta rap group N.W.A., is next up on week seven alongside the returning DJ Yoda and Phat Phillie, co-founder of Croatia's Fresh Island Festival and one of the biggest DJs in the Croatian Hip Hop scene. After wowing Coachella audiences earlier this month as he performed with former bandmates Dr. Drew, Ice Cube and MC Ren, DJ Yella will play the first of his two Applebum Ibiza dates on August 2nd, before returning a fortnight later on August 16th.
Yet another Grammy winner will be on the mic at Sankeys this August as rapper Coolio headlines week eight. Coolio helped push rap into the mainstream as he rose to fame in the 90s with a string of globally successful hits including "Gangster's Paradise", "C U When U Get There" and "Fantastic Voyage", becoming a household name as he collaborated with the likes of Method Man, LL Cool J, Busta Rhymes, B-Real and Snoop Dogg.
Applebum will then team up with legendary Hip Hop brand DMC in week nine to bring you four-time World DJ Championship winner, DJ Craze, certified turntablist master who has toured with the likes of Kanye West and Yelawolf. He will be joined by Brighton-born scratcher, JFB, another three-time champion and former resident turntablist at BBC Radio 1, and legendary multi-vocalist, Killa Kela. A leading name in UK beatbox culture, Kela's live shows also take on MCing and singing – a facet of his work that has seen him share stages with the likes of N*E*R*D, Mobb Deep, Redman, Busta Rhymes and even Prince.
The big names don't stop there, with Slum Village, the now-duo famous for spawning the career of globally acclaimed genius producer J Dilla, headlining week ten. Emerging from Detroit's underground Hip-Hop scene in the mid-90s, Slum Village climbed their way to success with some of the most important records in Hip-Hop history including "Detroit Deli (A Taste of Detroit)" featuring Kanye West, Ol' Dirty Bastard and John Legend, and "Fantastic, Vol. 2".
Of course it wouldn't be an Applebum party without resident quartet, The Age of Luna, up-and-coming stars already making waves in the UK Hip Hop scene with their refreshingly authentic take on the nostalgic sound of the Golden era. Their jazzy, neo-soul and R&B vibes have earned them airplay on BBC Radio 1, and have grabbed the attention and support of Mobo, The Guardian and Vice, with Radio 1 DJ Mista Jam likening them to a modern take on The Fugees. The group will be flying the flag for British Hip-Hop in Ibiza this summer as they touch down on week 11 alongside DJ Yoda.
Applebum are excited to announce the legendary Sugarhill Gang to headline the penultimate show of the season. The group are notorious for bringing Hip Hop into popular culture around the world with one of the most pivotal songs in Hip Hop history, 1979's "Rapper's Delight". Generally considered to be the first ever real commercially successful Hip Hop track, the song was named as one of the "500 Greatest Songs of All Time" by Rolling Stone, and earned itself a place on the National Recording Registry, a list of recordings seen as "culturally, historically or aesthetically important" in the United States.
The Gang will be joined by the equally as influential Furious Five. The group produced some of the biggest Hip Hop tracks of the 80s including "The Message" and "White Lines (Don't Don't Do It"). These tracks made history as some of the first prominent Hip-Hop songs to provide real hard-hitting social commentary in the lyrics, with Melle Mel rapping about the dangers of drug addiction, crime and poverty, lyrical themes that would continue to be replicated in years to come. The Sugarhill Gang and The Furious Five will be sure to bring those 80s vibes to Sankeys and make the whole crowd 'jump on it'.
If that isn't quite exciting enough, Applebum will also soon be announcing yet another very special guest to headline the thirteenth week closing party. If the already star-studded lineup is anything to go by, you can only expect to be blown away by the secret star who will be joining a returning Nightmares On Wax to draw Applebum's Ibiza debut to a close at the final party of the season, making it a summer to remember.
In support and performing on rotation each week are Applebum's incredible resident DJs, who all play regularly across Applebum residencies in London, Manchester and Bournemouth – Mr Doris, Mo'Funk, Patrick Nazemi, Harley Maxwell, Little Prince, Gin & Juice, Gold Teeth and JB & Reff.
Jordan Hallpike, Applebum Co-Founder Said: "With Spotify announcing Hip Hop as the most streamed music genre in the world last year, there's no doubt the culture is everywhere. Everyone is repping a hint of that old school Hip Hop fashion with retro style sneakers and vintage streetwear, and there are Hip Hop and R&B jams dominating everyone's party playlists. While artists like Kanye and Kendrick continue to rule the charts, the likes of Action Bronson, Joey Bada$$ and Danny Brown are rising to global success, and Hip Hop culture is more prominent than ever. But the Hip Hop greats of the 70s, 80s and 90s that influenced and inspired the MCs and beat-makers of today must never be forgotten, and what better way to celebrate the world's most exciting genre than to bring some of the most legendary names in the industry together to grace the party capital of the world."
Please see below for full line-up details.
APPLEBUM – SANKEYS IBIZA 2016
WEEK 1 – Tuesday 21st June
DJ Yoda, Mr Doris, Patrick Nazemi, Little Prince, Harley Maxwell, JB & Reff
WEEK 2 – Tuesday 28th June
Dj Premier, Nightmares on Wax, Patrick Nazemi, Harley Maxwell, JB & Reff, Gin & Juice
WEEK 3 – Tuesday 5th July
Grandmaster Flash, Mr Doris, Patrick Nazemi, Harley Maxwell, JB & Reff
WEEK 4 – Tuesday 12th July
DJ Premier, Mo'Funk, Patrick Nazemi, Harley Maxwell, JB & Reff, Gold Teeth
WEEK 5 – Tuesday 19th July
DJ Jazzy Jeff, Mo'Funk, Mr Doris, Patrick Nazemi, Harley Maxwell, JB & Reff
WEEK 6 – Tuesday 26th July
Blackstreet Mo'Funk, Little Prince, Patrick Nazemi, Harley Maxwell, JB & Reff
WEEK 7 – Tuesday 2nd August
DJ Yella, DJ Yoda, Phat Phillie, Mr Doris, Harley Maxwell, JB & Reff
WEEK 8 – Tuesday 9th August
Coolio, Mo'Funk, Mr Doris, Patrick Nazemi, Harley Maxwell, JB & Reff
WEEK 9 – Tuesday 16th August
DJ Yella, DJ Craze, JFB, Killa Kela, Mo'Funk, JB & Reff
WEEK 10 – Tuesday 23rd August
Slum Village, Mo'Funk, Patrick Nazemi, Little Prince, Harley Maxwell, JB & Reff
WEEK 11 – Tuesday 30th August
DJ Yoda, Mr Doris, Mo'Funk, Patrick Nazemi, The Age of Luna, JB & Reff
WEEK 12 – Tuesday 6th September
Sugarhill Gang/Furious Five, Mr Doris, Patrick Nazemi, Harley Maxwell, JB & Reff
WEEK 13 – Tuesday 13th September
SPECIAL GUEST TBC, Nightmares on Wax, Mo'Funk, Patrick Nazemi, Harley Maxwell, JB & Reff
About Applebum
Straight outta Compton via the four corners of London, Applebum is a celebration of Hip Hop and RnB culture on a quest to rediscover, relive and reimagine the sounds, fashion and lifestyle of a movement that helped shape a generation.
With few nights solely devoted to celebrating the sounds of everyone from R Kelly to Naughty By Nature, the night offers an out-and-out house party feel – with attitudes and pretense both left firmly at the door. Guaranteed fun from start to finish and open to anyone who just wants to bump 'n' grind, Applebum is a place to drink, dance and rediscover.
With monthly residencies at The Garage in Islington, The Old Fire Station in Bournemouth and Antwerp Mansion in Manchester, as well as forthcoming takeovers at both Lost Village and Croatia's Fresh Island Festival, Applebum's debut Ibiza season at Sankeys is a testament to an incredible couple of years for the Applebum brand.
For more information on Applebum, please visit:
www.applebum.co.uk
www.twitter.com/applebumuk
www.facebook.com/applebumuk
https://soundcloud.com/applebum-uk