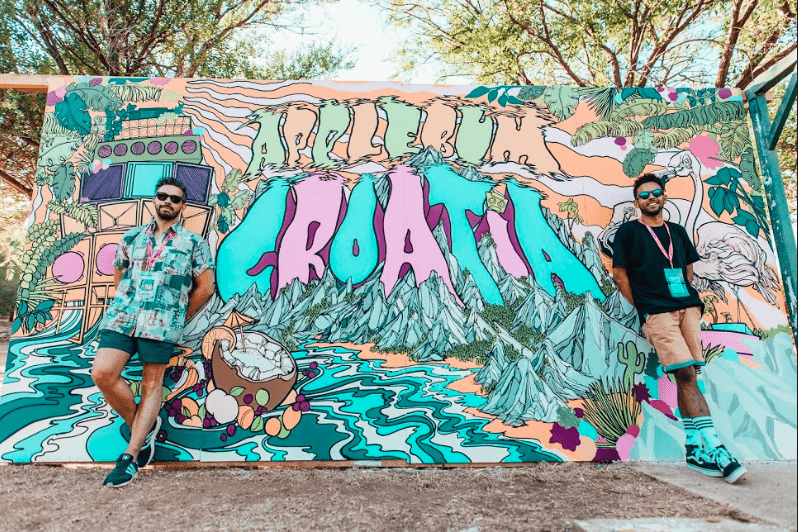 Applebum: The Beach Beyond to replace Soundwave, Croatia, in 2019
The Garden Resort, Tisno welcome the formidable party starters, Applebum for 5 nights of Urban, Soul & Electronic sounds on the stunning Adriatic coast.
Thursday 18th – Monday 22nd July, 2019
http://www.applebumcroatia.com
UK promoters Applebum have become the latest addition to The Garden Resort family, bringing their infectious and energetic attitude towards partying to Tisno for 5 nights of Urban, Soul & Electronic music from Thursday 18th to Monday 22nd July 2019.
Applebum: The Beach Beyond is the brand new festival project that has come to fruition from the magnificent minds behind winter snow event Rise Festival, Soundwave Festival (the iconic former Garden Resort event) and the founders of UK club brand Applebum.
The Beach Beyond is a hidden musical paradise nestled on the beautiful Croatian coastline of Tisno, blessed with crystal clear Adriatic waters, sizzling sunshine and star-lit night skies. It will welcome a diverse celebration of music in an idyllic and intimate setting with sun-drenched daytime sessions, dancing under the stars and boat parties sailing along the Dalmatian coast.
Noah Ball, Soundwave Co-Founder said: "After 10 incredible summers at The Garden Resort, Soundwave left Tisno in true style last summer, throwing one of our best festivals to date and signing off on what has been a fantastic journey for the brand. Now, after delivering some of the finest moments at The Garden Resort, Soundwave hands over the reins to a new wave of creatives and welcomes UK promoters Applebum to Tisno, bringing fresh energy, talent and ideas to this beautiful resort."
Known for being one of the UK's biggest Hip Hop and R&B parties, Applebum was conceived by two best friends over their deep love of Hip Hop and the legendary US group – A Tribe Called Quest. The name Applebum nods to one of the bands famous tracks and just like A Tribe Called Quest, Applebum keep fun, freedom, positivity and knowledge at their core . This exciting new venture to The Garden Resort, Tisno will be true testament to that and an exciting next chapter for this homegrown and much loved music brand.
With a community vibe of like-minded souls, the event will unite musicians, artists and travellers, to inspire new connections for a generation where collaboration is king, community is key and "we" is before "me." Actively encouraging knowledge and skills to be shared, Applebum: The Beach Beyond will provide a place to learn, contribute and create, with classes, talks and a pop-up studio on site.
This is an intimate yet epic journey of discovery, unearthing a new generation of talent from music, art and culture. Where the feeling of discovering a new favourite artist is only matched by rediscovering nostalgic sounds of the past. A place where breakthrough talent is given a platform to positively thrive alongside established artists and where audiences can feel part of growing something really special from the start, in a spectacular inspirational setting.
Jordan Hallpike, Applebum Co-Founder: "Applebum has always been about a celebration of the music we love, by the artists we love. We've been putting on parties across the UK for a number of years and have always dreamt of putting on a festival to showcase our passion and creativity. When the opportunity came along for us to work with Noah and The Garden team, we jumped at the chance. To be in the company of brands like Defected, Love International, Hospitality and Suncebeat is a real privilege and we plan to honour this and the memory of Soundwave by bringing some of our favourite talented artists to the resort. We'll be announcing the first wave of acts very soon."
Applebum: The Beach Beyond, goes beyond a holiday experience; it's an experience where dramatic coastlines and breathtaking woodlands provide the backdrop to a party filled with fun, freedom and fuse friendships. Where choosing between dancing all day at the beach stage or wild swimming in the crystal clear sea is the hardest decision of the day and where dancing under the stars until the early hours of the morning becomes a nightly ritual.
It's time to get ready for a place where genuine lovers of music, art and culture are encouraged at every step to go beyond what they know and who they know to make this the most inspired and life-enhancing journey with Applebum: The Beach Beyond. Let the music and the magic happen.
For more information on Applebum, The Beach Beyond, please visit:www.applebumcroatia.com
or email [email protected]