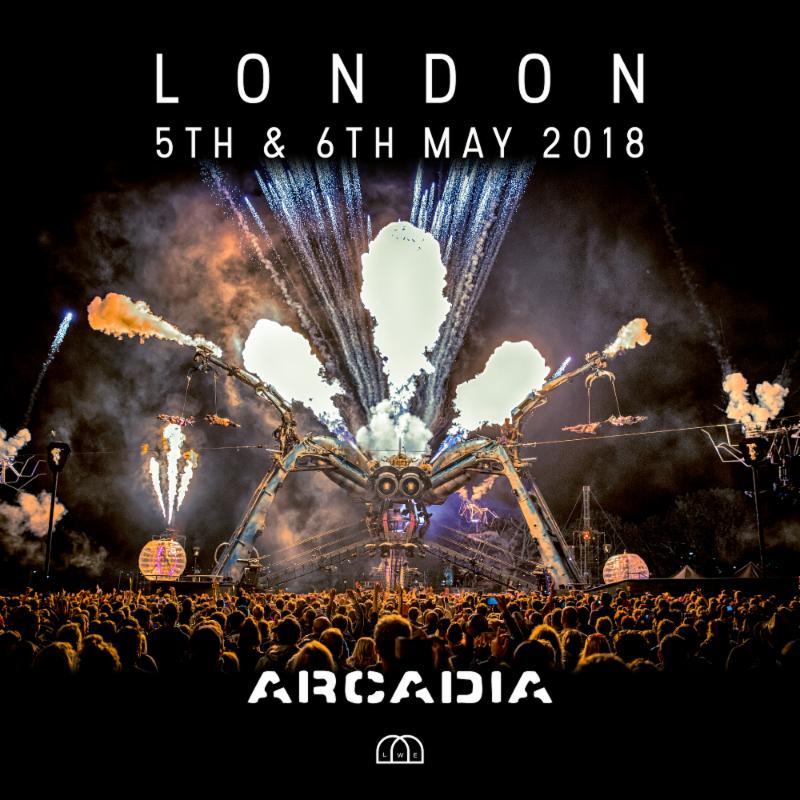 Arcadia Announce First Names and Venue for 10th Anniversary Festival In London
Leftfield and RAM Records are the first names to be announced for Arcadia's 10th anniversary festival, held at Queen Elizabeth Park in London on May 5-6th 2018.

The two-day event, which celebrates the performance art collective's 10th anniversary, will see a different musical identity on each day while Arcadia's spellbinding Metamorphosis show is performed on both nights.

Saturday 5th May will see house and techno as the primary musical heartbeat with Leftfield as the first artists to be announced. They will be performing a live selection from their back catalogue of hits from the iconic Leftism & Rhythm and Stealth albums, transporting the Arcadia landscape deep into their sonic matrix. Leftism is one of the most significant albums in dance music history, proving inspirational at the beginning of Arcadia's journey and the band's performance on the Spider will be a key 10th anniversary moment.

Sunday 6th May will be bass music driven with the legendary RAM Records hosting the Spider. With over a quarter of a century at the cutting edge of dance music, RAM have gone from strength to strength, creating a unique musical hub that has helped define the very essence of drum n bass. With a high octane musical intensity that works symbiotically with the explosive Spider, RAM's big guns will be taking the controls to celebrate Arcadia's anniversary in style.

Teaming up with London event specialists LWE, Arcadia are set to announce the full spectrum of stages, artists, performances, special guests and installations in the coming week.
Londoners will have the chance to step inside Arcadia's immersive world, where 50-foot fireballs ignite with a thunderous shockwave, multi-million volt bolts of lightning crackle through the arena, robotic creatures swoop from the sky and thousands let their spirits fly.
Arcadia founders Pip Rush and Bert Cole said: "Heading home from our world tour, we can't wait to unleash the very best of the last decade to celebrate our tenth anniversary and open a new chapter for the road ahead."
Will Harold, Director of LWE, added: "It's a real honour to be working with the award-winning Arcadia team and welcoming them to London for their tenth anniversary. These announcements are just the beginning and we're hugely excited to unleash the full Arcadia experience on the capital."
Pre- sale tickets go on sale on Thursday 7th December at 12pm.
General tickets go on sale on Friday 8th December at 12pm via Ticket Tannoy.
Sign up for presale tickets and breaking news here: https://arcadiaspectacular.lpages.co/uk-event-2018