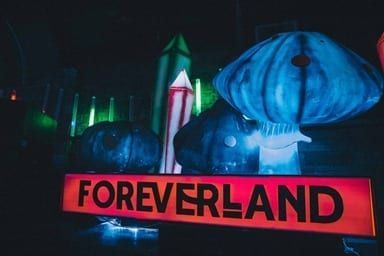 Unique Club Night, Foreverland, Unveils New Year's Eve Lineup
Bespoke stage builds, spectacular live performers, and the crème of bass, garage and grime talent, make Foreverland a club night like no other. With weird and wonderful characters that interact with crowds throughout the night, it is a world of escapism and a place where you never have to grow up … immaturity is advised.
Foreverland, the magical club night where event-goers let their inner child come out to play, has unveiled the lineup for its New Year's Eve event. At leading Hull nightspot, Funktion, the celebratory event will be headlined by prominent UKG star, Flava D, with support from the Foreverland resident DJs, Taim, Bassic and Bitr8, each serving up a killer soundtrack of bass, garage and grime. Foreverland is a world of escapism where the weird and wonderful collide amidst quality, underground tunes. Expect bespoke stage builds, themed charactersperforming throughout the night, giant props, inflatables, acrobats and much more. It is the ultimate adventure playground where growing old doesn't mean growing up. Advance tickets are on fourth release sale and are available from £21.50 + bf from www.theforeverland.com.
Since launching in Bournemouth just two and a half years ago, Foreverland has quickly developed a reputation as one of clubland's most enthralling and enjoyable events. Its popularity has seen Foreverland embark on a tour of 20 locations across the UK, mixing headline DJ talent with eye-popping production to create a world of debauched and paranormal activity. Nothing else out there can prepare you for a trip to Foreverland.
Foreverland creator, Connor Scanlan comments,
"We can't wait to bring Foreverland to Hull in what will be a fantastic way to close the year and welcome in 2018. Our production is bigger and better than ever! When you step into our world, you step back into the magic and wonderment of childhood, and of course we throw in a healthy shot of fun, debauchery and a quality soundtrack to make a trip to Foreverland something you'll never forget."
Quality music underpins the entertaining visual feast at Foreverland and organisers are delighted to welcome Flava D to the stage on New Year's Eve. As a core part of the Butterzcamp where she released her 2013 debut 'Hold On', Flava D has gone on to establish herself as a key player in that furtive arena where garage, grime and bassline music meet. As one third of garage royalty outfit, TQD, a prestigious FABRICLIVE 88 mix under her belt, and collaborations with luminaries like Wiley and My Nu Leng; be prepared to be blown away when Flava D steps into the spotlight at Foreverland.
Foreverland delivers top quality production values at a level you would expect from a festival, using CO2 and confetti cannons amongst the constant flow of live entertainment, to create an exciting and up-for-it atmosphere. Keep an eye out for giant jellyfish, men in LED spacesuits and an 8ft giant-moon crater!
Tickets for Foreverland at Funktion, Hull, are selling fast. Fourth-release tickets are on sale from £21.50 plus booking fee and are available from www.theforeverland.com. Those whose birthday falls within seven days (either side) of the event are eligible for a free birthday ticket. To claim, message Foreverland on Facebook at www.facebook.com/theforeverland stating the city of choice, email address, mobile number and full date of birth. And remember to bring I.D on the night!
For anyone missing out on the NYE date, Foreverland can be found touring all over the UK in 2018. Other locations include Edinburgh, Leeds, Cardiff, Northampton, London, Glasgow, Wolverhampton, Coventry, Newcastle, Southampton, Lincoln, Belfast and Portsmouth. Get priority access when tickets go on sale by signing up for pre-release tickets atwww.theforeverland.com, and then receive an email notification with further information.
Come join the fun at the world's most magical club night.
EVENT DETAILS
Foreverland, Sunday 31st December
Funktion, 54 Anlaby Road, Kingston upon Hull, HU1 2PDLineup: Flava D,
Taim, Bassic, Bitr8
10:30pm – 5am
Over 18s
TICKETS
To purchase or sign up for pre-release tickets, visit www.theforeverland.com
LINKS
www.theforeverland.com
www.facebook.com/theforeverland
www.twitter.com/theforeverland
www.instagram.com/theforeverland
www.snapchat.com/add/theforeverland