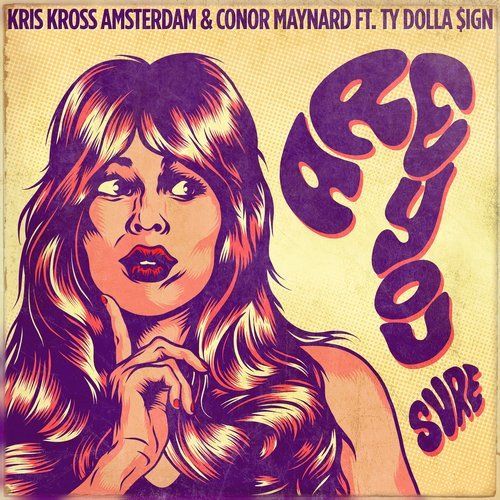 Kris Kross Amsterdam & Conor Maynard ft. Ty Dolla $ign - Are You Sure?
Dutch production trio Kris Kross Amsterdam and UK pop star Conor Maynard have revealed the lyric video for their single 'Are You Sure?' featuring Ty Dolla $ign.

The hugely entertaining video sees Kris Kross Amsterdam and Conor Maynard stumbling across a party of well-known YouTube stars on a night out in a karaoke bar including Caspar Lee, Joe Sugg, Josh Pieters and Oli White. Conor and Kris Kross Amsterdam gatecrash the proceedings when they hear 'Are You Sure?' pumping out through the speakers.

'Are You Sure?' is a tropical-flavoured dancehall sensation which pays tribute to the 1985 single 'Who Do You Love?' by Bernard Wright (famously covered by LL Cool J). The track has entered the iTunes Chart Top 40 and Spotify UK Top 100, where it has clocked up 13 MILLION streams to date.

Regarding the video Conor Maynard says, "To be fair, the video kind of depicts my actual life… turning up to other people's karaoke rooms uninvited and hogging the mic singing my own songs."

Kris Kross Amsterdam add, "As you can see we really suck at Karaoke but it's fun so turn it up and sing with us!"

Kris Kross Amsterdam shot into the UK Top 10 in 2016 with their collaboration with US DJs Cheat Codes on the global smash hit single 'SEX', which flipped Salt N' Pepa's classic track 'Let's Talk About Sex' on its head. A major US hit, as well as going Top 20 in more than 20 other countries, it's become a huge party anthem, boasting more than 350 million Spotify streams.

Through mutual contacts Conor Maynard heard the new track they were working on and immediately paired up with them to create 'Are You Sure?'. The track sees Conor return to releasing original music after becoming one of the most talked about covers artists on YouTube in 2016.

With over a BILLION combined views and 4.1 MILLION subscribers, Conor is now the eighth biggest UK act of all time on YouTube, having first been discovered on the platform six years ago. Last week his "sing-off" with The Vamps on their cover of Ed Sheeran's 'Shape Of You' (which also features them singing 'Are You Sure?') became one of the highest-trending YouTube videos and has received over 7.5 million views. You can watch it here.

'Are You Sure?' is out now through Spinnin' Records / Parlophone Records.