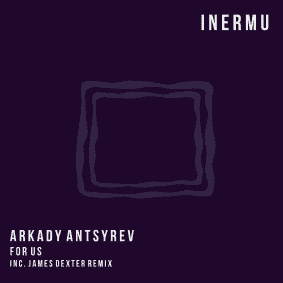 Arkady Antsyrev – For Us
James Dexter welcomes Arkady Antsyrev to Inermu this August whilst also remixing the title cut from his 'For Us' EP.
With releases to date via the likes of Little Helpers, Low Groove and Black Sea Side Music, Saint-Petersburg's Arkady Antsyrev is the latest rising name to emerge from Russia's ever-impressing and growing house scene. A favourite and regular within his home city, here we see him make a debut appearance on James Dexter's fledgling Inermu imprint as he delivers two original productions backed by a remix from the label boss himself.
Title cut 'For Us' opens the package as Antsyrev combines dubby chords and rich low-end tones amongst refined, regimented percussion arraignments, whilst 'Vibe Swimming' brings an introduction of warmer melodies, skipping hats and a snaking bassline. Last up, James Dexter's interpretation of 'For Us' sees the label head introduce punchy kicks and hazy lead melodies over the original's slick rolling groove line to close the EP in style.
Arkady Ansyrev 'For Us' EP drops on Inermu on the 5th August 2019.
https://www.facebook.com/ArkadyAntsyrev/
https://www.facebook.com/Inermu/
Tracklist
1.              For Us
2.              Vibe Swimming
3.              For Us (James Dexter Remix)