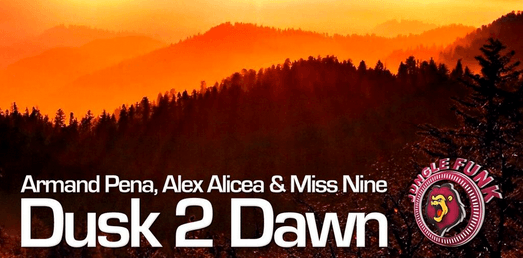 Armand Pena, Alex Alicea & Miss Nine Rockin House – Dusk 2 Dawn
Warning No Duck Calls Here! Armand Pena, Alex Alicea and Miss Nine are taking a stand against shrill mundane DUCK CALLS with 'Dusk 2 Dawn'. From the Balearic Isle to Bondi Beach, Pena, Alicea and Nine are right on time with their new funky house track on Jungle Funk Recordings. It is what the beaches have been waiting for, true to form heavenly House. With a gorgeous sample off of Kenny Dope and India.

Get your bikinis, clap your hands and move your bodies – this is a song built to finish off your Summer season with a sexy vibe. Armand Pena is one of Miami's foremost house producers. The latino american DJ is also founder of the newly formed Beta Rebels Label and event producer of Electric Beach Festival in Miami which will be celebrating it's 10th year this coming March at WMC 2015.