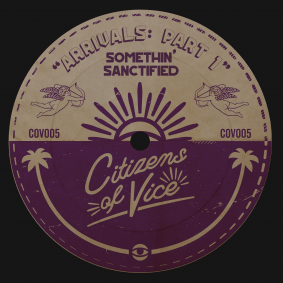 Somethin' Sanctified - Arrivals: Part 1
Somethin' Sanctified is Simon Mills aka one half of Bent, and Joel Hood from International Feel, and they serve up a dreamy debut collaborative EP after remixing on Night Noise and contributing to a Citizens of Vice sampler before now.
The pair have a studio that brims with vintage gear and rare oddities, alongside a vast archive of samples – mostly on vinyl – which they've curated since the early 90s. Their output spans two decades of playing the world's finest dance floors, they have worked together on each other's solo projects on International Feel and have a shared love of hardware-driven house and disco with real atmosphere.
Arrivals: Part 1 is an introduction to the sound of this pair and will be swiftly followed by Part 2, with both EPs showcasing their wide range of talents. The duo say "We share an eclectic love of music with atmosphere, warmth and a certain magic, from 1950s soul through to 90s Italian dream house and beyond, but with Somethin' Sanctified we're channeling our inspirations squarely at the dance floor. We aim for our productions to reflect the kind of tracks we DJ out as well. "
And so it is right from the off, where the excellent 'CYA' gets the fists pumping thanks to its warm and sunny chords and timeless bassline. A great vocal sample adds attitude and this one will bring the summer vibes no matter the weather outside. The deep and dreamy 'Bassline' has a male vocal repeating the title over smooth drums and slinky claps that speak of gorgeous sunset vibes all while a trumpet line drifts up top to heart swelling effect.
Keeping the Balearic feelings strong is '2 Long', another superb beach house cut with a twanging bass riff and fantastically balmy pads. It's steamy, seductive house music that cannot fail to bring a smile, then closer 'Nobody' skips on garage flecked drums with syrupy chords and a heavenly vocal that beams down like the sun's rays.
This is perfect summer time house music that oozes class and production quality.
Tracklist:
1. CYA
2. Bassline
3. 2 Long
4. Nobody