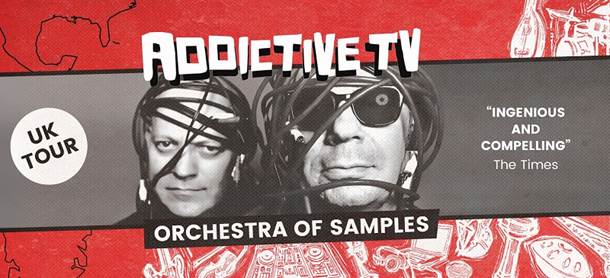 Artists Addictive TV launch their 'Orchestra of Samples' UK tour + remix initiative
Following the 2017 release of their album 'Orchestra of Samples', electronic duo Addictive TV hit the road again with a series of concerts across the UK, also announcing they're making samples available from the project as free downloads to encourage producers to create their own remixes.
'Orchestra of Samples' itself is perfect for the art of remixing, a unique project which has seenGraham Daniels and Mark Vidler film over 200 recording sessions with musicians around the world. All these musicians, who never met, have been sampled and ingeniously combined to create new music of extraordinary fusions, a celebratory mosaic of genuine conversations between different musics of the world.
The project features many top musicians in their field and documents a range of unusual localised instruments. Everything from the two-stringed dombyra of Kazakhstan to recycled car exhaust pipes in Brazil used as percussion, even a French bagpipe called a Boudègue made entirely from a goat! The incredible diversity of sounds and instruments is quite mind bending, yet it's the inclusive nature of this enormous project that shines through. Artists, including OBE-awarded sitar player Baluji Shrivastav, Stereolab's Laetitia Sadier and Senegalese rap-star Matador all make their mark in this incredibly diverse project.
Daniels explains, "We began Orchestra of Samples with no preconceptions, just a curiosity to explore musical possibilities with the pop-up recording sessions being organised whenever we could. It's about bringing people together, and creating something that you didn't know you could, and so now we want to give away samples for people to try their hand at it too".
Daniels and Vidler (aka mashup king Go Home Productions) have been at the forefront of audio and video remixing for nearly two decades and because of their visual element, Addictive TV were alsotwice voted Number One VJ in the world alongside the Top 100 DJs in DJ Mag. The duo were also the first artists sanctioned by a Hollywood studio to audiovisually remix a film back in 2006, with the Antonio Banderas movie Take The Lead.
'Orchestra of Samples' is a uniquely vast undertaking which grew out of their much-lauded live audiovisual shows and the guys have now recorded in over 30 countries, including Brazil, Mexico, Colombia, Senegal, China, Kazakhstan, The Philippines, across Europe and even Bhutan in the Himalayas! A truly is a musical journey without borders!
2018 UK TOUR DATES:
Saturday 14th May Splice Festival, London
Thursday 31st May The Poly Arts Centre, Falmouth
Sunday 10th June Capitol Theatre, Horsham
Saturday 30th June Harwich Festival of the Arts
Friday 13th July Marine Theatre, Lyme Regis
Monday 23rd July Milton Keynes International Festival
Friday 27th July PPL, Preston
Saturday 28th July Storyhouse, Chester
Wednesday 26th September The Junction, Cambridge
Thursday 4th October Constellations, Liverpool
Friday 19th October Phoenix Theatre, Bordon
Saturday 17th November The Crescent, Belfast
More dates TBC. This tour is made possible with the kind support of Arts Council of England.
More info about Addictive TV's remix initiative: www.orchestraofsamples.com/remix
WEBSITE: www.orchestraofsamples.com
FACEBOOK: www.facebook.com/addictivetv